Leonard Cohen: Songs Of... Alternate Format Discography
Alternate Format Discography
Original release (1967)
The US stereo version of the album [CS 9533] sported a red 'Two Eye' Columbia label and arrived in a gatefold sleeve complete with lyric sheet. The inside of the gatefold featured a Mexican religious painting of a woman breaking free of chains while gazing towards heaven, which Leonard Cohen later summed up as 'the triumph of the spirit over matter'.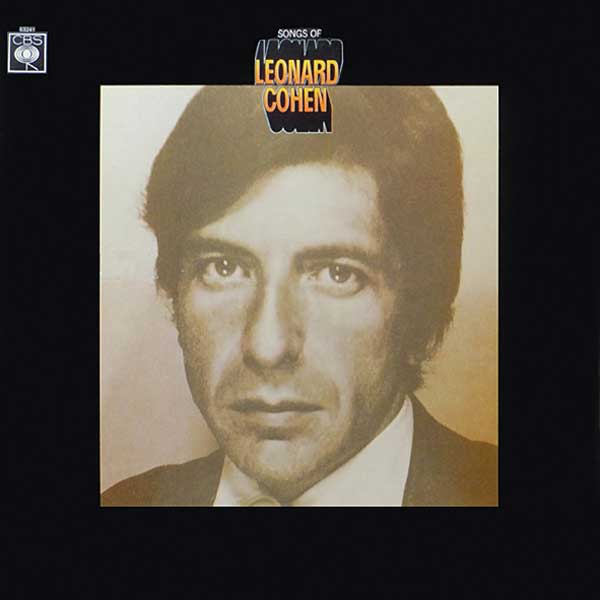 Alas, the British version [CBS – S BPG 63241] wasn't so lavish [pictured below], with the lyrics simply printed onto the rear of the single LP, along with sleeve notes ('Leonard Cohen: Conjuror') by Cohen's friend William David Sherman.
A good pressing was, and is, essential, as any wear to the vinyl is going to detract from the music considerably. Unfortunately, those of us without a well-preserved copy of the album would have to wait many years for a high-quality reissue in this format.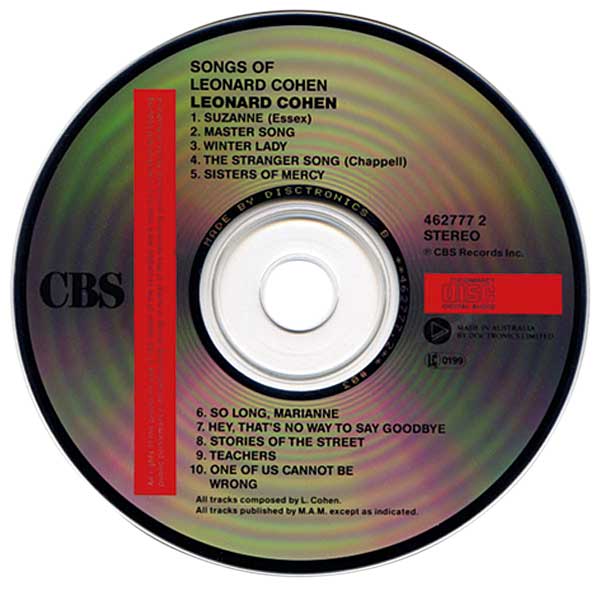 Original CD release (1989)
Songs Of Leonard Cohen was reissued on Compact Disc in 1989 in the US and other territories [CBS 462777 2], but surprisingly didn't see a full release in that format in the UK until 2001 (apart from a double-pack along with his second album Songs From A Room, in 1995). This came in a digipak case [505136 2] with room found only for Sherman's sleeve notes [see above] rather than the lyrics, reflecting a perennial drawback of the smaller Compact Disc format.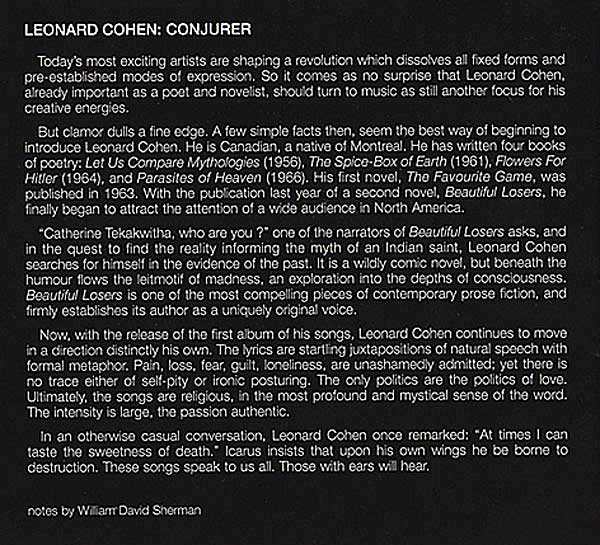 Special Edition (2007)
Cohen fans didn't feel the full benefit of the CD, or the added extras it allowed for, until a reissue on Columbia Legacy [88697 09389 2, pictured below] in 2007. Remastered by Mark Wilder, and with lyrics printed in a 16-page booklet along with new liner notes from Rolling Stone's Anthony DeCurtis, this features two previously unreleased extra tracks from the original album sessions, 'Store Room' and 'Blessed Is The Memory'.
There were, apparently, several others that didn't make the album but they've yet to see the light of day outside the realm of live bootlegs.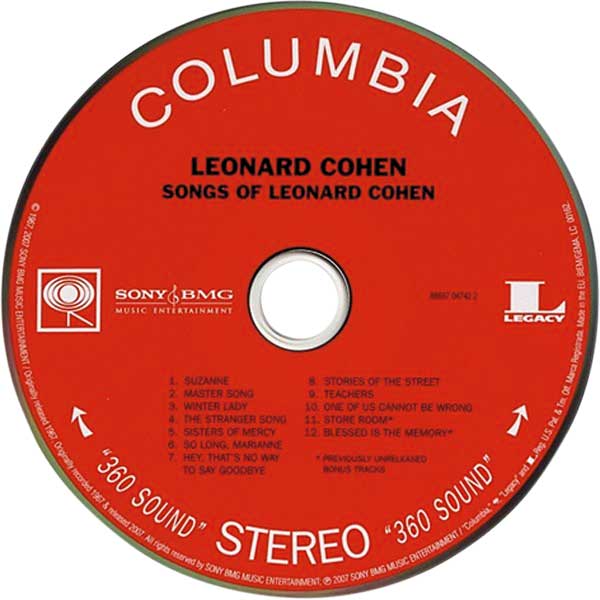 Audiophile Vinyl (2016)
For the waxophiles among you who aren't so fussed about finding a mint-condition first pressing (good luck with that), Sony Music's remastered 180g reissue from 2016, put out on Sony Music's We Are Vinyl imprint [88875195611], is highly recommended.
This comes with folded lyric inlay and the aforementioned illustration, offering what American early adopter friends got back in the day – albeit, for some reason, without Sherman's sleeve notes.