Kudos Audio Titan 707/Exposure VXN Active Loudspeaker

Active or passive? Exposure's new outboard crossover allows you to experience both with the Kudos Titan 707
As divisive audio issues go, few get the battle lines drawn more steadfastly than the matter of passive versus active loudspeakers. It's not so long ago that we were hearing about tiny monitor speakers with onboard amplification said to be good enough to have dyed-in-the-wool enthusiasts abandoning five-figure systems of conventional amps and speakers. Forget valves vs. solid state, or analogue vs. digital: when it comes to the topic of active speakers, tempers seem to flare among the keyboard warriors.
Of course, any active speaker system requires three components. These are the speaker itself, the external electronic crossover to split the frequency range to suit the speaker's drivers, and sufficient amplification to allocate a separate amp – or at least a separate channel – to each driver. Few companies have the wherewithal to do all that, though many have tried in the past, from Linn and Naim with their stacks of boxes to drive their own speakers to Meridian's big digital speakers with all the electronics onboard.
Boxing Match
Exposure has taken a different approach for its foray into active drive, partnering here with speaker manufacturer Kudos with a VXN-series crossover box tuned to the needs of the speakers, and inserted between preamp and power amps. Kudos is a good choice, as its Titan speakers – including the £13,000 707 – and Cardea Super 10A and 20A models offer the ability to bypass their internal passive crossovers by the removal of jumpers on the rear panel. So it's easy to switch them from passive to active-ready status.
Always Analogue
Options to take advantage of this are already offered in the form of the Linn Exakt, Devialet Expert and Naim SNAXO active crossovers, but as Exposure's Chief Designer Tony Brady explains, unlike the Devialet and Linn DSP-based solutions, the £2540 VXN active crossover is a simple, all-analogue device out of the 'old school'. It's designed to mimic – albeit at line-level – the existing passive crossover in the Kudos speakers, rather than tune, improve or otherwise iron-out any wrinkles in the drivers' performance.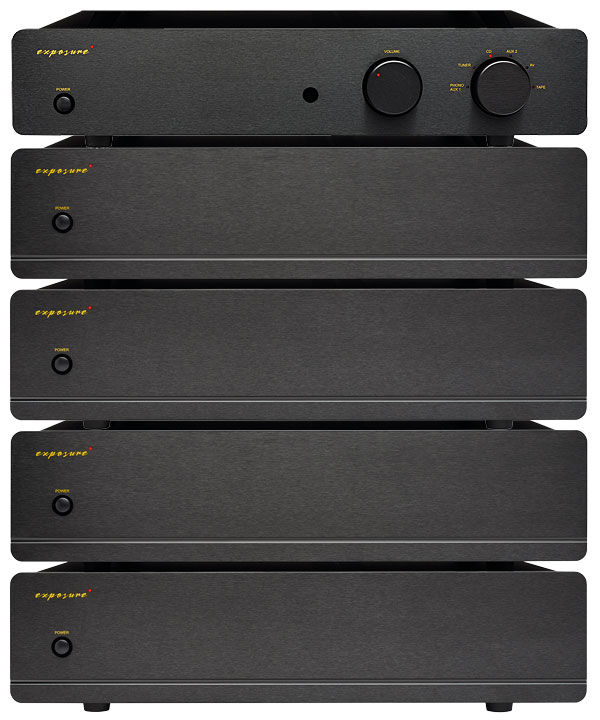 Indeed, the idea behind the VXN crossover, which is entirely dual mono, with separate boards for each channel, and is powered by its own offboard PSU in a matching half-width enclosure, again with separate feeds for each channel, is to provide a one-stop solution that's usable across the Kudos range. That's why it comes in a choice of two- or three-way versions, at £1545 and £1795 respectively, with the power supply at £995. The buyer merely needs to specify the speaker with which it's to be used at the time of order, while internal dip-switches allow the output levels for treble and midrange (where applicable) to be adjusted.

The VXN crossover can, Exposure says, be adapted to other brands and models of speaker, and of course used with other manufacturers' electronics. Its ideal partners are the £2000 5010 preamplifier and a quartet of the matching 5010 mono power amps [HFN Nov '18], which sell for £4550 a pair. The 5010 amps are typically no-nonsense – they come in plain black boxes and deliver 200W apiece while the preamp keeps it simple with no more than a volume control and input selector.
But one question arises when using this all-Exposure set-up with the VXN: why, when the preamp offers balanced XLR outputs to match similar input sockets on the power amps, is the crossover a single-ended design with RCA phono outputs only? Given that the operation of an active system is likely to involve long interconnect runs somewhere – either preamp to crossover, or crossover to power amps – it would seem sensible to carry balanced connections throughout.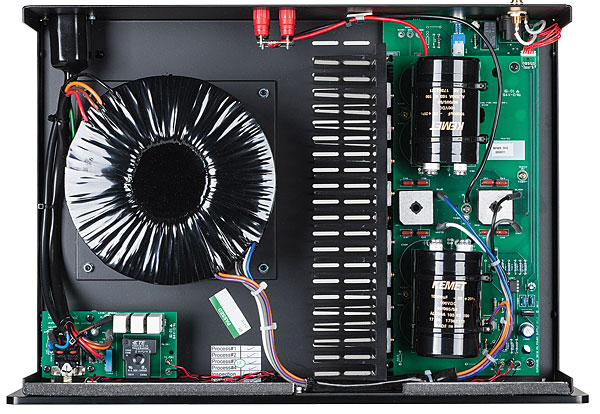 The speakers, meanwhile, from Co Durham-based Kudos Audio, are the middle model in the three-strong Titan floorstander lineup. Standing 105cm tall in a choice of four wood veneers or satin white, they're a two-way design using drive units developed by Kudos in conjunction with specialists SEAS. The SEAS/Kudos Crescendo K3 tweeter uses a 29mm fabric dome, and has been customised for use in the Titan loudspeakers, while the mid/bass units have a 22cm double-coated paper cone driven via a 39mm voice coil with copper shorting ring and aluminium phase plug.
Yes, that's 'units', for although the 707 seems only to have a single low-frequency driver in fact it's an isobaric (equal pressure) design, with a second driver coupled behind inside the cabinet. This vents through a fixed boundary bass reflex port at the bottom of the speaker, which sits on a plinth complete with high-quality – and very fine-looking – spiked feet.