Klipsch RP-600M Loudspeaker Page 2
It was the sheer speed and attack of the RP-600M that I found most enjoyable, especially when it came to the upper registers where the horn-loaded tweeter is doing most of the heavy lifting. Super-quick and fleet-of-foot, this is a speaker that takes obvious care in resolving the leading edges of instruments, so when you hear the sound of a drum rim-shot it's almost as startling as hearing a firecracker go off.
This also paid real dividends when it came to the midband and treble registers, there being no sense of notes slurring. This all ensured that The Visioneers' track was great fun to listen to, but even the laid-back, early '80s funk of Shakatak's 'Easier Said Than Done' [Nightbirds; Polydor POCP-2031] came over with great gusto. The cymbal work here was fast and cutting, while the lead piano was more animated than you hear from most budget loudspeakers.
The only caveat centred around what was going on much lower down. Here there was some slurring, and it made itself known in the way bass guitar notes decayed. It was as if the speaker cabinet was joining in by adding some artificial sustain. This was by no means an unpleasant sensation, but it certainly made for an inaccurate presentation.
Born To Be Wide
Considering its diminutive dimensions, the RP-600M can be applauded for the way it fills the room with sound. There's certainly a sense that its Tractrix horn is helping here, giving this little Klipsch a more commanding nature than it might otherwise have. For example, Kate Bush's 'Running Up That Hill' [Hounds Of Love; EMI CDP 7 46164 2] enjoyed an appropriately ethereal airing, this little speaker serving up a wide soundstage that filled my largish listening room better than one would expect. This was helped by the slightly 'fulsome' upper bass, which gave additional, if slightly artificial, physical weight to the proceedings.
The synthesiser work dominating the track was seriously expansive, as were the vocals, and the overall effect was of a vast, windswept soundscape. Only in terms of stage depth was the RP-600M less impressive, clustering all the elements of the mix around the plane of the speakers. This made for a slightly two-dimensional presentation, though it must be said that the sheer width of the acoustic served to divert one's attention from this.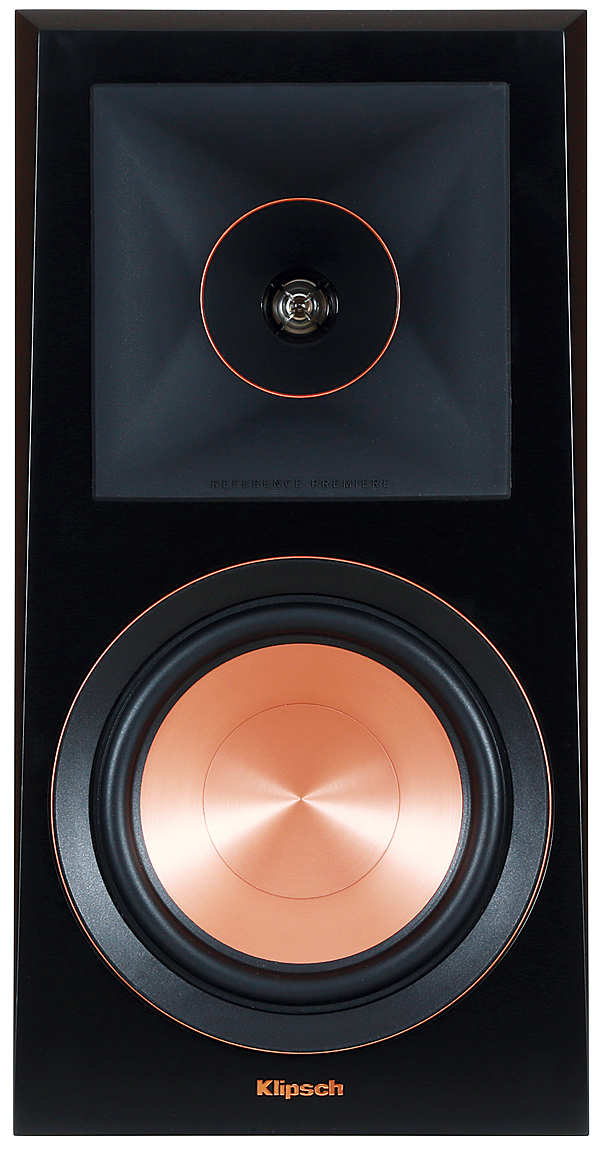 As for the positioning of images in the soundstage, this proved to be something of a disappointment too, which is surely down to the RP-600M's cloudier handling of low-level detail. Though the speaker has a vibrant and well-etched sound, listen more closely and elements located at the back of the mix aren't particularly well resolved.
Subtle Accents
Cue up Donald Byrd's 'Say You're Mine' [The Cat Walk; Blue Note 0946 3 74226 2 5] and there's a certain opacity to the sound. Hard struck cymbals failed to slowly decay away but instead disappeared. Nor was there much sense of the spatiality of the recording studio, the music just 'being there' rather than having a precise sense of where the instruments involved were located. You could say that the RP-600M lacks definition in the way the human eye begins to struggle to resolve objects in low light – things just aren't as crisp as they could be in the middle and far distance.
Still, let's not forget that the RP-600M is a budget speaker, and one that's more gifted in some areas and more compromised in others than its blander rivals. Arguably, this speaker's greatest talent is its deftness of touch where dynamics are concerned. It is tremendous at imparting the subtle accents of players, communicating the innate energy and emotion in music.
The Donald Byrd jazz piece showed this in spades, thanks to the speaker's dynamic and articulate presentation you really had the sense of great session men playing along intuitively with one another. Yes, it struggled with music on the grander scale – its ability to track big musical crescendos at relatively high listening levels wasn't so impressive – but overall it made for a hugely enjoyable, if not addictive, listen.
The same was true with the expansive power pop of Simple Minds' 'Oh Jungleland' [Once Upon A Time; Virgin CDV 2364]. Again, turning the volume up high had the speaker huffing and puffing somewhat, but it delivered a feisty and determined performance all the same, ensuring the track jumped right out at me in a manner that was nothing if not huge fun.
Hi-Fi News Verdict
This is not for prospective purchasers wanting a generic all-rounder that's as neutral as you can get for the money. But those seeking a charismatic budget standmount with oodles of 'get up and go' should seriously consider auditioning the Klipsch RP-600M. Peppy and punchy, it's one of the most characterful affordable speakers I've heard in a long time – one that could almost have come from another era.