Klipsch RP-600M Loudspeaker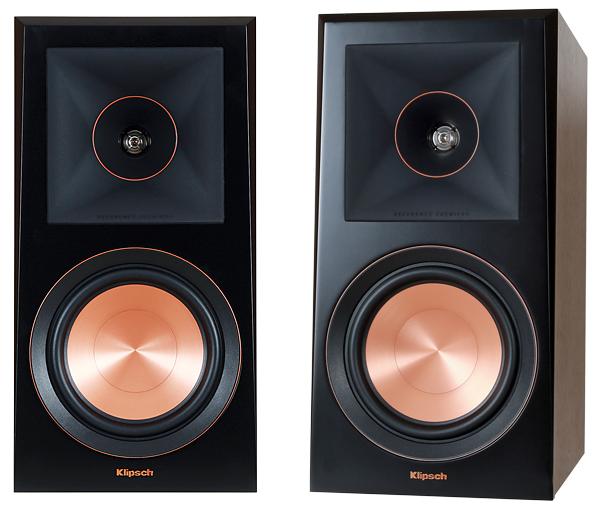 Redesigned from the ground up, Klipsch's all-new Reference Premiere series leverages over 70 years of loudspeaker history. We audition the largest of its bookshelf trio...
With no shortage of standmount loudspeakers vying for our attention, any newcomer needs to stand out from the crowd. And few stand out as boldly as Klipsch's £625 'Reference Premiere' series RP-600M, arriving from a company with an auspicious portfolio of exciting-sounding horn-loaded loudspeakers [HFN Jun '19], all dating back to the first ever Klipschorn model launched in 1946.
On the face of it the RP-600M is pretty conventional – it's a smallish (399x202x301mm, hwd) two-way, ported standmount design. It's also one of three RP standmount/bookshelf models, the partnering £500 RP-500M and £400 RP-400M smaller and more affordable still.
So far, so average – but from here Klipsch takes a walk on the wild side. There are various key facets to this design, including the company's 'hybrid Tractrix' horn-loaded tweeter and the bass/mid driver with its spun copper 'Cerametallic' cone. Its 25mm titanium dome tweeter is sunk into a satin-black silicon composite front baffle while the 165mm bass driver employs a mix of ceramic and aluminium, said to be especially rigid and light. Knitting the drivers together is a second-order crossover comprising a total of five components.
Inner Flare
Although designed in the USA, this speaker is made in China. Its cabinet is decently finished for the price, with an attractive vinyl wrap in a choice of ebony and walnut finishes – but weighing in at 7.3kg it's hardly the most sturdy in this market segment. The 'knuckle rap' test suggests that its 15mm MDF panels are less well damped than some rivals, if without being flimsy.
Around the back, the bass reflex port has a specially contoured inner flare that's claimed to reduce air turbulence, for lower port noise. There's also a set of bi-wirable binding posts that take standard banana plugs or bare wire up to 12-gauge and, over the baffle, a removable magnetic grille cover. The speaker comes supplied with some very small self-adhesive rubber feet, which the user can stick on or leave off at their discretion.
I found the RP-600M easy enough to position, although you don't want it too close to a boundary wall, for it needs at least 50cm of breathing space for optimum bass performance. A slight toe-in helped sharpen-up the stereo imaging too. Otherwise it's equally unfussy about the partnering amplifier. I used a beefy Cambridge Audio Edge W but discovered it was just as happy on the end of Icon Audio's Stereo 40 valve amp [HFN May '19]. In both cases, a Chord Hugo 2 DAC [HFN Aug '18] was employed as my main source.

Real Character
At a time when some might argue the standmount market is becoming a little too homogeneous, the Klipsch RP-600M's 'warts and all' approach to music-making is nothing if not distinctive. This is a genuine, old school 'character loudspeaker'.
It's one of the 'Marmite' products that you are either going to love... or not. Superficially, it's a bouncy, zesty sort of performer that definitely causes you to sit up on the sofa and pay attention to the music. At the same time, it's a little uneven sounding. There's a bump that makes the upper bass sound a tad more gutsy than perhaps it should given the size of the loudspeaker, and the tweeter is typically lively and, on occasions, even hard-sounding.
So there's a suggestion of the old fashioned 'boom 'n tizz' sound that once characterised US loudspeakers. This makes rock, pop and R&B music sound very upbeat, but lovers of jazz might think it a little uncouth just as classical music fans will crave a more balanced presentation.
Speed Demon
There's certainly an unpredictability about the RP-600M's response to a piece of music! Visioneers' 'Oil And Water' [Hipology; BBE Omniverse BBE176ACD], a good example of modern urban music, with a strong rap vocal line and a soulful electronic backing track, was lapped up by the RP-600M. In fact it loved it, giving added impetus to the bass drum and bass synthesiser work that punched the song out into the room. At the same time, the snare drum sound was fast and well lit, as was the lead vocal. The overall effect was quite arresting, the speaker reaching out and successfully grabbing my attention.
The downside was that bass seemed to tail off quite quickly below its upper bass sweet spot, and there was some hardness in the upper midband. Male vocals, for example, came over as slightly shouty and forward. While this wasn't excessive by any means, there's a definite 'footprint' to the way this speaker makes music...