Klipsch La Scala AL5 Loudspeaker

Producing monumental SPLs from next-to-no-power, this refreshed American behemoth is no brick in the PA wall. Prepare to be stunned by the La Scala's scintillating sound...
Efficiency, sensitivity and coverage pattern – all attributes that are hard to beat,' says Klipsch's Principal Engineer Roy Delgado. 'The benefits of horn loading have not changed.' He's quite right, of course, but neither have the caveats, not least because attempts to deliver realistic bass typically requires gigantic horns and speakers the size of the average British garden shed.
That's why examples of the brand's superb-sounding flagship Klipschorn are so few and far between on this side of the pond – sheer physical size ruling it out for most UK audiophiles. The 'mini Klipschorn' we have here – otherwise known as the La Scala – has proved more popular in real-world listening rooms despite its 1016x616x643mm (hwd) dimensions and hefty 91kg bulk.
Long Lineage
Latest in a line stretching back to 1963, the £12,000 La Scala AL5 is surely the company's most domesticated, and wallet-friendly, classic Klipsch. Lest we forget, it was originally conceived as a public address speaker, but if you have the space and the funds, then you might find this a fascinating potential purchase because it's not simply a rehash of an ancient design. Instead, it takes the best of Klipsch tradition and alloys it with new, modern drive units and construction techniques. I found it startling to behold, it reminding me that loudspeaker design is first and foremost about the physics of moving air!
Its two-piece cabinet looks anachronistic alongside your average compact-footprint tower floorstander with its umpteen small diameter mid/bass units. Beauty may be in the eye of the beholder but to my tastes, the La Scala AL5 is no oil painting – it's a utilitarian object made only slightly more aesthetically acceptable by the choice of Natural Cherry, Satin Black Ash or American Walnut book-matched wood veneers. Our cherry review sample had a lightness to it that softened the cabinet's imposing lines; given its vast size, black might be too much for many households. The veneered birch plywood and MDF cabinet – hand-built in Hope, Arkansas – has an appealing scent of freshly cut wood and glue.
The La Scala AL5 has three drive units, all horn-loaded. This, and its size, makes for superlative sensitivity with Klipsch claiming 105dB/1W/1m. KH's Lab Report suggests a slightly lower value but the La Scala AL5 could still pump up the volume if driven by many of the headphone preamps featured in HFN!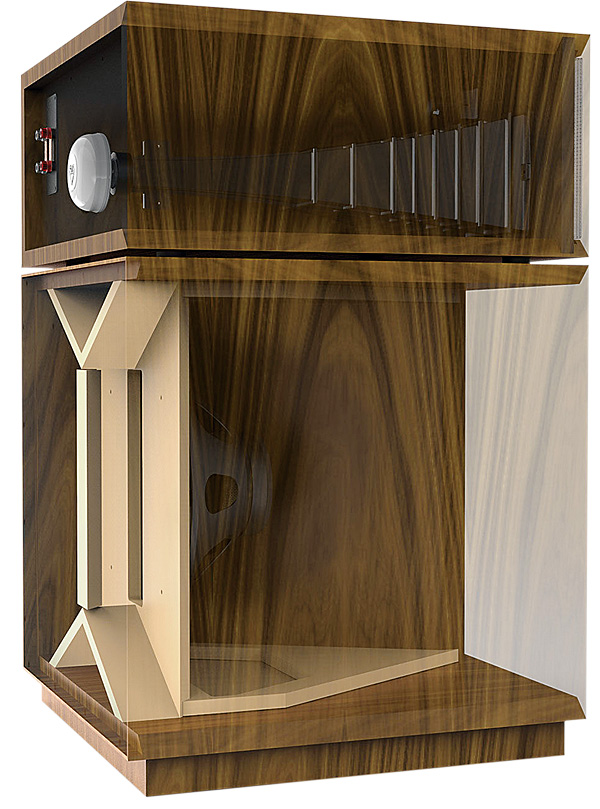 The speaker's upper cabinet contains the new 25.4mm K-771 tweeter, which sports a lightweight polyimide diaphragm loaded by Klipsch's 90ox40o Tractrix horn. The company claims that this combination makes it the most efficient tweeter on the domestic scene. Below 4.5kHz this crosses down to the 50.8mm K-55-X midrange compression driver, with phenolic diaphragm, firing into a large exponential horn.
The lower enclosure sports a 381mm woofer with fibre-composite cone behind a two-fold birch plywood and MDF horn, said to be a smaller version of the Klipschorn's three-fold design. This comes in at 450Hz and is claimed to reach down to 45Hz.
Wiring 'N' Weave
The cabinet panels are 25mm thick and feel solid and well damped – the upper section has a removable magnetic grille with a metal-mesh weave and the two boxes are interconnected via a detachable cable. To the rear of the MF/HF enclosure is a connector panel, finished with an aluminium plate and which sports chunky bi-wirable speaker terminals. The company says that AudioQuest Type 4 copper cabling is used inside.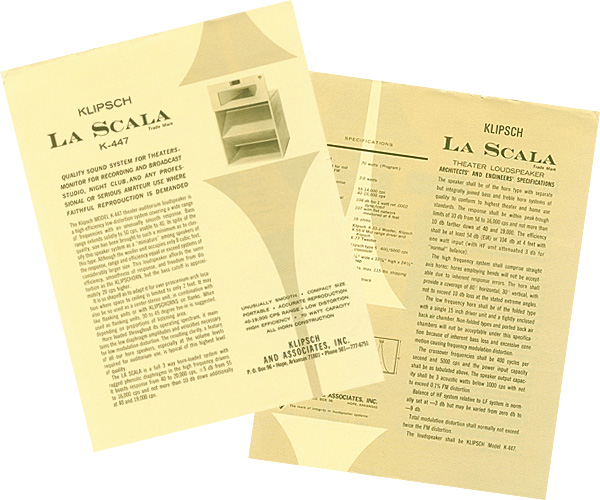 The result is an enormously solid and imposing loudspeaker – only the two-box construction making it manageable for mere mortals (though with two people holding the top enclosure it needs a third to connect the cable beneath). Auditioned in editor PM's listening room, the speakers sat comfortably about 80cm from the boundary wall, slightly toed in. They were, and remain, 'auditorium' loudspeakers that sit directly on the floor but they seem relatively unfussy about their exact positioning. Removing the grille really is worthwhile, however…

Like No Other
Here's a loudspeaker that sounds like it looks – big and wide and loud. Certainly the La Scala AL5's distinctive 'workmanlike' aesthetic is like very little else on sale, and the same goes for its sonics. This is a striking-sounding design, in an almost entirely positive way. It's the aural equivalent of a bright, fresh autumn morning with an azure-blue sky and a chill in the air, through which the sunshine blazes a path. Listening to this huge loudspeaker makes music feel alive, vivid, tactile, bracing and beautiful. It is most certainly not a case of basking in the warm half-light of a summer's evening, for it doesn't serve up a cosseting sound that balms and soothes you. That's why some might consider the La Scala AL5 to be just too much – a double espresso in a world of wishy washy instant coffee, it will taste too sharp for some palettes.