Klipsch La Scala AL5 Loudspeaker Page 2
Take Galliano's 'Prince Of Peace' [Until Such Time; Talkin' Loud PHCR-1191] as an example, for this is an open and clean early '90s live recording with an immediacy that's lost on so many speakers. Here though, you're right in front of the PA stack at the concert, taking in those lightning transients, added to the sort of dynamics that you just don't expect from a modern 'sensible shoes' floorstander. This absolutely defines the sound of this loudspeaker – it's all about speed and impact. It's great in other ways too, but it's almost as if you're so taken by its immediacy that you don't really notice.
King Of Zing
The Galliano track was brilliantly handled, the La Scala AL5 offering huge insight into the performance, but above all it gave a directness you normally only experience at a live event. I loved the arresting crack of the snare drum and a realistic hi-hat 'zing' that was metallic yet superbly defined. The way the vocals were carried was also special, for this speaker's ability to go loud and quiet with Roberto Galliano's every inflection was quite uncanny. More than this, there was a huge sense of headroom – no matter how loud or how quick, it was all water off a duck's back for this vast Klipsch. It was hard to discern any sense of either compression or strain, and the Constellation Taurus Stereo power amp [HFN Dec '17] used for the listening was barely ticking over!
Wide Appeal
Another side of this speaker's genius is its ability to retrieve detail. Nirvana's 'Smells Like Teen Spirit' [Nevermind; DGC MVCG-67] is a pretty dense, compressed track true to the 'grunge' genre, yet the La Scala AL5 unlocks it all before your very ears. Actually, it tells you that beneath that top tier of thrashy guitars is a very well ordered and tidy production to be found.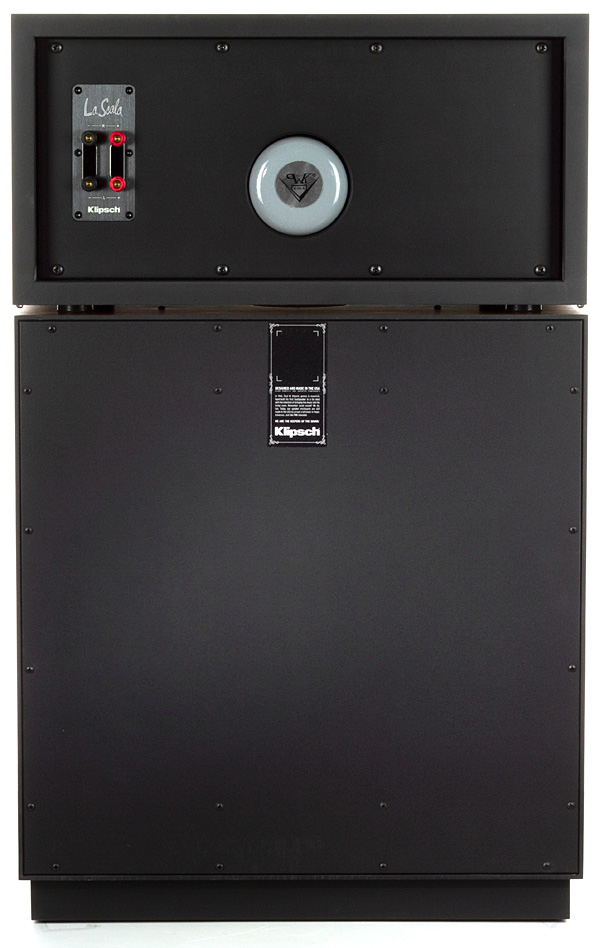 So this speaker allows the listener to zoom right in on individual instruments within the mix with consummate ease, hearing how they interact with other strands. I could discern the various effects pedals on the guitars at different parts of the song, the dry sound of the drum kit and the clean lead vocal work through the verses contrasting with its 'phasey' sound in the bridge. It was all laid out on a plate, and I was gorging…
Next in my long list of loves is the speaker's soundstaging. Given the size of those cabinets you would expect a commensurately large sound, but the looks still don't prepare you for the sheer scale of the performance. The Beloved's 'The Sun Rising' [Happiness; WEA WMC5-62] is an expansive-sounding slice of '90s techno, yet seemed to take on an entirely new stature via this speaker. It was as if I had been whisked straight to the mixing desk so I could hear exactly where all the various strands had been placed. Some synthesiser effects and one backing vocal line were hard panned left and right while other elements, such as the bass sequencer and lead vocal, were glued resolutely to the middle of the soundstage.
Few loudspeakers I've heard are so specific about exactly where things are, spatially. In terms of depth perspective, it's not quite so spectacular; things don't fall back far behind the speakers so much – indeed if anything they come right out to greet you in front of your sofa. With all this speed and detail, the firecracker dynamics and pin-point image precision, you might think this loudspeaker is an intensely forward and tiring listen. Surprisingly perhaps, it is not.
Etched, Not Edgy
David Sylvian's magnificently produced 'Orpheus' [Everything And Nothing; Virgin VJCP-68248.49] showed this. This recording is based around meticulously played acoustic instruments, and the La Scala AL5 conveyed the performances in a surprisingly couth, delicate and even-handed way. The piano work was natural sounding, with lovely timbre and ringing harmonics. Meanwhile, Sylvian's rich vocals were pin-sharp and vivid yet didn't grate, and the acoustic guitar playing was etched in tone but not edgy.
Cymbal strikes were nicely defined too, without unwanted zing, while strings had a natural rawness to them without edge. Bass guitar was super taut and tight, but there was next-to-no sense of boxiness or cabinet boom. Indeed, if anything, some will bemoan the La Scala AL5's slightly bass-light balance though corner placement and careful choice of ancillaries (avoid clinical-sounding solid-state amplifiers) are all part of its fine-tuning.
Downsides? Well, this loudspeaker proved rather tricky to criticise, particularly as its sound performance readily exceeded my expectations of the design's original 'auditorium' remit. Sure enough, it's not the sort of loudspeaker you can slump back on the sofa with, as you nod off to your favourite cocktail jazz playlist. Instead, it exists to deliver a vivid and visceral rendition of any recording you care to throw at it – and this the big Klipsch does brilliantly.
Certainly there are other speakers able to offer greater extension and 'hi-fi subtlety' – if you like that sort of thing – but there are very few that bring a 'live' and still deliciously coherent experience into your room. Definitely a loudspeaker for the home demo shortlist.
Hi-Fi News Verdict
The new Klipsch La Scala AL5 isn't for everyone, yet is superb at what it sets out to do – if that's what you're after, you'll love it. It makes music a living, breathing, tactile entity that has you on the edge of your seat, transfixed. It's also surprisingly civilised for a large horn speaker, making it acceptable to a wider audience than you'd think. An audition is highly recommended then, if your room matches your ambitions!