John Martyn: One World Page 2
Chris Blackwell also introduced his charge to the Jamaican music scene, and he found a like mind in celebrated production maverick and dub pioneer Lee 'Scratch' Perry. 'I think putting John Martyn together with "Scratch" Perry was one of the most irresponsible things I have ever done', Blackwell admitted to The Irish Times some years later. 'There are lots of stories there. Up until quite recently, in certain Jamaican recording studios the very mention of John Martyn's name would scare staff and locals.'
There was method in Blackwell's madness, though. He was aware that the pair were using similar recording techniques, Martyn having used rhythm boxes and an Echoplex as far back as the late 1960s, and he took the singer to work with Perry at the latter's Black Ark Studios. Among the resulting sounds were the dub-inflected 'Smiling Stranger' and 'Big Muff', the latter credited as a co-write thanks to the title being taken from one of Perry's characteristically surreal – and smutty – observations concerning a novelty tea set...
Re-Energised In The UK
Back in Blighty, his mojo working once more, Martyn set about recording demos at home in Hastings. 'I built myself a little thing in the conservatory at the back of my house', Martyn told Daryl Easlea. 'I stole a load of black curtains from some Civic Hall and whacked 'em in the back of a motor – that made the best possible sound insulation. I had two rhythm boxes and just did that. I did the demos and sent them to Chris Blackwell.'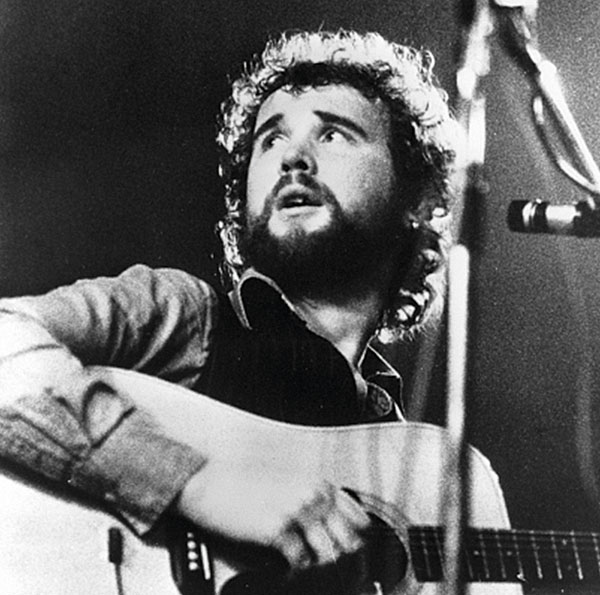 The Island boss, who took on production duties for the record, arranged for Martyn and a band including Steve Winwood on keyboards and Fairport Convention's Dave Pegg on bass to make the album in the summer of 1977 at Blackwell's farm in Theale, Berkshire. A mobile recording studio was set up in a courtyard 100 yards from the main house. As Martyn later described the setting to Mojo magazine: 'Vast grounds, lovely lake, a fine environment.'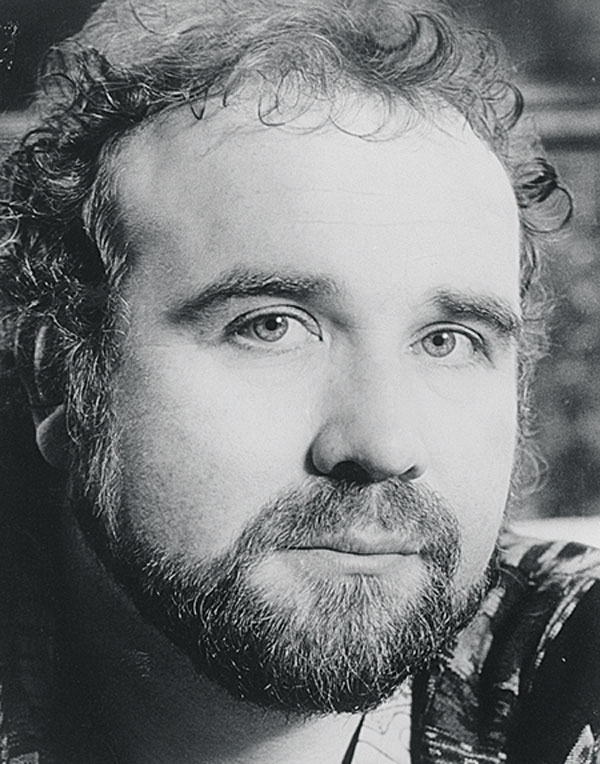 Goose On The Loose
These bucolic surroundings would prove inspirational, lending an indispensable ambience to some tracks, most famously the eight-minute, impressionistic meditation 'Small Hours'. 'I think it's just magical', Blackwell told Rock'n'Reel's Johnny Black. 'It was recorded outside at about 3am; you can hear the geese in the background.'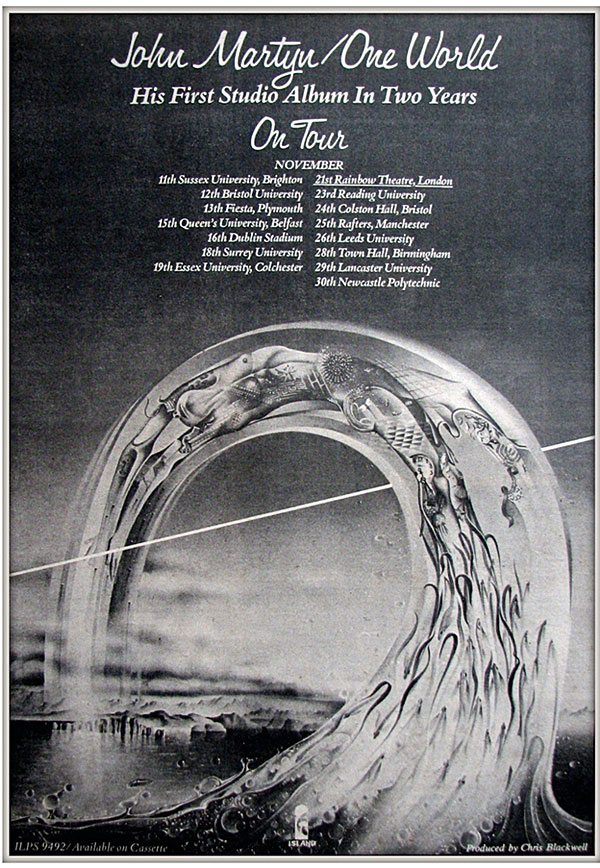 That's the result of experimental recording techniques attempted by engineer Phill Brown, whereby they set up microphones on and around the lake, creating natural reverb and capturing not just the aforementioned geese but also the early morning milk train from London Paddington sweeping past in the distance. 'They talk about ambient music now,' recalled Martyn later. 'That was real ambience.'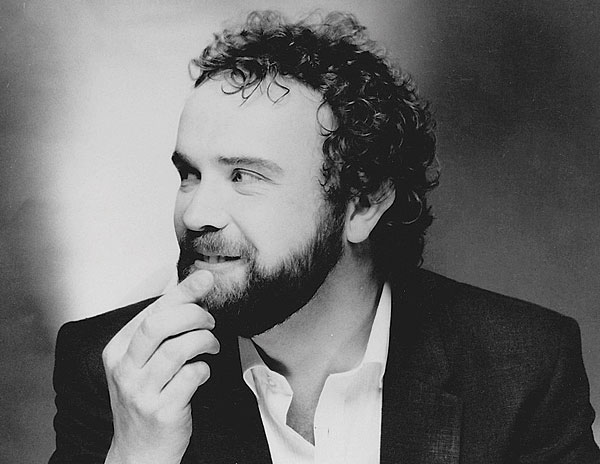 Exotic Affair
Chris Blackwell admits that by this point in Martyn's career, he saw him as 'more of a jazz artist' than a folk or pop songwriter, and his willingness to encourage a more experimental approach helped turn One World into a fascinatingly exotic affair. There's a swampy, squelchy funk feel to tracks such as the Lee 'Scratch' Perry co-write 'Big Muff' and 'Dealer', as well as a vaguely trippy dub haze surrounding it all. Elsewhere, on the likes of 'Small Hours' there's a pronounced move towards ambient-infused avant-folk and electronica, while the title track's swirling sonic backdrop is laced with plumes of double bass and flute.
Then there's the imploring, soulful yearning of 'Couldn't Love You More', punctuated with delicate organ, and the soft bossa nova percussion, gentle strings and drowsy trombone of 'Certain Surprise', a track which verges on easy listening territory.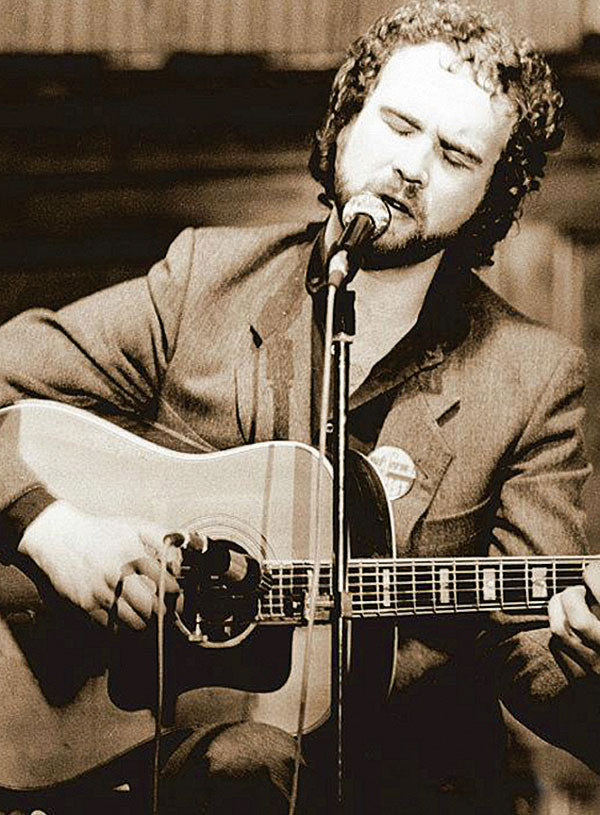 The album was met with considerable critical acclaim on its November 1977 release, and even crept into the charts at No 52 – an achievement for an artist who was never expected to shift major units.
Since then, its reputation has only grown, not least because of its original genre-blending sound. It was the year of punk, but Martyn's album seemed to come from some other place. One world, perhaps, but undoubtedly a world of its own.