JBL 4349 Loudspeaker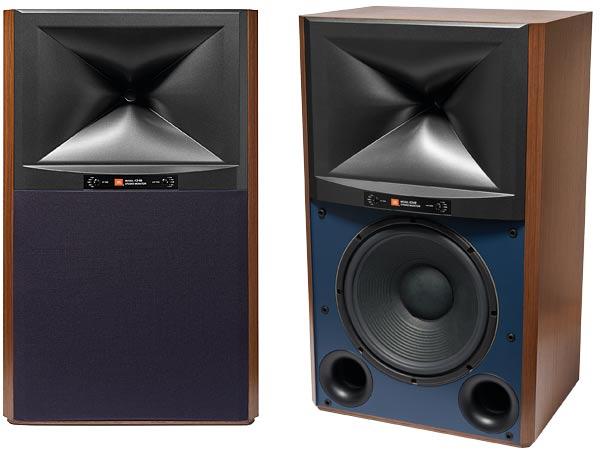 Styled after its classic 1970s studio monitors, but equipped with patented 21st century horn and compression driver technology, the 4349 is a not-so-compact fun factory
American loudspeaker company JBL has a 75-year history – and the work of founder James Bullough Lansing dates back even further. For HFN readers, who are in the know, it might seem odd that the brand is now more popular on the UK high street for its extensive range of affordable Bluetooth speakers and wireless headphones. Luckily for us the company still maintains a 'serious' side, and it's from there that its two-way 4349 monitor hails. A wide-baffle speaker with a compression mid/treble driver and 300mm woofer, it can trace its heritage all the way back to the company's first creations – and couldn't be more different from a pair of budget earbuds.
Priced just shy of £7000, the 4349 is the most recent addition to JBL's Studio Monitor series, a seven-strong range that pledges the 'same exceptional dynamics and accuracy that producers and engineers employ in leading studios', which begins with the £1500 4306 bookshelf model and culminates in the £12,000 4367 floorstander. It's not a member of JBL's Classic lineup yet is still described by the company as having a 'retro design'.
Big Love
How retro? Well, finish options for the satin wood veneer are conventional walnut or black walnut, rather than all-the-rage gloss white or light grey, and aside from a cutaway on the edges of the front baffle, the 4349 is vehemently rectangular. Those with a penchant for the speaker stylings of the 1970s will be in their element.
It's also large. Some retailers refer to it as a 'compact bookshelf' (JBL goes for 'compact monitor'), but as it stands 74cm tall and 44cm wide you'd need an impressively hefty bookshelf to accommodate it – and even then it likely wouldn't hold the 4349's 36kg weight. Better that you stump up the £320 for JBL's low-profile, open-frame JS-120 stands which lift the enclosures off the floor and tilt them back at the listener. The general aesthetic is purposeful, so if you whip off the grille to appreciate the size of the bass unit, and legacy blue baffle finish, you'll also expose the push-fixing holes.
Doubling Down
For the treble, JBL is using its in-house D2415K unit – the 'D' standing for dual as the device uses two 1.5in ring diaphragms made of Teonex polymer, two voice coils and two motors, resulting in an 'incredibly efficient design'. The diaphragms are mounted with a phase plug behind a protective mesh grille, which is all that's visible in the recessed centre of the speaker's HDI (High-Definition Imaging) horn. This mathematically-honed waveguide is a brand speciality, also found on JBL's HDI series of floorstanding and bookshelf loudspeakers.
The 4349's bass driver is a lightweight but rigid paper pulp cone with a 3in voice coil and substantial suspension. Designed for very high output with low distortion, it's tuned via a pair of front-facing bass-reflex ports down to a claimed 32Hz. Keeping it in check is an enclosure with 1in-thick walls and internal V-shaped bracing. The crossover network uses 'air-core inductors, wire-wound resistors and low-ESR metallised-film capacitors, and incorporates separate 'HF and UHF' attenuators that are accessed between the loudspeaker's horn and grille. These provide gentle passive tuning of the 4349's treble output.
Otherwise, JBL's recommendations for optimal performance include placing the 4349s between 1.8m and 2.4m apart, toeing them in if you insist on going wider. A 50cm clearance from side walls is also suggested, but with the speakers' ports front-facing they seem less fussy about their distance from rear walls.

Feel The Weight
Take a quick look at a pair of 4349s and you'll probably form an idea of how they sound. What else should one expect from a two-way combining a 300mm woofer and a cavernous horn than deep bass, candid highs and an in-your-face presentation? And, to an extent, you'd be right – the 4349 does all these things if you want. Yet it steers clear of being just a 'party speaker', marrying a dynamic, wideband ability with rich resolution and a nature that's kinder than you might anticipate. First, though: the obvious stuff. Where the 4349 stands – or squats – head and shoulders above much of the floorstanding competition is in terms of bass weight.