JBL 4349 Loudspeaker Page 2
'There's no replacement for displacement', goes the old saying, and JBL's woofer certainly does shift air, bringing a level of physicality to the listening experience if your music warrants it. Trance track 'We Come 1' by Faithless [Outrospective; Cheeky Records, 74321 850832] thumps and pulses passionately, but equally impressive is the presentation of Prince And The New Power Generation's funkfest 'Cream' [Diamonds And Pearls; Tidal 44.1kHz], a track that's as much about a sense of groove as anything else. Here the major-key bassline bounces along, supported by punchy percussion, in a manner that's almost visceral.
Monitor Mode
Ostensibly, these speakers seem happy running off low power but not having a SET tube amp to hand, I settled on a modest but capable AXA35 from Cambridge Audio [HFN Sep '19] and was surprised by how easily the speakers hung off it. However, pushed hard, this combo found the 4349 prone to a brash edge, the sound of notes being squeezed out rather than dancing into play under their own steam.
'Excitable', from Def Leppard's Hysteria [Phonogram 830 675-2], benefited from the 4349's dynamic approach, sounding broad and deep. Yet only when bringing in a beefier, price-matched integrated, in the shape of Audia Flight's FLS 9 [HFN Feb '21], was I rewarded with a tighter, leaner feel to the 4349's bass delivery, a better grasp of instrumental subtleties and a more nuanced top-end. However sensitive the speakers are, only the big amp enabled them to show off their fullest potential.
I also felt compelled to address the 'accuracy' that is the notional calling card of any speaker designed with one foot in the studio monitor camp. As much as I tried to provoke the 4349 into enveloping me with cloying warmth – via the likes of Pink Floyd's 'Wish You Were Here' [Eponymous; Tidal Master] – it refused to play ball, preferring to leave the grit and texture of instruments unpolished.
Stars Of The Show
Considering the 1.5kHz crossover point between the high-frequency driver and bass unit – high for a 300mm woofer – I was worried the drivers would pass each other by like ships in the night. But following JBL's placement recommendations and sitting a little further back than I might normally, they seemed to mesh together well enough.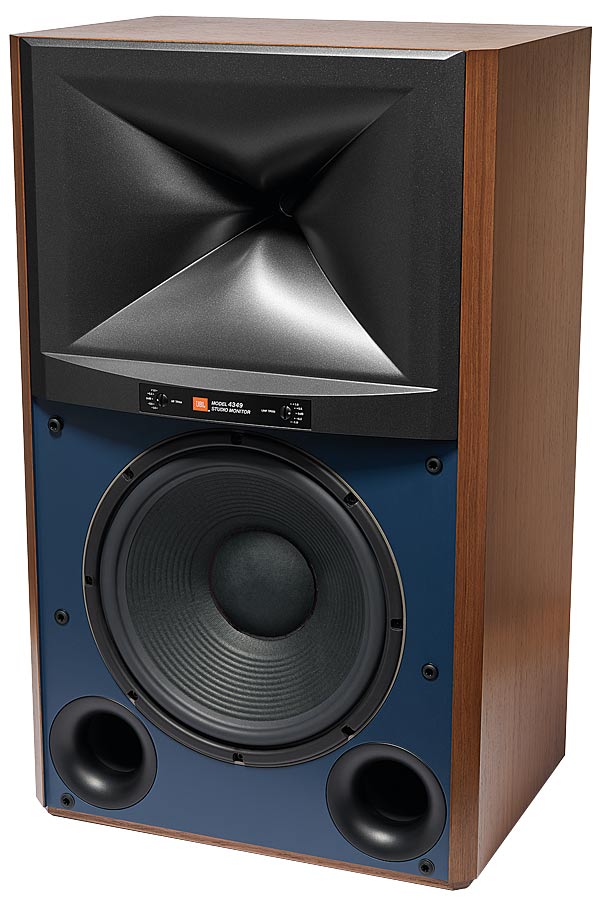 The Rolling Stones' country-tinged ballad 'Wild Horses' [Sticky Fingers; Polydor 376 483-9] sounded sweet and lucid in the midrange, Keith Richards' 12-string acoustic guitar adding a shimmering gloss to Mick Jagger's emotive vocal delivery. Meanwhile, Charlie Watts' drumming arrived at the start of the chorus with just the right amount of punch.
Using the JS-120 stands yielded a better soundstage, although even without them these short-form speakers don't just throw their efforts at your carpet. There's less of a sense of expansion beyond the cabinet edges than I experienced with, for example, Lu Kang's Spoey230 [HFN Dec '20], but JBL's horn waveguide lived up to its promise of avoiding overt directionality.
While its midrange tone and detail are commendable, bass and sparkle remain the stars of the show, leaving the 4349 never quite sounding as 'in love' with the music as you might want for the price. But a counterpoint to this is the sheer dynamism on offer. This speaker never failed to respond to transients, enjoying the rock 'n' roll theatrics of The Dead Weather's '60 Feet Tall' [Horehound; Tidal 44.1kHz], while bringing a surging, room-filling scale to John Williams' 'Theme From Jurassic Park' [Jurassic Park Original Motion Picture Soundtrack; Tidal 44.1kHz]. And 'dynamic' is a useful catchall for the 4349's general demeanour. There's a thrilling energy here, coupled to a surprising nimbleness considering JBL has used one 300mm bass unit where other companies might have opted for a smaller twosome.
Hi-Fi News Verdict
The 4349 is unlikely to convince horn sceptics they should jettison their three-way floorstanders, as the sonic signature of this two-way doesn't depart from the established JBL template. They sound big, with abundant energy to match, and are backed-up with delectable bass handling. They aren't sniffy about what you power them with, either. Fans of the form factor, with low-power tubes, will surely lap them up.