HiFi Rose RS201 E Streaming DAC/Amplifier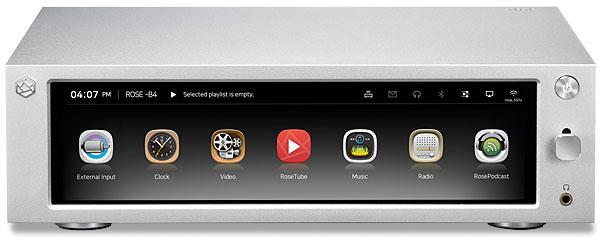 Korea's Citech group is ploughing its considerable in-house hardware and software resource into a series of network-attached players. Here's its most compact all-in-one
One of the great advantages offered by network-capable audio hardware is that, once a platform has been designed, it can be rolled out across a number of products, re-purposed and scaled depending on the target market. We've seen the same from brands as diverse as AVM [HFN Dec '21], Cambridge Audio [HFN Nov '21] and Naim [HFN Aug '21], and now recent arrival HiFi Rose is following the same path with high-end players designed to be used in existing systems all the way through to one-box soundbar set-ups.
So the £1750 RS201 E featured here may look like a shrunken version of the £3900 flagship RS150 [HFN Jun '21], with the same in-house operating system and control app, but in fact it's a very different animal. While the RS150 is aimed firmly at the high-end streamer/player market, the little RS201 E is a much more enticing prospect for those new to network audio. Thanks to its onboard Class D power amp, it needs only the addition of a pair of loudspeakers to create a complete hi-fi system, able to stream from online sources as well as local network storage, and do much more besides.
Heavyweight Features
Described by its Korean manufacturer as a 'Professional HiFi Media Player' the RS201 E is not only an audio streamer, player and DAC, capable of handling files all the way up to 384kHz/32-bit and DSD512/11.2MHz, but it can also play video sources over a wide range of formats up to 4K, either on its 'letterbox' front panel display or out to a compatible TV via HDMI. While its video quality is perhaps best left to our sister title Home Cinema Choice, such a facility certainly adds to the appeal of the RS201 E, even if most new TVs already stream HD film content.
The 'cute appeal' of that video display aside – and it's only one of many tricks available from the HiFi Rose operating system and display – what rapidly becomes clear is that this is a network device every bit as capable as its pricier stablemates, wrapped up in a convenience package that can only extend the brand's appeal. Its targets may be different, the RS201 E challenging the likes of Cambridge Audio's Evo duo and Naim's Uniti range, but it's equipped to put up a pretty strong fight.
As well as its network streaming capability, with connectivity via Ethernet or Wi-Fi, the RS201 E can accept music on USB storage and micro SD cards, or via Bluetooth, AirPlay, or USB-C OTG (On The Go) from suitable portable Android devices. It also hosts one set of line inputs plus digital on an optical input, the last allowing sound from a TV or set-top box, for example, to be played through the unit. It's also possible to unscrew a panel in the base of the unit and insert an SSD storage device, from which the RS201 E can then play audio or video, and the contents of which can also be shared with other players on the home network. Given that a suitable 1TB SSD can be bought for around £80 these days, that might well be an option worth taking up, even if you only use it for temporary on-board file storage.
Ripping Yarns
As an adjunct to that internal storage, HiFi Rose has a disc drive in its catalogue. The slot-loading RSA780 is solidly built to isolate it from vibrations, offers a USB 'isolation mode' to remove any electrical noise, and can be used to play music via USB through any of the company's products, or to rip discs in FLAC or WAV format to their internal storage, where fitted. How good a buy the RSA780 is will depend on how much you're planning on using it, given that it sells for £349. You might want to try experimenting with a computer-type DVD drive first, given that these – even 'known-brand' models from the likes of Hitachi-LG and Asus – can be bought for £30 or so.
As well as playing through speakers using its internal 'embedded PurePath power amplifier', the RS201 E can also be used straight into integrated or power amplification via its line/preamp outputs. Incidentally, HiFi Rose variously quotes an output of 100W and while this is possible under dynamic conditions into low loads, the stereo/8ohm output is closer to 35W in practice.
If you want to bypass the internal power amp then the RS201 E's preamplifier can be switched between fixed and variable output via the unit's menu system. However, the preamp facility should probably be seen as a useful upgrade path rather than a primary focus of the RS201 E. If you are looking for a player/preamp source component, I'd be more inclined to choose the company's £1949 RS250 instead, as it deletes the internal power amps but adds a useful USB-B computer input, and an internal power supply in place of the RS201 E's external computer-style 'brick'.
For what it is, however, much of the beauty of this 'all-in-one' model is in the quality feel of its all-aluminium construction, its internal production engineering, and the slickness of its operation, whether using the Bluetooth remote handset, the touchscreen display or the company's excellent app for Android or iOS.