Hawkwind: In Search Of Space Alternate Format Discography
Alternate Format Discography
Original Vinyl LP
In Search Of Space is unusual in that even among band members its title is disputed. On the LP label and spine it is referred to as In Search Of Space, but Barney Bubbles' artwork has the title as Xin Search Of Space and some even call it X In Search Of Space – although there is no space between the first two letters.
The first copies were released in the UK in October 1971 on the United Artists label [UAG 29202]. The full-colour cover featured Barney Bubbles' logo, while a blurred picture of naked onstage dancer Stacia Blake graced the rear.
The trifold cover opened up into a stylised 'hawk' shape with pictures of the group, lyrics and credits in blue monochrome on the inside. Also present – but not on all European releases – was the 'Hawkwind Log'.
A 1971 Japanese LP was released in a gatefold sleeve with a monochrome group shot [Liberty LLP-80663]. Ollis had left the band by this time so new drummer Simon King is shown. The LP came out the next year in the US, with fold-out sleeve and 'Hawkwind Log' [United Artists UAS 5567].
Thereafter, most vinyl LP pressings came in simpler covers without the booklet, although it was reinstated when the album was repressed in 1977 for UK release [United Artists UAG 29202].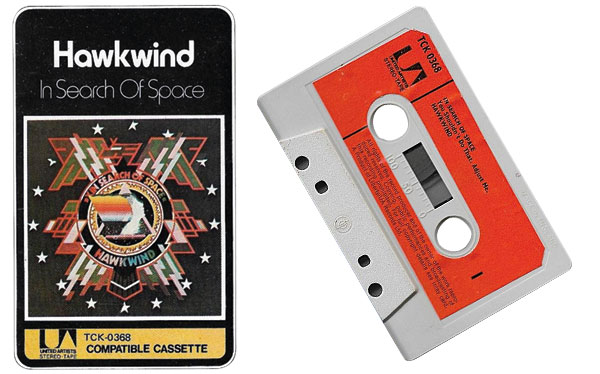 8-Track and Cassette
In Search Of Space received an 8-track release in the UK and US on United Artists [U-8368]. The first UK cassette, released in 1971 in a grey shell with orange labels, had a different running order, with 'Adjust Me' following 'You Shouldn't Do That' on side one, replacing 'You Know You're Only Dreaming' [United Artists TCK 29202 0368, pictured above].
First CD
The album made its silver disc debut in the UK in 1989 on EMI [CDFA 3192] and was then reissued on EMI's budget Fame label in 1991 [CD-FA 32192]. In the same year in the US and Canada, One Way Records put out a standard CD and limited edition longbox [CDLL-57474].
Another CD release in the UK, in 1996, came in a digipak with a 24-page booklet [EMI Premier 7243 8 37553 2 5, pictured below]. Remastered by Paul Cobbold and Peter Mew, it included the single versions of 'Seven By Seven' and 'Silver Machine', and a live single version edit of 'Born To Go'.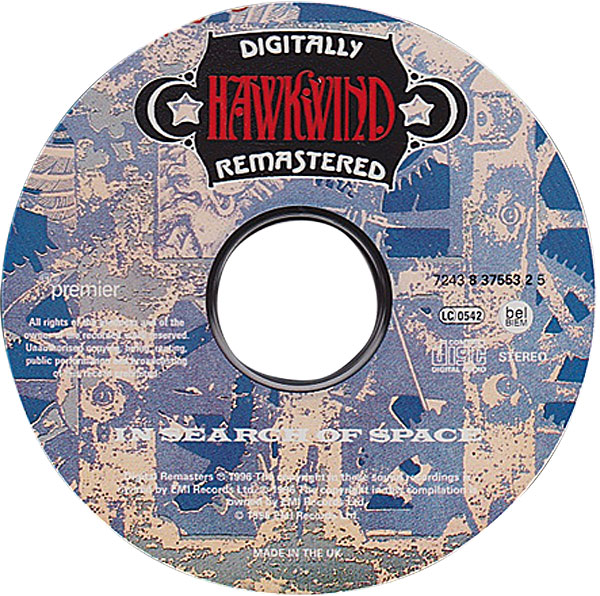 A remastered 2015 Japanese HQCD, released by Parlophone and Japanese label Wowwow Entertainment [IECP-10324] added 'Silver Machine', plus 'Seven By Seven' in both original and remixed versions.
Audiophile Vinyl
A 180g LP in a single sleeve arrived on EMI's Simply Vinyl series in 2000 [SVLP 266], followed in 2011 by Back On Black's 180g double album in a gatefold sleeve. Bonus tracks were the same as the 1996 CD, and it came in a choice of black, red or white vinyl [RCV011LP].