Gold Note Mediterraneo Turntable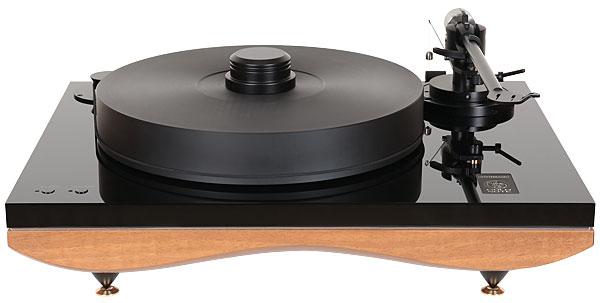 Inspired by the Florentine Renaissance, this flagship turntable aims to combine avantgarde technological innovation with sumptuous Italian aesthetics
Think of Italy and one pictures a nation blessed with effortless style, eye-catching design and a strong sense of its own history. The Gold Note Mediterraneo boasts all these qualities, sitting atop the company's five-strong turntable range and costing £4990-£5445 (depending on finish) with the B-5.1 tonearm included. As well as the walnut plinth of our review sample, the deck is available in black lacquered MDF, white, and as a truly glorious alternative coated in an exquisitely-textured 24k gold foil. Sleek-looking and superbly crafted, when it comes to the spouse acceptance factor it's on a par with having George Clooney move in as a lodger.
The plinth comprises three layers, the base section being a 60mm-deep, curvaceous laminate of Italian walnut chosen, says Gold Note, for its elasticity, strength and high density. Above this sits a 3mm-thick steel plate, designed both to lower the deck's structural resonance and add reinforcement. Finally, this is capped by a 20mm-deep slab of polished black acrylic that forms the turntable's top plate, while simultaneously acting as a magnet for dust and fingerprints.
The turntable as a whole weighs a considerable 25kg and sits on three inverted black cone feet with three dished brass cups provided to prevent their sharp pointed tips causing damage to your hi-fi furniture. An acrylic lid is also supplied, and this is fully detachable.
Bronze 'N' Brass
As for the platter, this is 45mm thick and, in an effort to dampen unwanted vibrations, is made of a Delrin/POM-type polymer that Gold Note calls Sustarin. On top of the platter sits a good quality felt mat, with records held firm, and minor warps gently teased out, by an unthreaded but heavy LP weight. The bearing comprises a hardened chrome steel spindle that rotates within a bronze sleeve and is supported on a 5mm tungsten ball-bearing on a brass seat.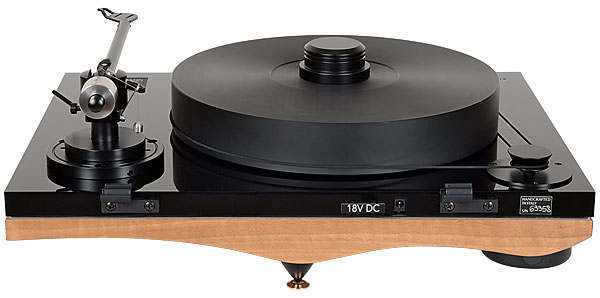 Drive is delivered to the platter's periphery via a narrow-section polyvinyl belt from the deck's Swiss-made high torque 12V AC synchronous motor, and this is powered by Gold Note's compact PST-1 off-board supply. It was this configuration that was used for most of the reviewing, although the optional dedicated PST-10 turntable power supply was also pressed into service. Costing £864, this more advanced PSU includes no fewer than four transformers, one of which is used as part of a choke filter, and comes complete with a silver umbilical that connects to the turntable. The PST-10 features a striking milled aluminium case with stylish diagonal cooling vents and is available in black, silver or gold finishes to suit a variety of decors.
Up In Arms
On the front left of the acrylic top plate are two low-profile silver buttons for selecting 33.33rpm and 45rpm speeds. These buttons also stop the platter rotating while a further sequence of button presses permits the user to fine-tune the rotational speed.
The supplied 9in B-5.1 tonearm is entirely handmade in Italy and features 4N OFC Litz-style internal wiring terminated in a 4-pin DIN plug. The armtube and bearing housing are all machined from aluminium, the latter incorporating four high-precision steel bearings made in Germany by GRW. In fact, Gold Note has two tonearms in its catalogue, the B-5.1 sitting below the B-7 Ceramic which, as its name suggests, features ceramic ball bearings also sourced from the specialists at GRW and, of course, offers a possible upgrade path.
Setting up the deck is straightforward – there's no suspended subchassis to wrestle with here – and it's also easy to use. The steel counterweight system found on the B-5.1 can accommodate cartridges with a mass up to 15g so the EAT Jo No5 pick-up [HFN Dec '18] used for the review was bang on the weight limit for the arm.
Meanwhile, bias compensation is effected by the usual thread and weight system, and adjusted by moving the nylon thread along a horizontal scale at the back of the arm. As for VTA, this is changed by raising or lowering the arm in its mounting plate – easily achieved by loosening a 1.5mm hex bolt on the side of the arm mounting collar. But be warned, the bolt head is tiny and vulnerable to damage, so audiophiles should resist the temptation to crank up the torque on this occasion!

Rock Solid
With the Gold Note Mediterraneo feeding a PS Audio Stellar phono stage, and Naim NAC82/NAP250 amps driving a pair of ATC SCM40 loudspeakers, it was apparent from the get go that this turntable's calling card is rock-solid stability. This is not to say it's strictly neutral in its presentation, because it's not, instead painting a sonic picture that brought the sun-drenched tones of a Canaletto painting to mind. As such, it conjures up music in a manner that is deeply appealing but, like the famous 18th century Italian painter, draws you into its own vision of the world.