Focal Stellia Headphones

The French speaker company has upped its game with this de-luxe closed-back design – perhaps aimed to make a 'mocha-ry' of the competition? Let's see how well it sounds
Hot on the heels of the Elegia [HFN Mar '19] – the first closed-back model in Focal's revamped, post-Spirit headphone range [HFN Dec '15] that launched in 2016 with the open-back Utopia [HFN Feb '17] – comes the second closed-back design, the £2799 Stellia. These two flagship models, both featuring beryllium diaphragms, effectively bookend the range, their less costly siblings being based around the same M-cone drive unit concept but with a less exotic aluminium-magnesium diaphragm.
The point of using beryllium, just as Focal does in its tweeters, of course, is to exploit its high ratio of tensile modulus to density – about 2.4x that of aluminium, magnesium or titanium. This enables a diaphragm that is both light, to aid sensitivity, and stiff to counter resonance.
In Focal's M-cone drivers – which are constructed something like miniature cone units from a loudspeaker but with only a thin annular cone section around the circumference of a central dome – this is further assisted by the use of a formerless voice coil, saving perhaps 50% on moving mass. (Although Focal was keen to specify moving mass for the Utopia, oddly it doesn't for the Stellia.) As is the case in the Elegia, coil impedance is lowered to a nominal 35ohm to increase sensitivity for use with mobile music sources.
Coffee And Liqueurs
Given that all of the new Focal headphone range, now five models, share much the same exterior design, the Stellia's creators were faced with the problem of how to make this latest addition stand out from the 'crowd', especially given its status and price – a challenge that the Utopia escaped because it was fresh and new. Their answer was to give the Stellia a distinctive colour palette that Focal calls cognac and mocha – descriptively a step up from mere champagne gold, and more than just descriptively. The Stellia's brown hues and quality materials make for something altogether rare: a headphone that is genuinely chic. As well as being immediately distinguishable from any other upmarket competitor – where black, grey and silver finishes predominate – it has the unintended consequence of making Focal's other flagship headphone, the Utopia, look rather dowdy in comparison.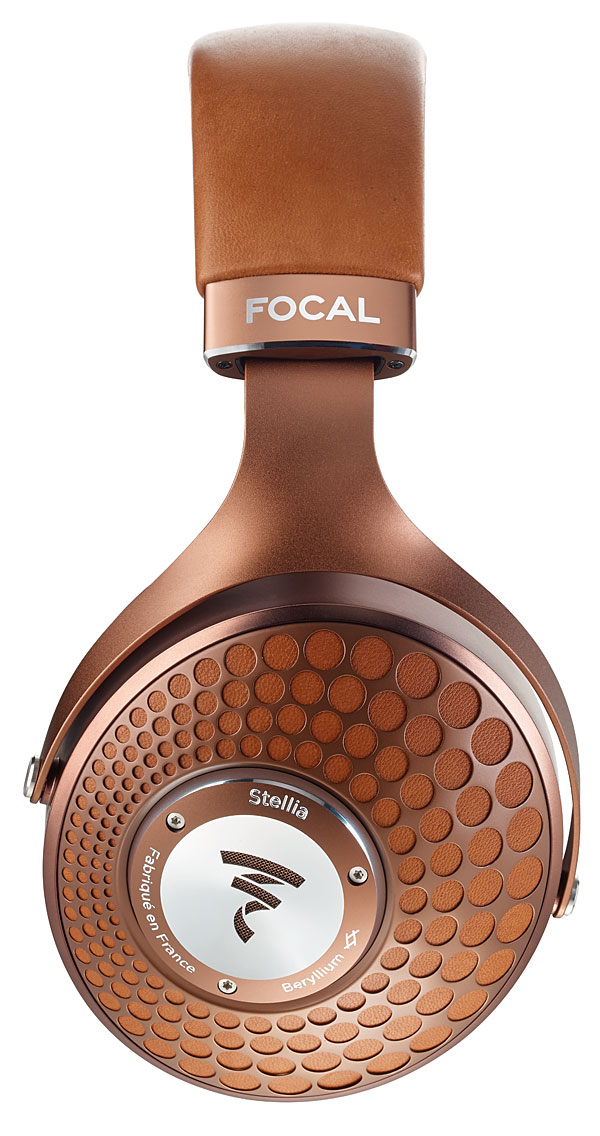 But as journalist L J K Setright once said about cars, it only matters what they look like when you're outside them. When you're inside a headphone what matters is comfort and sound quality. In the former department the Stellia is good without being exceptional. Its two-part earpads – the half nearer the driver is fabric-covered to provide sound absorption, the outer half leather-covered – are just, but only just, large enough to accommodate most ears without crimp or crush, and the headband is generously enough padded not to discomfort bald or thinly upholstered pates. But the headset mass is moderately high and so too is the force with which the earpads are pressed against the head – a common feature of closed-back headphones, which rely on a good seal to achieve an extended bass response. As a result the Stellia is only averagely comfortable, and the braided covering of the cable (which continues the cognac/mocha theme) creates quite a lot of capsule noise if it rubs against clothing.
Cable Capers
Talking of cables, two are supplied with the Stellia. There is the same short (1.2m) unbalanced cable as provided, alone, with the Elegia, terminated in a TRS mini-jack plug. A gold-plated, screw-on sleeve adaptor is provided to convert this for signal sources with quarter-inch sockets. The second cable is much longer at 3m, making it better suited to use within a conventional hi-fi system, but is terminated in a four-pin XLR plug to facilitate balanced connection. If your signal source doesn't provide the necessary balanced output then you'll have to buy an adapter to use this cable as one isn't provided.
Also included in the Stellia's unusually large but colour-coordinated packaging are a zip-up hardshell carrying case with handle, just like the Elegia's only with a woven brown/black fabric finish. Inside the box within a box that contains the cables is also a thin brown leather wallet whose function is merely to contain the user manual – plug in, place on head! – and other paperwork.