Exposure 3510 Pre/Power Amplifier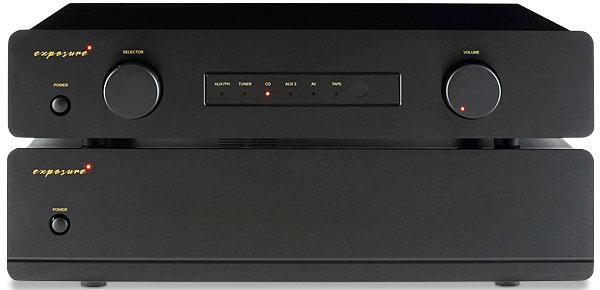 Replacing the outgoing 3010 series with trickledown experience from the costlier 5010 range, Exposure's 3510 stable just got busier with the launch of a new pre/power
Who remembers the Stella Artois ad that proclaimed its lager was 'reassuringly expensive'? A slightly odd slogan, if you ask me, but it came to mind when setting up Exposure's 3510 pre/power pairing, only substituting the word 'expensive' for 'simple'. Here are two hi-fi products where simplicity has been elevated almost to an art form, reflected in the casework, choice of connections and user experience. And at £1590 a piece, these recently launched models aren't outrageously expensive.
The 3510 series occupies the UK-born marque's midrange position, above the 2510 and below the flagship 5010 models [HFN Nov '18], and replaces the 3010 line launched around a decade ago. In the 2510 camp there's currently just a single option, the £1750 Integrated Amplifier, while the 5010 series has a preamplifier (£2000) and monoblock (£5500-per-pair). The 3510 range, however, is four-strong, adding a mono power amplifier and integrated [HFN Nov '21] to the duo tested here. The series remit is 'accuracy and power you would never expect'.
Beef Industry
That Exposure's 3510 components, available in either black or titanium finish, look very similar to models that have come before will be no surprise to seasoned audiophiles – the company has long adhered to a classic, understated style. Indeed, this is a point of pride, Exposure saying its aim is 'a simple yet stylish system that brings your cherished music collection to life, not one that looks garish'.
Certainly, both pre and power amp are more elegant than in-your-face, with a cool lower-case brand logo and pin-prick LEDs gracing the smart fascias. They're a match in width (440mm) and depth (300mm) – the 3510 amp is bulkier, at 115mm tall versus the preamp's 90mm, but still appears fairly svelte. Decent-sized feet give enough clearance to stack the two units without worrying about ventilation.
The 3510 Stereo Power Amplifier is rated by Exposure at the same 110W/8ohm as its 3510 Integrated amplifier, but both are beefier in practice. Inside, a custom toroidal transformer and linear power supply accounts for much of the unit's 12kg heft, supporting a power amp based around Exposure's favoured Toshiba bipolar transistors and sprinkled with 'high-quality' signal path capacitors. Two sets of 4mm speaker sockets are fitted for loudspeaker bi-wiring and also bi-amping should you wish to pair a 3510 Integrated with a 3510 Stereo Power Amplifier.
The 3510 Preamplifier, in its base form, features line-level inputs only. There are five in total, one labelled Phono/Aux and ready for MM/MC phono use if you plump for one of Exposure's optional phono stage modules, the others being CD, Tuner, Aux and AV.
On The Tracks
The latter, fixed gain input bypasses the volume control should you wish to use it with the preamp output of a multichannel receiver in a home cinema system. Nestling right next to these are two unbalanced RCA pre outs, plus a tape loop and ground terminal.
Inside the 3510 Preamplifier, Exposure says it has optimised the input switching and track layout of its PCBs to reduce crosstalk between channels and inputs. Discrete transistors are employed in the line stage, while a so-called 'hybrid' power supply, with custom toroidal transformer, has been engineered for very low levels of residual noise.
Casework is all aluminium, with extruded front panels said to help resonance control and limit stray EMI. There's nothing on the front of the power amp but a power button to bother you, and neither is the 3510 Preamplifier especially cluttered, with selector and volume controls either side of a row of LEDs that light up to show the selected input. There's no text-heavy display to learn here, nor any amount of user tweaks. It's that simplicity thing again.
Meanwhile, the supplied remote control will function with all Exposure products, including its small form factor XM Series, which includes a top-loading CD player/transport. The manual says you might find the product coming with either an HS3 or HS5 handset, but it's only the latter that's now being shipped. This has been redesigned and looks slightly more modern than the HS3. It's necessarily packed with buttons, but you'll only need to use it for source selection, volume and mute with the 3510 Preamplifier.