Exposure 3510 Pre/Power Amplifier Page 2
One criticism is that the volume keys, which send the preamp's motorised control gently in motion, could do with being larger. Otherwise, operation of both 3510 amplifiers is a doddle, with only a brief delay while output relays kick-in from boot-up to get in the way of a listening session.

Jazz Singer
While the 3510 Stereo Power Amplifier could be used separately with other system components, and I don't doubt its ability here, it's clearly intended to work with the 3510 Preamplifier. And when these join forces, there's a synergy that's delightful. The system sound combines power and aggression with vivid imaging, subtle tonality and sweet highs. It makes you want to double-check the price tag.
For example, it takes quite a lot to make me listen to contemporary jazz with anything but a scowl, but these 3510 models have it. The Neil Cowley Trio's 'Bryce' [Touch And Flee; Naim Jazz NAIMCD206] offered so much to admire, particularly a wide-open soundstage that still had defined instrument locations, and a counterpoint between softly pressed piano keys and double bass strings struck with force. The four-minute track flew by, drowning me in textures.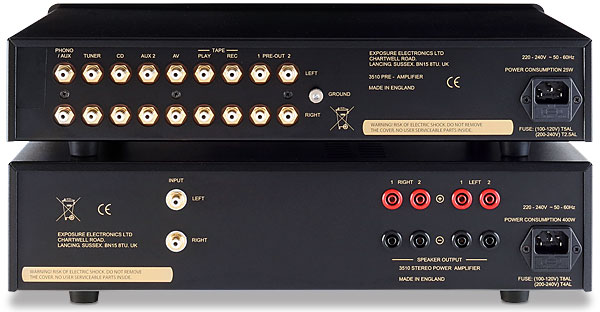 Don't let the sedate aesthetics fool you – these 3510 amps took control of both my regular B&W 705 S2 standmounts, and System Audio's slim but not appreciably sensitive saxo 40 floorstanders [HFN Oct '22], mining the depths and punching through rhythms with a dynamic flair, yet not making this the star of the show.
Spine-Tingling
And in terms of output, I don't think I got much beyond halfway around the preamp's volume control before I risked upsetting the neighbours, all without a hint of a hardened sound. There's a little warmth to the presentation, but it's welcome rather than cloying, and combined well with the generally neutral B&W speakers.
The recent Deep Purple live album Bombay Calling: Live In '95 [Ear Music 0213995EMU] has a real 'feels like you're there' vibe, not just in the occasional fluffed note, but also the mix, which is as unpolished as they come. Yet Exposure's twin-set carries it off, making the fast-paced rock of 'Space Truckin'' lively and exhilarating, and with a resonant depth to the drum work. Ian Gillan's vocals are conveyed without thinness or undue bite, while the crowd noise that signals the intro of set-list favourite 'Lazy' was spine-tingling in its spread and sense of individual detail, this followed by an explosion of slick, smooth-edged lead guitar work.
Real Honey
But where does the power amp's prowess end and that of the preamp begin? I found out with Kate Bush's 'Babooshka' [The Whole Story; EMI CDP 7464142], and an A/B listen via a contemporary if more heavily-featured preamp. Frankly, only the Exposure Preamplifier wrestled those forensic levels of detail through the power amp without over-egging it. The sound was musical and organic even while my mind was being overloaded by the varying flavours of instrumentation – piano, hi-hat, and guitar all sounded pure and life-like.
Even better, the sumptuous tone and plump body of the fretless bass was there to savour, and Bush's distinctive singing style, all clipped diction and soaring soprano, was as sweet as honey. Play a track with a female vocal – Nina Simone, Norah Jones – and it nails it, thanks to a midband with presence and delicate detail that performs way beyond the price tag.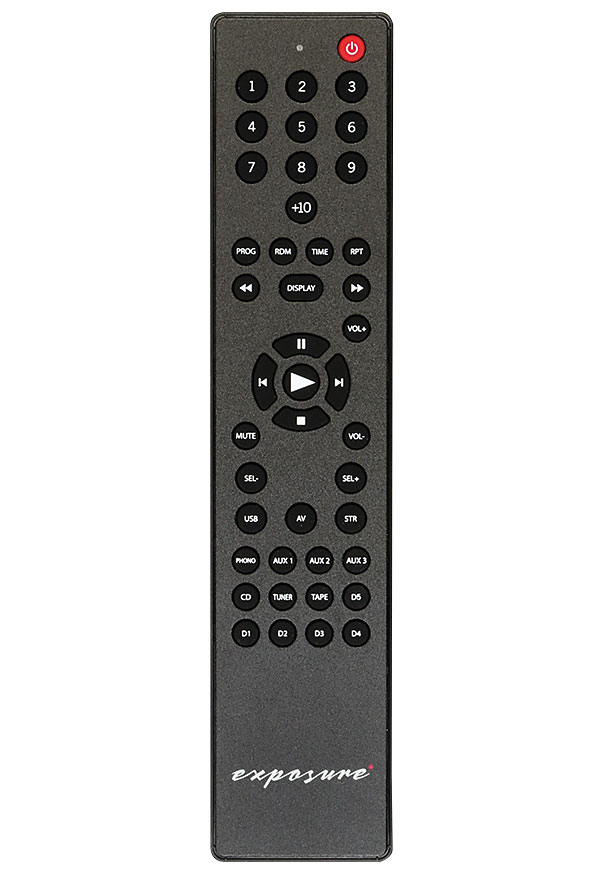 But the 3510 pre/power is a talented all-rounder too. The jaunty pop of Sixpence None The Richer's 'Kiss Me' [eponymous; Squint Entertainment 7017032616] was pleasant, as any late '90s radio hit should be, but there was excellent weight to the bassline, and a precise separation of the layered vocals that made it way more listenable than I remembered the song to be.
A more 'audiophile' piece, Lynn Stanley's 'Route 66' cover from the Live At Studio A SACD [A.T.Music ATM3109], evoked the smokey, jazz club vibe and demanded I sat forward to listen in as Exposure's amps captured the track's high, airy detail. Yet whether I played hip-hop, dance music or full-blown orchestral pieces, the outcome remained the same – sheer musicality, with a wonderful sense of flow.
And can this system rock? The Stooges' grimy, punkish, massively distorted 'I Wanna Be Your Dog' [The Stooges; Elektra 8122-73176-2] was more than enough proof. The Exposure duo didn't back off from that legendary riff, while creating a soundstage that had Iggy's atonal vocals floating above the maelstrom. Reassuringly awesome!
Hi-Fi News Verdict
There's not a lot going on here to catch the eye of feature counters, but that's also the point – Exposure's elegant pre/power duo is a wonderful advertisement for the 'keep it simple' ethos. The power amplifier is something of a wolf in sheep's clothing, while its preamp partner is a master of sumptuous detail and imaging. The result is pure listening pleasure at a price point that won't make you wince.