EMT Jubilee JSD 6 Cartridge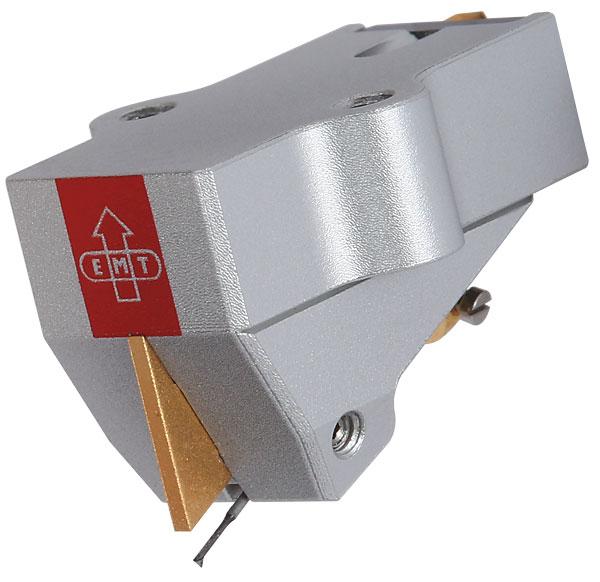 With a heritage in broadcast and studio environments EMT has always married robustness with precision engineering, witnessed in this 'domestic' high-end MC series
Elektromesstechnik – under the abbreviation EMT – is a brand that needs no introduction to vinyl fans, not least because of the reputation its turntables earned as the workhorses of recording and broadcast studios across the globe. The company's cartridges share a similar reputation for quality, robustness and reliability, but so far these have been somewhat overshadowed by its record decks. That's a pity, because not only has EMT been making pick-ups since 1959 but it has buyers in all four corners of the world.
What's particularly interesting about the £2599 Jubilee JSD 6 moving-coil seen here is that it forms a link between EMT's illustrious past and its future. The engineering team that created it was the last of the line to have roots in the development of the company's TSD 15, its very first stereo cartridge. This was used in many professional European recording studios, including Abbey Road.
In effect, the Jubilee JSD 6 is one of a small range of final EMT Jubilee pick-ups to carry the original design 'DNA' of founder Wilhelm Franz, since the firm's inception back in 1940. Other cartridges in the Jubilee series are the JSD 5, Silver, Gold and Platinum. From now on, it's all change…
Range Of Options
The JSD 6 isn't as expensive as you might expect for something exotic and hand-made in Switzerland. What's more, the series has been running since 2006 and comes in a range of options. The JSD 6 itself has a 'Super Fine Line' stylus profile, while its more affordable JSD 5 sibling has a Gyger S diamond tip. The body is effectively a hybrid between a standard enclosed design and a skeletal one, the like of which you would expect from Lyra [HFN May '18]. The business end of the cartridge – namely the upper section that clamps to the headshell – is hewn from a solid block of aluminium and finished in gunmetal silver. This means you can really ratchet up the mounting bolts in the cartridge headshell, which is just what's needed in order to achieve the best possible sound from any phono cartridge.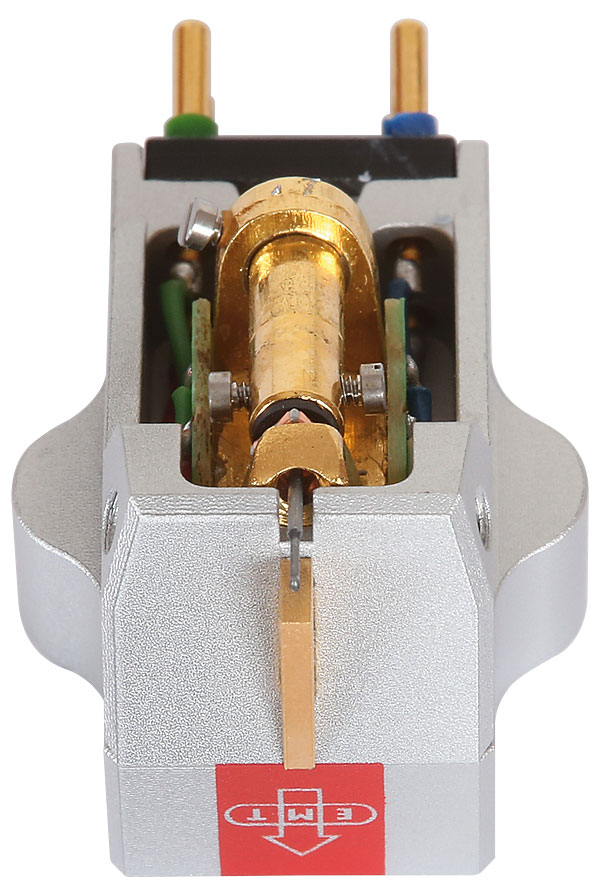 Body weight is quoted as 10g and compliance as 12cu, meaning it's a middle-mass, low-compliance design that should suit a wide range of modern tonearms. Meanwhile, the cantilever is a boron rod, which has the benefit of being lighter and stiffer than aluminium – the latter still being surprisingly commonplace among rivals even at this lofty price, and to my ears audibly inferior too. The Jubilee JSD 6 is said to track best at a not inconsiderable 2.4g, and I found this setting to work just fine with the cartridge mounted in my Michell GyroDec turntable with partnering TecnoArm. Finally, it has a rated output of 1.05mV into a recommended load of 200-300ohm.
Thanks to its oblong shape, the Jubilee JSD 6 proved easy to align in the headshell – although the semi-open design means great care must be taken not to damage its delicate exposed innards. Worse still, no stylus guard was supplied on the review sample, making fitting somewhat more nerve-wracking than it should have been.
When viewed from above, that small, angular gold metal protrusion on the front of the cartridge tells you exactly where the stylus is on the surface of the record. This makes precise hand cueing much easier than is the case with some cartridges, and really shows EMT's broadcast heritage.
The supplied wooden case is purely functional, though it contains an allen key and six mounting bolts of differing lengths to accommodate a variety of headshell thicknesses. As for the Jubilee JSD 6 cartridge itself, overall it feels a true quality product, both to have and to hold.

Easy Does It
Given the company's reputation for manufacturing battleship turntables, I had half expected the Jubilee JSD 6 to chug its way through the grooves of my records, making few concessions to subtlety and poise. Certainly, a number of broadcast-oriented cartridges I've heard over the years have been guilty of this, but not this one. Indeed it confounded my preconceptions, for rather than sounding workmanlike and/or matter-of-fact, it proved most engaging and enjoyable. Indeed there's a hint of 'old world' charm here. In an era where modern moving-coils often endeavour to emulate the forensic cleanliness of hi-res digital audio, this one eschews analysis for fun.
Touch Of Sparkle
Look at PM's frequency response plots and you'll notice the JSD 6 has a rising upper treble response, but this sounded less pronounced than you might think. It certainly added a touch of extra sparkle and definition to the hi-hat cymbal work on Rush's 'Take A Friend' [from Archives; Mercury SRM-3-9200], for example. Yet the treble performance was never coarse. It's also possible to discern a little extra lower bass warmth, which helps underpin bottom bass guitar notes. This made for a fuller sound than anticipated, without causing the recording to appear bloated. Midband detail sounded smooth, so the overall effect was of a subtly euphonic performer that doesn't accentuate the negatives.