EMT Jubilee JSD 6 Cartridge Page 2
Another pleasing facet of the Jubilee JSD 6 is its delicacy and refinement. Of course, you wouldn't call any of its price rivals hard and forward-sounding, but still some deliver a more 'etched' sound that throws vast amounts of detail right out at you. By contrast, this pick-up is not as intense a listen. This is down to the cartridge's innate quality as much as anything. It traces the record groove in a precise and intricate way without thrusting things out in a disorderly manner. The raucous guitar work of the Rush track was carried with bags of energy and immediacy for example, yet never did I feel overwhelmed by it.
Likewise the complex electronics of Paul Hardcastle's 'Rainforest' [from Paul Hardcastle; Chrysalis CHR 1517] were rendered as clean as a whistle, with the chiming harmonics of those early digital synthesisers never sounding fatiguing. Indeed this cartridge carried the song really well indeed, digging down into the densely packed and compressed mix to reveal all the important elements in a vibrant and compelling manner.
Swelling Wash
In short, the Jubilee JSD 6 serves up the music in a way that is assured and confident and while it is lithe and responsive when it comes to handling attack transients, one never has the sense that it's trying too hard. Cue up a fine classical recording and you're soon immersed in the musical event, as 'The Representation Of Chaos' in Haydn's magnificent Creation [BPO/Karajan; DG 643515/16] showed.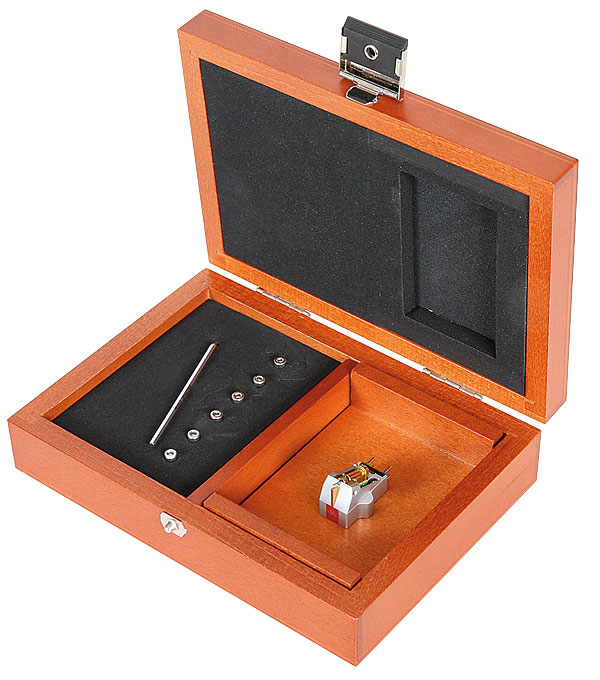 The JSD 6 communicated all the brooding, menacing build up to the work's orchestral climaxes. Instead of delivering an itemised report on sundry details of the concert hall and recording equipment, it worked on portraying how the swelling wash of music pushes onward and upward and in so doing, faithfully conveyed the sheer beauty of this great piece.
Only when it came to the stereo soundstage could the Jubilee JSD 6 be said to be found a shade wanting. The manner in which it reproduced the recorded acoustic of the Haydn performance was certainly admirable, but the result wasn't perhaps as cavernous as that created by some rivals. Still, instruments were well defined and there was a real sense of depth, even if images didn't stretch quite as far left or right as they might have.
So, this cartridge is strong on dynamics, even if it doesn't sound as punchy or expressive as some even costlier moving-coils. Nevertheless, one cannot help but appreciate its authoritative character, not to mention its ability to track all but the toughest LP grooves securely.
This all makes for a powerful and expressive sound. Blondie's 'Picture This' [Parallel Lines; Chrysalis CDL 1192] is fairly compressed and lo-fi in its origins, yet proved a pleasure to play. The song's layered electric guitars, bass, keyboards – and of course Debbie Harry's brittle vocals – are all set in front of a closely miked rock drum kit. The JSD 6 sliced through the morass of sound to reveal the subtle dynamic accenting of the lead guitar, as well as the dextrous way it was playing off the vocal line. At the same time, the controlled aggression of the drum work was very well carried – especially when it really let rip during the choruses.
Star Attraction
Overall, this cartridge proved itself a success in a number of areas, with its confident yet pleasingly musical presentation being the star attraction. Although arguably not the most forensic of moving-coil cartridges, many enthusiasts will love its sheer joie de vivre. It makes music in an engaging and classy fashion – perfect for reminding red-blooded vinylistas what's so special about their favourite format.
Hi-Fi News Verdict
EMT cartridges have been caught in the shadow of the company's own turntables for decades – yet if the Jubilee JSD 6 is anything to go by, they're no poor relation. Intelligently engineered with high quality materials, this is a seriously capable performer and not a slave to old-school fashions. A persuasive-sounding model, it deserves to be up front and centre on any audiophile's high-end moving-coil wishlist.