Electrocompaniet EMC 1 MK V CD Player Page 2
Before you can get down to the business of enjoying your CD library you have first to free the transport mechanism, as screws and wingnuts are deployed to keep it locked during transit. There's also a gold magnetic 'clamp' puck to be placed on your discs before you can push closed the unmotorised lid. This puck is supplied, but an optional extra is Electrocompaniet's Spider Clamp (£225), a larger, magnetically stronger model available in three different colours. I used both this and the regular puck during my listening but, quite frankly, noted no substantive performance difference between them.

Just Listen
Having stopped wondering about whether it made sense to release a CD player with no digital inputs this far into the 20th century, and actually started listening to it, I soon decided the EMC 1 MKV sounded very sweet indeed. We've all heard how the medium can be made to sound like a hashy, unappealing mess but the performance here is the polar opposite. Here's a sound that's consistently detailed, its resolving power joined by tonal nuance and vibrancy, and a knockout punch to bass, drums and percussive transients. Above all, this is a disc spinner that's respectful of the music.

I took advantage of the remote's 'Shuffle' key for a randomised listen through Mike Oldfield's 1980 album QE2 [Virgin Records MIKECD8; HDCD], which sounded supple, expansive and naturalistic through the Electrocompaniet player. The various textures and layers of 'Wonderful Land' were efficiently conveyed, with Oldfield's unique guitar tone and vibrato effects never sounding scratchy or over-emphasised. Separation, both of instruments across the soundstage and from one another, meant it was easy to sit back and appreciate the musicianship at work.
On this track, it was the sheer presence of a trilled mandolin that grabbed my attention, followed by the weighty throb of a trombone. But it was track 3, 'Conflict', that revealed the EMC 1 MKV's ability to deal with complex rhythms and low-end details. This piece features a repetitive, multi-drum pattern that at first is not so much about slam and drive, more timing ability, but which explodes at the end into a timpani smash-and-grab. It sounded glorious here.
The Persuader
Another UK guitar star, Dire Straits' 'Sultans Of Swing' [Money For Nothing; Vertigo/Phonogram 836 419-2], showcased the player's accomplished presentation of fine details, such as drummer Pick Withers alternating between his ride cymbal and hi-hat during the track's verses, and, again, its persuasive rhythmic ability. But also notable was a way with bass that suggests the EMC 1 MKV will benefit from partnership with amplifiers and loudspeakers that have both depth and subtlety. Whether the music features a fluid, melodious bassline, as on 'Sultans…', or something darker and more dramatic – a description that suits nearly every piece of Hans Zimmer's score for Blade Runner 2049 […Original Motion Picture Soundtrack; Epic 19075803092] – the EMC 1 MKV player will dig it out.
It goes without saying that all this sonic goodness is from ol'-fashioned 44.1kHz/16-bit, and, yes, this has its limitations. I've heard Kate Bush's 'Babooshka' [The Whole Story; EMI CDP 7464142] brought to life with a greater sense of space and treble 'air', especially as regards her mesmerising vocal, but that doesn't mean this CD sounded anything other than wholly enjoyable.
There was a wonderful feeling of balance to the EMC 1's portrayal of the track's instrumentation, giving a very natural feel to the fretless bass parts and piano backing, and a soundstage that offered appreciable width but didn't soften the edges of Bush's central presence.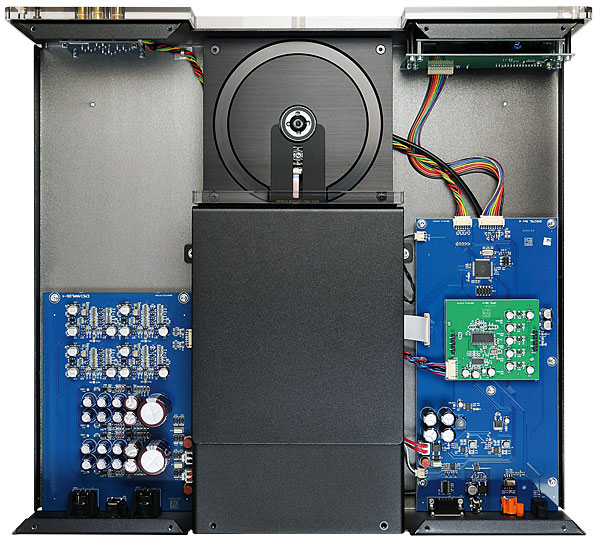 Typically, and even with the most mundane of tracks, this player's performance lured me in. George Ezra's sophomore album Staying At Tamara's [Columbia/Sony Music 88985459782] is 38 minutes of mostly throwaway pop music, but in the hands of this spinner I found it remarkably comforting. Nothing sounded out of place as the EMC 1 MKV gave equal prominence to vocals and accompaniment, gently lifting Ezra out from the radio-friendly melange of acoustic guitars, samples and mid-tempo percussions.
Tried And Trusted
The EMC 1 MKV is an intrinsically 'organic-sounding' player, testament perhaps to Electrocompaniet's decision to fine-tune a tried-and-trusted design and not muddy the water with an all-new approach. The old 'ain't broke, don't fix', if you will. There's also a sparkiness to it that comes from both its sense of dynamism and creditable detail. So while it sounds silky smooth when needed, it's not dull with it.
There's also something of an experience about using the EMC 1 MKV which brings it closer to the ritual of LP replay than you'll get from a conventional drawer-loading design. It'll bring a smile to your face if, like me, you usually spend (or should that be waste?) time in your music sessions fiddling with network streaming and app interfaces.
Hi-Fi News Verdict
A CD player and nothing else – there aren't even digital filters to experiment with, let alone inputs – Electrocompaniet's EMC 1 MKV isn't meant to be the hub of a multi-format system. Yet silver disc collectors will find their library is in very safe hands, as this fifth-gen flagship makes CDs sound thrillingly musical, and does so from a glamorous, well-engineered machine that's a real pleasure to use.