Dual CS 606 turntable Page 2
That swanky new ULM tubular aluminium tonearm with its effective length of 221mm had bearings that were well set up and was designed to track at very low weights. However, the company eschewed the then-dominant Shure cartridges for something closer to home, and bundled an Ortofon-made ULM55E MM pick-up, which matched the tonearm perfectly.
The ULM55E featured a biradial DN155E stylus, tracking at between 1.25 and 1.75g, with 1.5g recommended. The total mass of the cartridge is given as just 2.5g, meaning that in conjunction with the ULM tonearm, it will ride warps very well. The arm came fitted to the deck's black-painted pressed-steel chassis, which was decoupled from the wood plinth by springs.

David Listens
This deck may be some 40 years old but it is surprising just how good it sounds. Yes, it faced strong competition in terms of features from a wide range of Japanese rivals, but many of these turntables suffered from a slightly glossy sound that could sometimes become brittle. On the plus side, they were lively and exciting to hear, but over time this could grate.
The Dual CS 606 is quite different in character, and in some respects sounds more like a belt-drive design. By this I mean that it's not hard-edged, forward or mechanical. Rather, it reproduces the music in a way that flows, which is most pleasant to listen to. At the same time, it is tonally warmer than many rivals of its day, making for a mellifluous and enjoyable performance that keeps things sweet.
The Lilac Time's 'In Iverna Gardens' from their 1991 album Astronauts [Creation Records CRELP 098] is a smooth, lilting pop song that requires a good deal of subtlety to make it come alive. Many turntables from this period simply don't have that quality, and the end result can be a rather bland and workmanlike performance. Yet the Dual CS 606 was able to dig sufficiently deep into the mix to convey a sense of all the musicians playing alongside one another and actually enjoying it. There was a delicacy to the presentation that isn't expected from a deck of this price, which is doubtless down to the combination of its stable drive system and that really rather impressive ULM tonearm.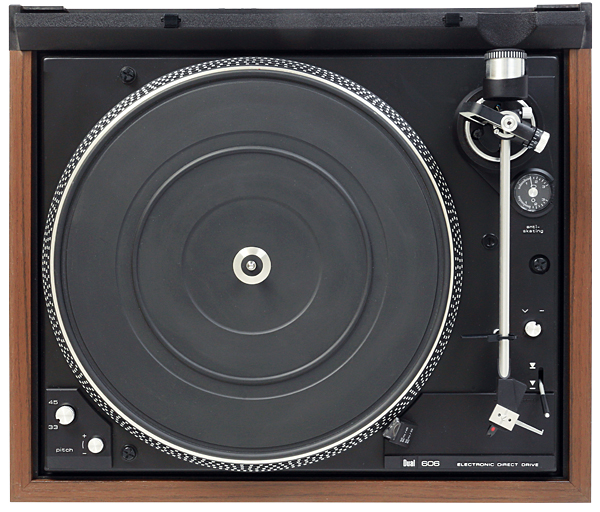 Of course, much here depends on which cartridge is fitted because the arm is designed to work best with low-mass, high-compliance moving-magnets. The Ortofon ULM55E pick-up used for the listening is certainly good for the money, but it has a slightly opaque and diffuse character compared with more up-market offerings.
Moving On Up...
Fit a Shure V15/IV – admittedly overkill given that it cost more than the deck at the time – and things really move up a gear. There's now more precision to the sound and the music becomes a lot more dynamic and emotionally animated. Bass is taut and the treble crisp, and there's a decent stereo soundstage to enjoy with vocalists and instruments locked tight in space within the mix. Bozz Scaggs' 'Lido Shuffle' [Silk Degrees; Columbia PC 33920] showed just how good this deck can sound with a decent MM. I really enjoyed the hard-struck bass guitar strings and highly energetic bass drum and snare work, yet it was the way this turntable carried the lead vocal line that truly impressed me. It revealed an expressive and passionate feeling to the performance that really set the track alight.
The CS 606 was also able to impart all of the various strands of the mix in a consummately confident and clear manner. Even throughout the song's dynamic crescendos the tonearm and cartridge tracked confidently, giving an impressively unflustered sound that some far more expensive turntables of its era would struggle to beat. In the great scheme of things, this is no Linn Sondek beater, but it's a step up from a Rega Planar 3 and its ilk. Interesting, then, that unlike the CS 505, the '606 didn't sell in any real quantities in the UK.
The '06 range was quietly dropped just a couple of years after its launch. In the UK, the new Dual CS 505 [HFN Feb '13], launched in 1981, was proving extremely popular. This was a stripped-down, price-cut CS 506 selling – at first – for just £59.95. It lost the real wood plinth of its bigger brother, and its stroboscope light, even if the strobe markings around the platter were retained. The deck proved very popular because it cost a third less than a Rega Planar 2, effectively becoming the 'budget audiophile' weapon of choice for a generation of aspiring Linn Sondek owners.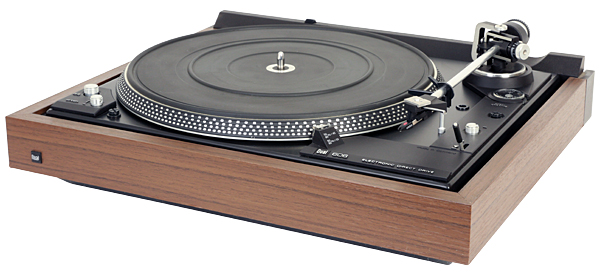 Later decks were called the CS 505/Improved and gained a better headshell that saw Dual's fussy cartridge carrier system dropped. The plinth was tweaked and a better turntable mat was fitted. This eventually increased the price of the deck to £110, taking it perilously close to that of the Rega Planar 2 and, of course, the original CS 506.
Although Dual's CS 505 went on to be a massive seller in the UK, Dual went bankrupt in 1982 and was sold to French electronic manufacturer Thomson SA. In 1988, Thomson sold Dual to German manufacturer Schneider Rundfunkwerke AG.
In 1993, the company was split into a number of different entities, including Dual Phono GmbH, which recently announced a ten-strong CS range of decks starting at £299 for the entry-level CS 440. Meanwhile Dual DGC GmbH (Germany) sells its own brand of Far East-sourced consumer electronics, including turntables, in Europe.
Just to add further intrigue, the brand name surfaced in the Americas, owned by a South Korean company, also selling consumer electronics. In truth though, the glory days of Dual were the late '70s and early '80s – and the CS 606 is a worthy testament to them.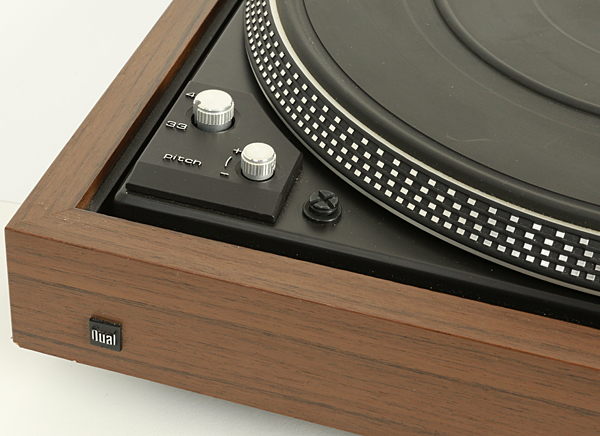 Buying Secondhand
Being relatively straightforward mechanically, a used Dual 606 is a safe bet when buying one on the secondhand market. This is aided by the high quality of manufacture that went into the series. Bearings are good, the electronics are reliable and the tonearms are robust. But no turntable is able to withstand an uncaring owner, so prospective purchasers should focus on the condition of the turntable.
Check for loose, sloppy tonearm bearings, speed instability and mechanical noise from the motor. If you can, ideally buy a boxed example as this will be an indication that it will have been transported properly over the years.
Hi-Fi News Verdict
Although far from being the world's top turntable, the Dual CS 606 is a pleasing blast from the past. It's a reminder that high quality record reproduction was available in a well-built, classily-finished, easy to use package and that you didn't need to buy a deck from Japan to enjoy this. The fact that it's still such a pleasure to use some 40 years on speaks volumes about its quality. It's one of the brand's forgotten gems.