The Doors: The Soft Parade Alternate Format Discography
Alternate Format Discography
Original LP
The Soft Parade was released in July 1969. The US LP came out on Elektra with a surreal colour painting of the group members on the inner gatefold, an inner sleeve with portraits of The Doors on one side and lyrics on the other, and gold record labels [EKS 75005]. The UK version had the same catalogue number but red labels.
The 1969 Japanese LP – which now commands high prices – had a front cover that featured a small circular photo of the group cropped from the standard cover set on a white background and surrounded by a flamboyant font spelling out 'World New Rock Series No 8' [see below]. These LPs were releases licensed from US and UK labels and included albums by Pentangle, Jethro Tull and MC5. It was issued in a gatefold cover with an insert in Japanese text and appeared on the blue and white 'Guitar player' label [SJET-8161].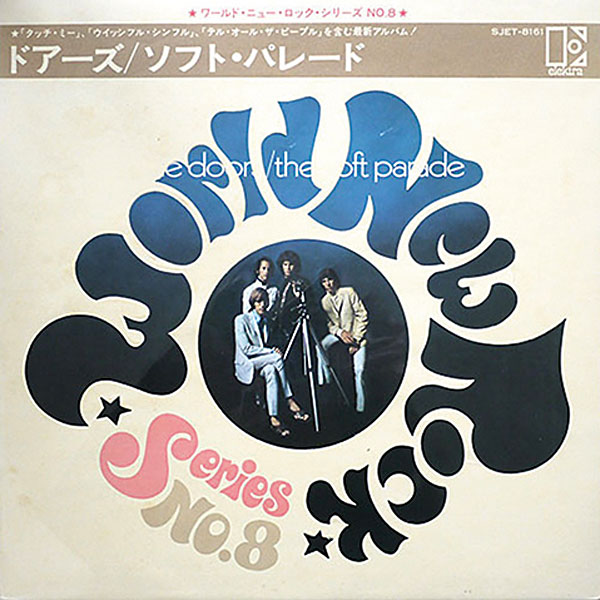 Another rare oddity is the Netherlands club edition that came out on German SR International via Dutch label ECI. The front cover features multiple images of a Victorian-style illustration of a child playing drums with a moody black and white group shot on the back [20 101].
There were just two mono versions of The Soft Parade, both on CBS and released in single sleeves in Uruguay [10.006] and Chile [111.076] in 1970.
Tape Versions
An 8-track cartridge was released on Elektra in 1969 in a cream plastic shell [M 85005] and on a 4-track cartridge in a smoke grey translucent shell. This format used two programmes as opposed to the 8-track format's four [Elektra EKT-A-75005]. A 3¾ips, 4-track stereo open-reel tape was also released on Elektra [X 5005].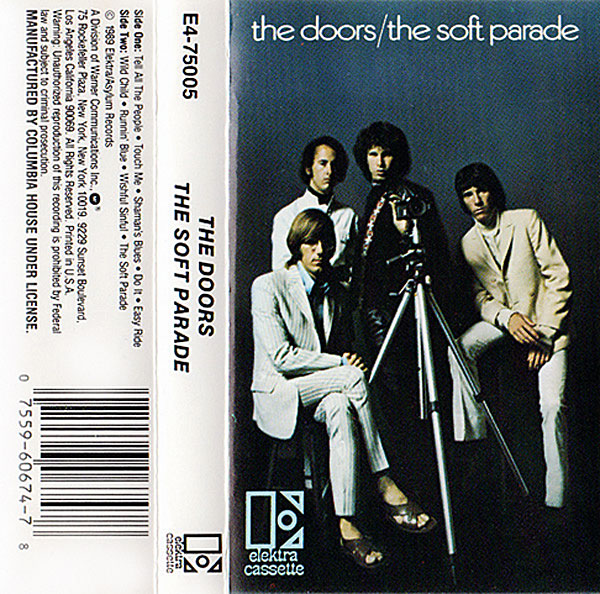 The original US cassette came in a clamshell case [Elektra X55005] while the version for the UK market was manufactured by Polydor Records [948 015; ZCK4 42079]. The album was also released on cassette in 1989 [E4-75005] as a 'Club Edition' licensed to Columbia House.
First CD Release
The first CD of The Soft Parade to appear in Europe hit the shelves in 1989 [Elektra, 975 005-2]. Mastering took place at Digital Magnetics in Hollywood by both Bruce Botnick and Paul A Rothchild.
The artwork was based on the original LP cover but carried added information about digital remastering and instructions on CD care on the back of the jewel case. The US version was manufactured by WEA and released the following year [Elektra 75005-2].
The CD was remastered in 1999 at Bernie Grundman Mastering in Hollywood for US markets, this time with composition and recording credits on the back cover [Elektra 75005-2, 62434-2D]. This version was then released in Europe the following year [7559-75005-2].
A limited edition HDCD appeared on Audio Fidelity in the US in 2009 [AFZ 038]. It claimed that 'The original dynamic range of this recording was not limited or compressed in any way during [Steve Hoffman's] remastering'.
Special Editions And Box Sets
The first CD with bonus tracks was released in an early 40th anniversary edition in 2007 – a joint release by Elektra, Warner Bros, Rhino and Doors Music Company [Europe 8122-79998-1]. It was remastered at Uniteye in California by Botnick. The additional tracks are 'Who Scared You', 'Push Push', 'Whisky, Mystics And Men' (two takes) and another take of 'Touch Me'. The US version came out via Elektra/Rhino/Doors [R2 101187]with liner notes by Botnick and Rolling Stone journalist David Fricke.
The major reissue project came in 2019 with the numbered, limited edition 50th anniversary All Media Deluxe Edition, remastered that year by Botnick and Bernie Grundman.
CD1 contains the original stereo mixes while CD2 comprises bonus 'Doors only' versions minus the contentious brass and strings overdubs, with new mixes by Botnick and some new guitar overdubs by Krieger. There are also a number of studio run-throughs, some with Ray Manzarek on vocals.
CD3 consists of more bonus tracks centred on the unexpurgated 64m version of 'Rock Is Dead' and the set is completed by an LP of the original stereo mix. It was released on Rhino/Elektra with a US catalogue number R2 596001 and in Europe R2 596001, 603497851324.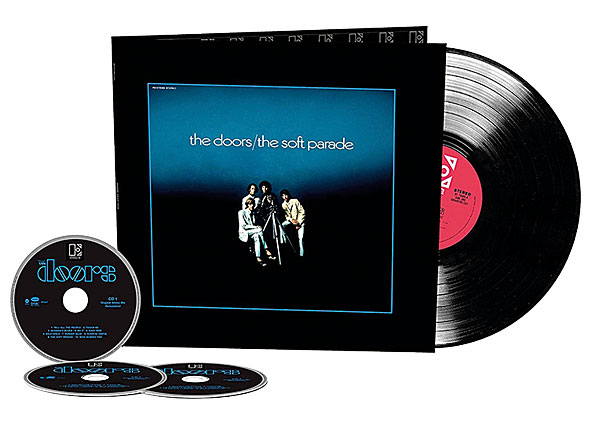 Audiophile Vinyl
In 2009 a 180g vinyl LP was cut at Bernie Grundman Mastering under the supervision of Botnick and Elektra founder Jac Holzman. This was issued on Elektra/Rhino [US EKS-75005, RHI-74881-4; Europe 8122-79864-9]. In 2020 a 180g remastered LP was released in Europe [Elektra, R1 75005].