DALI KORE Loudspeaker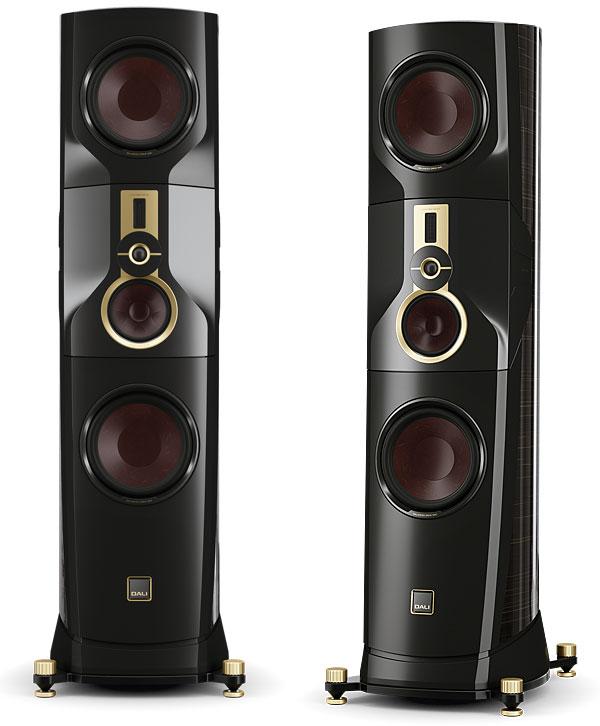 Years in the making, DALI's KORE flagship breaks cover and it's a triumph of engineering, style and superlative sound
There are many ways to express that emotion of delighted surprise when encountering something unexpected: everything from the archaic 'Gosh' or 'Goodness', through the more contemporary low whistle or 'Wow', or even the kind of expletive never found in these pages. Meanwhile, the Blessed Google suggests that the Danes might say 'hold da helt ferie', literally 'take a whole vacation', which I guess is somewhere close to the American 'get outta here'. But for those of us brought up on British films of the latter part of last century, perhaps the best reaction to these new DALI flagship speakers is just to mention their name, perhaps followed by 'blimey' for the full effect.
You see, the DALI KORE speakers, yours for a cool £70,000 a pair in their combination of Ebony Amarra wood veneer with gold accents, are impressive on just about every level. Even if they're not the very tallest floorstander we've reviewed over the years, at 1.675m the KORE remains an imposing presence in any room thanks as much to its sheer bulk and solidity.
On A Roll
At 148kg per speaker (248kg per crate) the KORE's unpacking and installation is eased by a 'castors and ramp' approach first championed by B&W, allowing these huge cabinets to be rolled out of their crates and into place. Then it's a matter of winding down the spikes to support the speakers, before finally unbolting the castors and putting them away somewhere safe in case you ever feel brave enough to move the cabinets again.
All the mass of this speaker helps define its performance rather than contributing to aesthetic effect, although there's no disputing the visual impact of the KORE's stunning industrial design. With one of its hefty 290mm bass drivers mounted high up in the cabinet, stability was a concern – hence the outrigger feet and 32kg plinth made from concrete and resin, the latter 'grounding' the speakers while also allowing for some adjustment of tilt towards the listener. The position of the two bass units on the baffle, and their slight angle, also forms part of the overall time-alignment of the KORE's output for a notional 3m listening distance.
Stuff Of Legend
Everything about the KOREs seems built on a Herculean scale, not least those 'nearly 12in' woofers with their twin voice-coil balanced drive and second generation of DALI's Soft Magnetic Compound (SMC)technology. The idea of using twin voice coils is to extend the linear performance of the motor, for as one coil is leaving the surrounding magnetic field the other is entering. Directional non-linearities are cancelled, distortion is reduced and maximum output improved. Shorting rings are also used to linearise voice-coil inductance and reduce distortion still further. In practice, and despite the much-reduced excursion of the partnering 178mm midrange unit, all three of these moving-coil drivers employ the same 'Balanced Drive' concept.

They also feature similar sandwich cones made from paper pulp reinforced with wood fibre, the rich colour and 'natural' texturing of the cones being very familiar to DALI-watchers over the years. Those bass drivers are mounted into separate ~72 litre reflex enclosures and tuned to a claimed 22Hz via angled ports that exit at the rear via a pair of slatted exhausts. The midrange unit, by contrast, is loaded into an attenuated open back housing. These drivers are combined with a 35mm soft textile dome tweeter and a 10x55mm ultra-high frequency planar/ribbon unit, this forming what DALI calls its EVO-K driver: the version here a development of that found in the company's Epicon loudspeakers. The crossover, operating at 390Hz, 2.1kHz and 12kHz, is a split design with the bass section mounted in that hefty composite plinth, and the midband-to-treble handled by a second board, located close to those drivers.
Divide And Conquer
The enclosure, meanwhile, is built by a Danish furniture manufacturer that specialises in 'curved shapes', using a 28mm-thick birch laminate composite. It combines structural elements made from die-cast aluminium, thermoset resin and cast composite, and is divided up internally so each section of the speaker is operating in its own space. The dividers also brace the cabinet and are formed from laminated birch shelves installed to create non-parallel surfaces. The role of this cabinet, which is finished in a striking dark veneer with textured accents? According to CEO Lars Worre, it's to 'hold the drivers, be airtight, and shut up'.
It's also built to be relatively easy to position – DALI suggesting 3-5m between the speakers, 1-2m from the wall behind, and away from corners, while also advising against any toe-in if the set-up conforms to the classic 'equilateral triangle' layout. There's a KORE 'White Paper' covering, among other things, the brand's 'wide dispersion philosophy', and you can find it on the company website at www.dali-speakers.com/en/products/dali-kore/dali-kore. (Registration may be required.)
Executive summary? The company aims to optimise the dispersion characteristics of its designs so that direct and reflected sounds have a similar tonal character. What's more, the KORE is designed as a stable, relatively easy load for amplifiers, with a nominal impedance rated at 4ohm, a minimum of 3.2ohms at 72Hz, and a sensitivity given as 88dB/W/m.

The Big Picture
The KOREs, driven for my listening in PM's main room by Constellation's Centaur II 500 Stereo power amp [HFN Dec '19], had a sound to match their imposing presence. They created a big, impressive sonic picture with the Chicago Symphony Orchestra/Reiner recording of Dvorak's 9th [RCA Red Seal 82876 66376 2], allied to excellent orchestral dynamics and detail, despite not being quite the last word in soundstaging. In truth, this recording is a little bit 'big band' rather than having ultimate audiophile focus, but there's nonetheless fabulous speed and power – in the brass in particular – realised with ease by the KOREs.