Bang & Olufsen Beovox CX50 Loudspeaker Page 2
These were never cheap loudspeakers, either. By the end of their run the CX50 would set you back £325 and the CX100 £450. Nevertheless, thousands of pairs were sold, partly due to the popularity of B&O's groundbreaking multi-room systems for which these models were ideal.
Ultra Clean
Comparisons between the Beovox CX50 and Technics SB-F1 [HFN May '17] are unavoidable given their near identical size and almost concurrent point of introduction. Surprisingly, one would have to favour the standard of cabinetwork and finish offered by Technics to that of B&O. Matsushita's soft-edged and sculpted die-cast enclosures feel nicer to handle than the sharp cornered extrusions of the B&O models, whose insubstantial plastic backs don't inspire a great deal of confidence either. Styling, an important factor when it comes to speakers since they can't be hidden away, favours the Beovox to my eyes though. The SB-F1 is pretty, but it is clearly the product of another era. The CX50, on the other hand, could still pass as a new model, its ultra-clean appearance having dated not one bit.

Tim Listens
Used like conventional loudspeakers, mounted on stands and positioned well into the room, the CX50s disappoint because they produce so little bass. Matters improve greatly, though, if the loudspeakers are placed as intended, either on well stacked bookshelves or pushed right into the corners of the room. The design then makes much more sense, in particular the use of a tweeter from a full-sized model.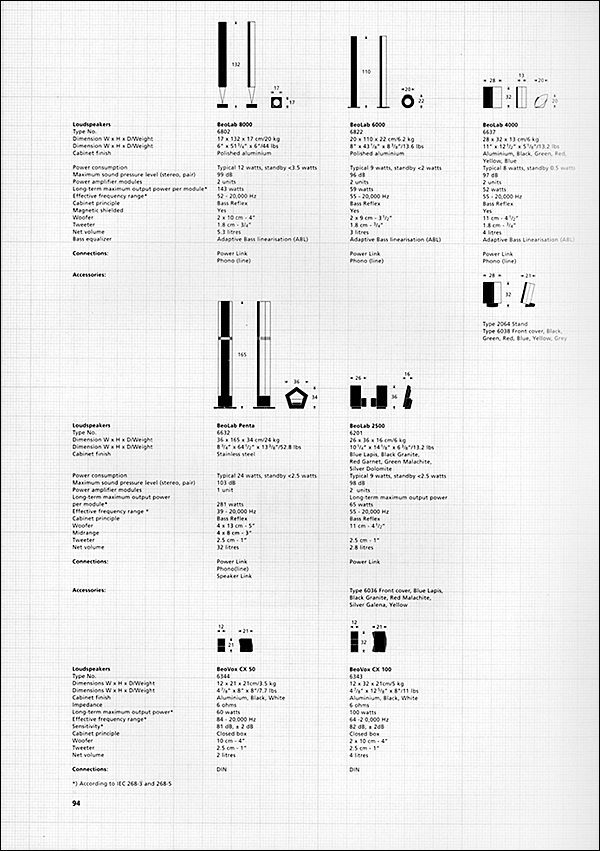 The naturally increased bass output, which occurs as a result of boundary reinforcement, is then partnered by full scale treble, making the CX50s sound much, much larger than they really are. It is no understatement to observe that in the sizes of rooms envisioned by the designers a pair of CX50s could produce more sound than practically any musical programme will require. Yet low sensitivity (81dB/1m) and a low nominal 6ohm impedance means they will absorb all the power of an amplifier in the 50W class to get close. B&O's own 55W Beomaster 5000 receiver (a contemporary of the early versions of the CX50) can drive these loudspeakers to full output, but the temperature of the amplifier's heatsink lets you know it is working hard.
Perhaps inevitably the CX50 lacks the rich and luxurious sound that was a B&O hallmark at the time. Rather, the presentation here is dry and matter-of-fact, though some may consider this an improvement. The price to pay for the design's compact size is, predictably, found in the lower registers. Yes, careful positioning lifts the bass level to almost its proper place, but the sounds themselves can come across as papery and flat compared to when they're heard via a full-sized loudspeaker.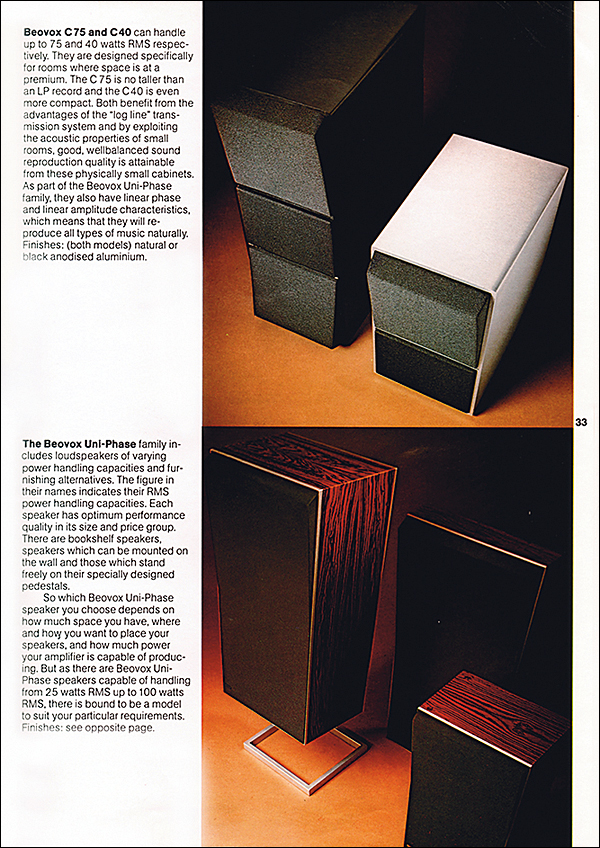 Clearly, music with very deep and prominent basslines cannot be played at high levels without audible signs of distress either. After all, there is only so much air you can move with a pair of 8cm-diameter cones! However, what one is left with inside the confines of these observations is still a remarkably capable loudspeaker.
Smooth Talk
If you are used to full-sized speakers (eg, big floorstanding models with 10in or larger bass units) then the reproduction of orchestral set-pieces such as the overture to Rossini's La Gazza Ladra [Deutsche Grammophon 431 653-2] will at first seem a bit limited in scale when played through the CX50s. Listen again, though, and another quality becomes apparent as the tweeter's sheer refinement and smoothness goes a long way to making up for the lack of outright weight. And it doesn't take very long to 'tune into' the CX50 sound, after which it becomes engaging, musical and enjoyable.
Less acclimatisation is needed for rock music and I was taken aback at how dynamic and powerful tracks such as Chris Rea's 'Texas' [The Road To Hell, WEA 2292-46285-2] sounded coming out of these diminutive units. Close your eyes and you'd guess they were maybe four times the size they are. The cymbals shimmered without a hint of brittleness while the bass guitar growled in the background. Only a bass drum that at times sounded like someone kicking in a wet cardboard box occasionally broke the illusion here.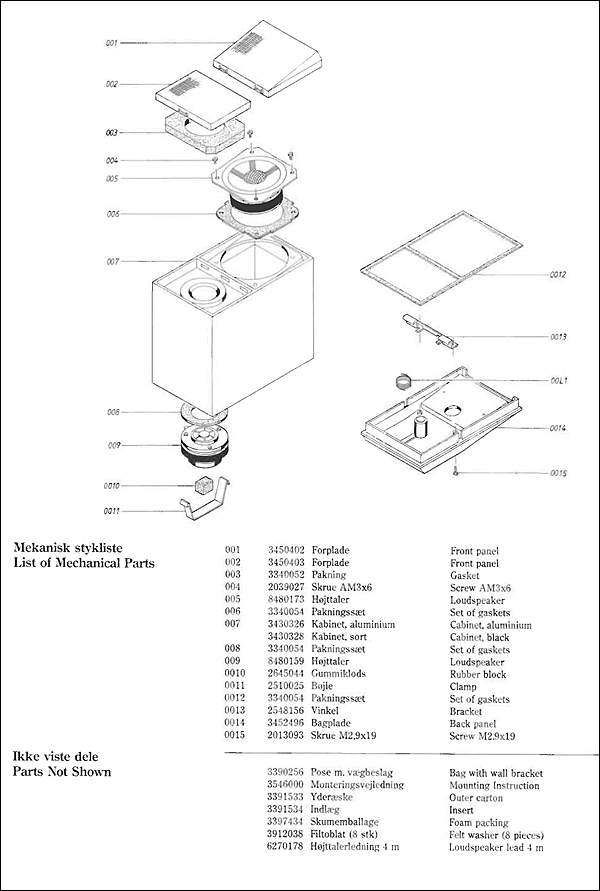 Meanwhile, the centre presence of Rea's distinctive vocals was strong and well defined. A bugbear of the Technics SB-F1 is the weak and inconsistent stereo image it produces. No such problems exist with the CX50, which conjures up a good, solid spread of sound.
Big speakers are big for a reason though, and it would require an unusual degree of dedication to stylistic purity (or simply masochism...) to use these as your only loudspeakers. However, you would need to choose a model substantially larger to usefully improve on the CX50. So in cases where space is limited, these are right up there. The Technics SB-F1 is impressive for quite how much sound it manages to make, but by doing a little less and doing it a little more carefully, the CX50 proves to be a better, if less dramatic, speaker.
Buying Secondhand
The company's 'C' and 'CX' speakers use DIN plug connectors at the rear. A cable-mounted socket is required to mate with these, which is an unusual component and not all types will fit into the deep recess. If available, the standard B&O cables are, of course, the best solution.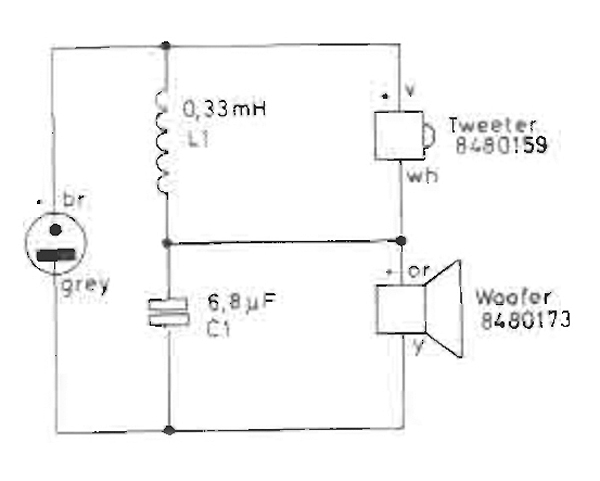 All these models eventually suffer from deterioration of the foam rubber woofer surrounds but replacements are available. Fitting them is a tricky, messy business but it is worth doing as the drive units themselves are quite special and not easy to substitute effectively. When removing the woofers from the 'C' models it is essential to take off the backs and remove all the wadding first. If this is not done it will get wrapped up in the long screws that hold the units in, which will then be virtually impossible to remove.
The tweeters can go open-circuit, but this is rare and as the crossover components are of good quality they are best left alone. Tired-looking natural aluminium-coloured versions of the speaker can often be revived by removing the lacquer with a kitchen degreaser then applying a fresh coating, or simply rubbing the cabinets over with light oil.
Hi-Fi News Verdict
While no miniature loudspeaker can fully replace a full-sized one, the CX50 comes as close as any and you cannot argue with the commercial success this design enjoyed during the many years it was on the market. Able to deliver a wide and solid soundstage while boasting a smooth, refined treble, if space is tight, it is required listening. Just remember to experiment with placement to reinforce the bass.