Avantgarde Duo Primo XD Loudspeaker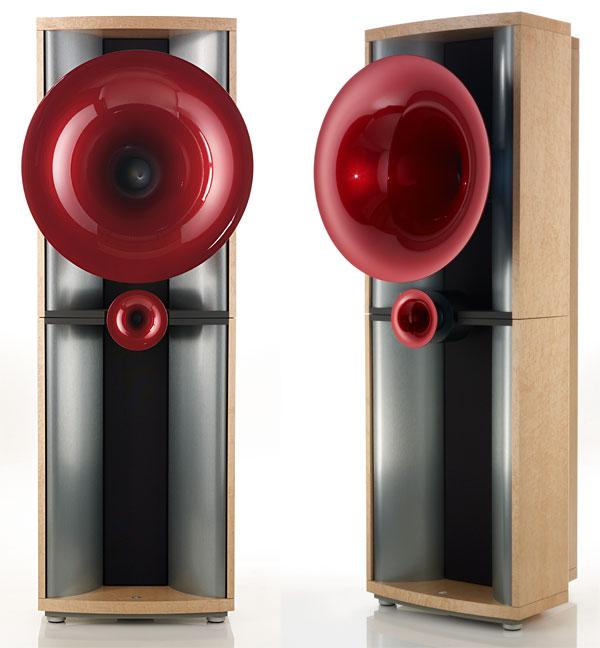 Dubbed Avantgarde's 'best kept secret' the Duo Primo XD was revealed at the UK Hi-Fi Show Live
Of late we've had some speakers through editor PM's listening room only describable as imposing, but nothing quite prepares one for the sheer visual impact of the Duo Primo XDs from Germany's Avantgarde Acoustics. Standing some 1.8m tall by 67cm wide, and weighing 185kg apiece, installing them is a matter of slotting the boxes together rather in the manner of building a PA stack – an appropriate analogy, as we'll discover – while the price-tag is similarly huge, at £79,500 a pair.
But even that isn't what grabs your attention. Instead it's that huge, moulded-from-ABS midrange horn, the full width of the speaker, and the manufacturer's assertion that this is the compact, room-friendly version of its signature technology. Yes, really…
Anyone who's ever been exposed to an Avantgarde demonstration at a hi-fi show – and this new XD version of the longstanding Duo Primo was premiered at our recent Hi-Fi Show Live in Ascot – will know just how bonkers its speakers can be: an assemblage of huge horns, mounted on substantial curvaceous open frames, as in the 1.5m tall by 1.3m wide Trio XD model.
The Big Easy
Then there's the company's Basshorn XD subwoofer, using two 30cm drivers and a 1000W amp in an enclosure 2.38m tall and almost as wide – and that's per module, Avantgarde saying that 'every Basshorn XD configuration will become a truly individual statement – not least when configured as a 4-fold or 6-fold Basshorn stack!'.
Monster set-ups like that would challenge the aesthetic of even the most dedicated listening room, so the company's designers realised that something had to be done, and the result is the Duo Primo (now in XD guise). It combines those horn-loaded treble and mid drivers, plus a quartet of 30cm bass units split over a pair of flared horn enclosures and driven by 2000W of amplification, and despite the massive dimensions makes the whole thing easy to accommodate by the use of DSP-tuning for the low frequencies.
Bass Amps
That means you don't have to live in a converted airship hangar to enjoy them, the company quoting a minimum room size of 20m2 (or, say, 17x13ft in old money, which is hardly huge) and explaining that you can even use the speakers pushed well back into the corners of the rooms, controlling any bass problems with that DSP. Which, by coincidence, is how we ended up with them placed in the HFN listening room.

The electronics in the speaker act only on the bass section, which uses that quartet of 30cm drivers of a very traditional 'PA bass bin' design, with ribbed fibre cones, 3in ferrite magnets and relatively rigid surrounds. These sit two-up, two-down, short horn-loaded by the shaping of the front of the main cabinet, finished in the review sample in high-polish silver.
Each bass unit is driven by a 500W/4ohm Class D amp sourced from Copenhagen-based pro audio amp specialist Pascal Audio. The last time we saw this design was under the hood of AVM's compact CS 8.2 amp [HFN May '17].
The DSP system, accessed using either a USB or wired Ethernet connection, provides 'linearisation' through a ten-band equaliser, an active crossover variable over a range of 20-500Hz and a subsonic filter, adjustable in 1Hz steps. This may prove handy for vinyl users experiencing an emphasis of their turntable's foibles when viewed through the lens of this mighty bass system, which claims extension way down to 18Hz.
Funnel Vision
Meanwhile, the 17cm midrange driver sits in the throat of a huge 67cm-diameter horn, which is lacquered and polished (and available in a range of colours as an extra-cost option), and uses a soft dome and Alnico magnet technology customised by Avantgarde. It's an in-house design, its mesh material sealed with a never-drying polymer coating applied to the rear. I am told that the process uses precisely 4.5g of the polymer for each driver. The effective horn length is 37cm, and the midrange covers 170Hz-2kHz, but this bandpass is not governed by an electronic crossover rather than the mechanical characteristics of the driver and horn, above which the 25mm tweeter kicks in.
The tweeter is actually a 50mm driver with a 25mm horn-coupling, based on a PA unit and mounted in its own 18cm diameter horn below the larger driver, and again available in custom finishes to match the midrange. This driver uses a Mylar dome and ferrite magnet, with Avantgarde claiming a frequency extension of up to 20kHz, choosing not to follow the trend of other manufacturers of quoting extension into the 'bat with good hearing' territory. The tweeter crossover is unusual in using very low current 100V DC biasing for its capacitors, the voltage being derived – via a cascade circuit and an isolation transformer – from the audio signal.
The company actually offers an extensive discourse on the benefits of horn technology in its publicity material, pointing out that 'Our mouth is a funnel, as are our ears. And we form our hands in the shape of a cupped funnel to amplify our voices and to improve intelligibility when listening. Even the architectural design of the ancient amphitheatre in Epidaurus is based on the acoustical principles of the horn.'