Avantgarde Duo Primo XD Loudspeaker Page 2
It also cites measurements made at the University of Aachen on its drivers with and without the horns attached, which point to 8x greater dynamic bandwidth, 90% less distortion and – rather more nebulously – '10x more details'. More to the point, the horn also amplifies the sound of whatever's driving it – think early acoustic gramophones – meaning that the driver behind it can be smaller, lighter and thus faster-reacting than that doing the same job in a conventional speaker. This also increases the sensitivity of the speaker system as a whole.
That's evident in the Duo Primo XD, which is specified at 107dB/W/m [see Lab Report, p41], allowing the company to suggest a minimum amplifier requirement of just 10W, and with 100W power handling. They were connected to the heavyweight Constellation Inspiration Mono power amps [HFN Oct '19] which are rated at – well, let's just say it's comfortably more than the Avantgarde speakers' power handling – so I exercised more than a little caution with the volume control on the dCS Vivaldi One [HFN Feb '18], here performing DAC/preamp functions.

Taken Aback
That proved a wise precaution, as a very simple way to make these Avantgarde horn speakers sound overbearing is to push them too hard with a big, powerful amp. Despite the low-down weight on offer, the sound can take on a hard, shouty edge at serious rock levels, as if those horns were turning into megaphones. There's definitely a volume limit at which these speakers start to show signs of stress, with dynamics also beginning to crush, and while it's not one most users would want to sustain for long, those looking for speakers able to play at room-destroying levels will likely look elsewhere.
Back off and let the speakers run at a comfortable level, and their extraordinary dynamic ability is revealed to impressive effect. Take as much care with the demonstration material, and the results are not just convincing but breathtaking. In fact, I'd go slightly further: these are speakers that sound best with demonstration quality music, with which one can appreciate their detailed, refined presentation, and the warmth of that big bass emanating from the entire height of the speaker. PM was necessarily present when the speakers were installed by the Avantgarde team – a minimum three-hour undertaking – who played some music brought along for use in tuning the speakers to the room, and he was rather taken with what he heard.
Head Rush
When I came to listen a few days later, bringing a more extensive and varied programme of content, we agreed the results were more mixed, even though there was much to admire. Specifically, the sheer visceral impact that quartet of bass drivers can deliver and the openness of the midrange and treble typically yields a slickly detailed, very precise but unforced presentation at modest listening levels.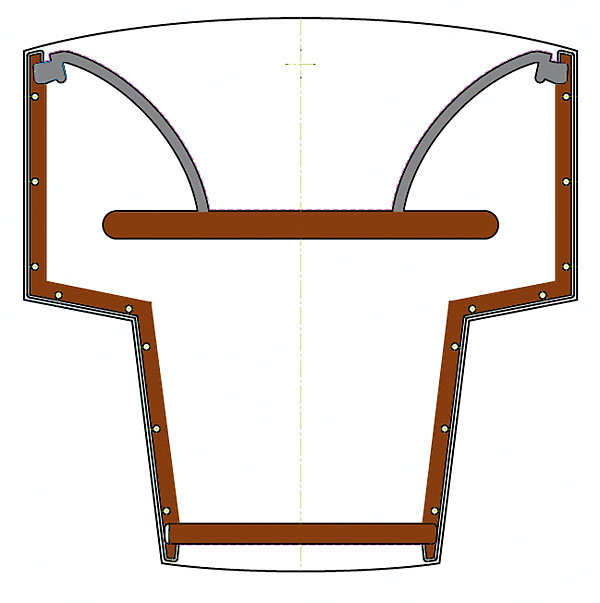 However, some foibles remain, not least of which is the narrow sweet spot created by these speakers. Position yourself 'just so' and the sound of solo voices, or solo strings, can appear so immersive it's as if they are truly in and around your head. But shift to the left or right and stereo images become more vague. I was also aware of some emphasis of sibilants, the vocals on Steely Dan's Pretzel Logic [Geffen UIGY-15004] sounding slightly lispy for example.
All that said, there are times when the Duo Primo XDs turn on the magic and leave you transfixed. Playing the Barenboim/Staatskapelle Berlin recording of Elgar's First Symphony [Decca 478 9353], that characteristic fluidity and scale is much in evidence, the speakers doing a fine job of localising the various sections of the orchestra – notably the woodwind and brass, with the percussion suitably distant. Similarly the Dena Piano Duo's fine recording of the Brahms Variations on a Theme of Josef Haydn [from Hommage à Grieg; 2L-094, DSD64] was delivered with exemplary clarity and lightness of touch, with realistic weight from the Steinways.

Serious Grunt
Another test favourite, Lake Street Dive's stripped-back take on 'I Want You Back', from Fun Machine [Signature Sounds SIG2032], is also well within the speakers' comfort zone, and they treat it to deep, tight bass and crisp percussion, combining with the lone trumpet to underpin Rachael Price's vocals perfectly.
So when these speakers are good, they're very good, as a listen to the opening 'Funeral For A Friend'/'Love Lies Bleeding' sequence from Elton John's Goodbye Yellow Brick Road [Mercury/Rocket 981 320-5] makes clear with its combination of atmosphere and serious low-end grunt. However, to hear them at their best, you have to choose your recordings very carefully indeed.
Hi-Fi News Verdict
As a statement about how seriously you take your audio system, they don't come much more dramatic than the Duo Primo XDs. If you choose immaculate recordings there's no denying that they can sound very special indeed – and vocals especially exquisite. Across a wider range of music they are not always speakers for all seasons, but when you hear them 'sing' it may prove difficult to go back!