Auralic Altair G2.1 Music Library/DAC


Built as a 'box within a box', and promising a slicker all-round performance, Auralic's G2.1 series now extends to the fully-fledged Altair streaming DAC/preamplifier
We've commented previously on the similarity – at least in styling – between many of the products in the Auralic range, and here's another head-scratcher in the form of the Altair G2.1. It's only a little more than the Aries G2.1 'Wireless Streaming Transporter' [HFN Feb '21] – £4599 plays £4199 – yet this model, designated a 'Digital Audio Streamer', is a much more comprehensive product. It comes complete with onboard DAC, a preamp that allows it to drive a power amp or a pair of active speakers directly, and there are even analogue inputs – a line level and MM phono – to reinforce that role as a complete system hub.
Indeed, you can go even further with the option of an internal hard drive to allow the Altair G2.1 to function as a network music store as well as accessing external storage. Specifying it with a 2TB SSD installed adds £400 to the price, while looking around Auralic's retailers finds it with a 1TB SSD fitted for £4699, or a 4TB drive for £4899. All these are reasonable add-on costs considering the premium charged by some computing brands for a storage upgrade.
Like Lightning
Bought 'as is', without the internal storage options, this is still an extremely flexible device. Leave aside the analogue capability for a moment, and you can play music into it via optical, coaxial and AES/EBU inputs; connect a computer via its asynchronous USB-B port, or an external USB store using the USB-A; or stream to it over a home network using either Wi-Fi (for which twin antennae are provided) or Ethernet. It also has both Bluetooth and AirPlay connectivity and is also Roon-ready, allowing the Altair G2.1 to be used as an endpoint with a system built around a Roon Core.

If you don't go down the Roon route, the Altair G2.1 itself supports a range of online streaming services, as well as being able to stream from the user's own network library. Qobuz and Tidal are built-in, as is Internet radio, and it can also work with Songcast and Spotify Connect.
Making sense of all this is Auralic's own Lightning DS operating system, which works in conjunction with the well-sorted app of the same name, and is available for Apple iOS devices. There's also the option of controlling the unit using the Lightning Web Control Interface: it's just a matter of reading the Altair G2.1's IP address from its settings menu, typing that into a web browser, and you're in business.
Both the app and the web version cover both basic operation and detail settings. You can, for example, enable the internal resampling system, upsampling or downsampling across a 44.1kHz to 384kHz range – all this running under the control of Auralic's custom 'Dual Femto' master clocks. There's also a built-in – and very flexible – parametric equaliser, and you can even tailor the sound to suit your speaker positions, with adjustable gain and distance parameters. It's no substitute for getting your speakers placed correctly, but in the real world it could prove handy.
Digital Wizardry
Dig even deeper and there's a huge raft of adjustment available here, including setting a fixed output should you want to use the Altair G2.1 into a conventional amp or preamp. You can also set the brightness and format of the display, the automatic power-on parameters, and select from a range of digital filter options. Having spent some time trying these filters, I can safely say the one you choose will be a matter of personal taste, and I really wouldn't devote too much time experimenting. Find the one you like – I ended up with 'Smooth', but you may disagree – and forget about it.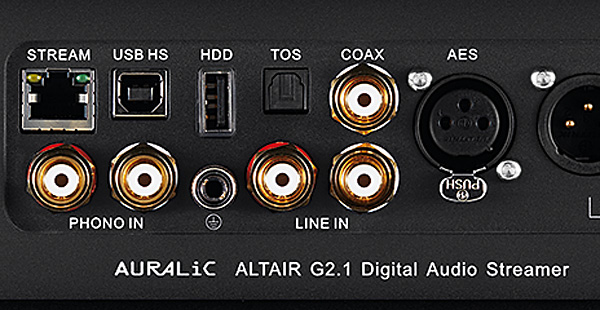 Depending on the input you choose, the Altair G2.1 can handle digital datastreams at up to 384kHz/32-bit and DSD512, the higher limits achievable via both network and USB connection from a computer (for which Windows users will need a driver) or USB storage, whether from a connected drive or optional internal storage. The legacy digital inputs – optical, coaxial and AES/EBU – top out at 192kHz/24-bit, but can accept DSD64 via DoP if required.
The analogue line and MM phono inputs bypass the digital wizardry of Auralic's 'Tesla' platform and can be configured to fixed level in a 'home theatre bypass' mode. These inputs also go straight to Auralic's 'resistor-ladder' volume control and to its proprietary 'Orfeo' Class A output stages to either unbalanced RCAs or balanced XLRs. There's also a 6.35mm headphone socket on the front panel, along with a large, sharp and informative display and a single control covering volume and 'push and twist' menu access.