Auralic Altair G1.1 Network-Attached DAC

Now benefitting from the latest updates to Auralic's Lightning streaming platform, the 'starter' Altair DAC also features a raft of mechanical and detailed design improvements
Although Auralic (promoted as AURALiC) only launched the Altair G1 in 2020, the Chinese brand already has its G1.1 update available. It appears together with the Aries G1.1 as the new and more affordable options within their respective tiers, with the Altair and Aries G2.1 [HFN Oct '21 & Feb '21] being the more expensive models. However, as all Auralic products share a very similar chassis design and carry names that aren't very descriptive, it's sometimes difficult to discern which box does what.
In the case of the Altair brevity suffices – this digital hub is equally an ESS9038Q2M-based DAC, a streamer and even a media server/music library, if so desired. The Aries, on the other hand, is purely a digital transport, for use with an outboard DAC, while the Vega is a streaming DAC minus the server capability. Currently, there's only the Vega G2.1 available [HFN Oct '22] but priced at £6799 it's not a straight alternative to the arguably more versatile £2499 Altair G1.1 reviewed here.
Core Appeal
The Altair G1.1 is highly adaptable, lacking only digital outputs for use with an offboard DAC, even if the change in moniker from G1 to G1.1 doesn't sound especially ambitious. In the IT world a '0.1' update typically indicates a minor tweak and here the move from 1 to 1.1 is equally indicative of an incremental polish rather than wholesale change of core hardware.
The new satin silver plinth is eye-catching while the additional mass is claimed to better damp the ingress of vibrations. Auralic also counts a superior 'Femto' clock as part of the G1.1 upgrade, though jitter was always inherently low on the Altair/Aries/Vega platforms. The built-in headphone amp has witnessed a little extra beefing-up and although this feature might not be high on every Altair owner's wish list, it's reassuring to know it'll be able to drive more challenging cans.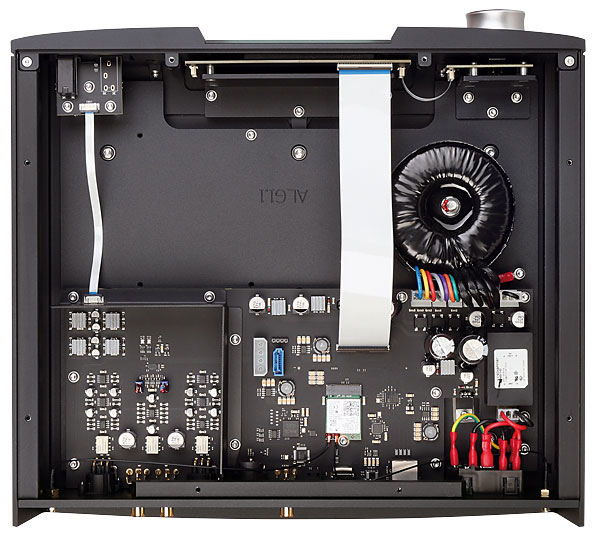 Typically, the Altair G1.1 will be married with existing separates. That shouldn't be an aesthetic challenge, as the no-frills approach and the matt black metal case make it a suitably minimalist companion to most hi-fi gear. That said, the finish is quite lush in a sober and understated way, with a single volume/rotary encoder provided to twist/push and browse your way through the settings. A larger LCD display shows off album art, and in a pinch can be used to adjust an option or two. But the bespoke Lightning app is easier to use.
Although the emphasis here is on wired and wireless network streaming and, optionally, playback from internal storage (a 2TB SSD can be dealer installed), the Altair G1.1 possesses a range of digital inputs. External storage remains an option too; just hook up an outboard drive to the USB-A port. Connecting a laptop is possible through the USB-B port, while Toslink optical, coaxial and AES/XLR options are there in case you want to connect a separate digital source, such as a TV or a CD transport. As you should expect at this price point, both single-ended and balanced XLR analogue outputs are provided.
Struck By Lightning
Next to sound quality, ease of use is probably the most important quality of any streamer. It's obvious now, but Auralic was once a real trend setter in this regard with even early products controllable via the rather excellent Lightning app. Before Roon came along and other brands caught up, it offered one of the best user experiences on a streamer. And, arguably, Lightning is still superior to many.
This slick app offers total control of the Altair G1.1, including input switching, Internet radio and playback of your local or network-based media library. A select offering of streaming services are accessible through the app. Qobuz, Tidal and Amazon Music are the ones that'll interest most readers, but Germany's specialist highresaudio.com is there too. Beyond mere service integration, the app goes the extra mile by presenting metadata – including album art, release lists and bios – attractively, enticing you on a journey of musical discovery. Auralic seems to stay on top of things too, pushing out regular firmware updates to add features, such as autoplay on Qobuz, which plays relevant tracks after your playlists have finished.
However, this lavish app is only available for iPad or iPhone (control of the Altair G1.1 is most satisfying on the former), which means the millions of Android users are left in the cold, which is hard to understand in 2022. Still, Auralic does offer compatibility with popular alternatives – the Altair G1.1 is Roon Ready, but Tidal Connect and Spotify Connect are there too, and if you download a DLNA player app (such as BubbleDS) you can control this DAC/streamer by that method too.