Auralic Altair G1.1 Network-Attached DAC Page 2
Auralic's Lightning app is also the gateway to a very extensive roster of options, although on a laptop or Android device you'll have to access these features through a browser. There's more stuff here than you'll probably ever use, yet a lot of it is useful, such as the optional volume control or being able to disable unused streaming options. Furthermore, should you wish to invoke additional DSP, it's even possible to compensate for irregular loudspeaker placement or compensate for a room mode via the app's parametric equaliser. So the Altair G1.1, beyond streaming, adds another layer of control over your system's sound.

Listening Pleasure
For some brands, offering a copious feature set and a superb user experience would have sufficed. But Auralic's entry-level streamer doesn't economise on audio quality either: the G1.1 is a smooth, organic-sounding performer, offering a vivid sense of detail and timing – without overanalysing or offering the definitive insight you might discover higher up the range. Just as the Lightning app entices you to keep on consuming music, the same can be said about the way the Altair G1.1 presents music, regardless of genre.
'Keep on listening' is very much the mantra. Take the rousing portrayal of the second part of Blue Violet's 'Vanished In The Night', or the duo's more enveloping, poppy 'Poster Girl' on Late Night Calls [Me&My Records MMR006V; 44.1kHz/16-bit]: these are conveyed with a real feeling of intimacy by the Altair G1.1, with a well-defined spread of instruments and a particularly fine delivery of Sarah Gotley's vocals.
In this instance, the streamer showed itself to be an excellent complement to a Hegel H590 amplifier [HFN Oct '18] and a set of B&W's new 702 S3 loudspeakers. The sound only edged slightly into forward territory; not in a fatiguing way, luckily, but in a 'nice to discover there's more to this recording' way.
Swapping the B&W 702s for my regular Focal Sopra No2s [HFN Sep '15] found grungy guitars on William The Conqueror's Proud Disturber Of The Peace [Chrysalis BRV18; 44.1kHz/24-bit] portrayed fat and full-bodied, while clarity abounded on the more acoustic songs. This release hails from Cornwall, but at some points wanders off in the direction of Nashville, before quickly changing course for '90s Seattle. It's quite a journey on a finely recorded album, and the G1.1 rendered the genre-spanning rock tracks in a satisfying manner, with a focus on the overall presentation which let the songs really come together.

All That Jazz
Blue Note-mainstay Robert Glasper released Black Radio III earlier this year, but it's still his 2015 Covered album [Blue Note B002285602; 96kHz/24-bit] – a live recording from Capitol Studios – which remains a particular favourite. This magnificent set has a cosy, small room feel to it, even when the audience reacts to the accomplished playing. Daimon Reid's drumming on 'I Don't Even Care' is fast, intricate, and full of detail, and the G1.1 offered it all up in thrilling fashion. This album features some of the best jazz musicians of our time, and while this unit isn't Auralic's high-end DAC offering, there's nothing entry-level about the performance here.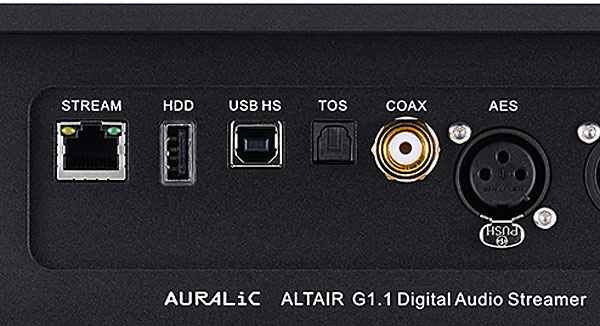 Auditioning the four digital filter options offered by the G1.1 turned out to be worthwhile. These are custom filters, a mixture of linear and minimum phase types, with both slow and fast roll-offs. Regardless of their origins, they have a noticeable impact, meaning you can be rewarded for dabbling during listening sessions. 'Smooth', which according to Auralic was the most popular choice during its in-house subjective testing, gave Homage To Bach by The Brodsky Quartet [Chandos CHAN20162; 96kHz/24-bit] a slightly recessed but also a more coherent character, while 'Precise' tended to lift out the intricate, wandering solo violin in Sonata No.1, BWV 1001.
Covering All Bases
Listening further, it became clear these two filter options represent the extremes of what's on offer. On the other hand, both 'Dynamic' and 'Balance' take a less outspoken approach, with the last of those two lacking a bit of liveliness when heard in my particular set-up. However, regardless of the filter selected, these sonatas by Bach are rendered engagingly with just the right amount of warmth and depth, giving you enough insight to focus on the nuances brought by each stringed instrument of the quartet.
Ultimately, the sonic character of the Altair G1.1 can be described by the same 'do it all' terminology as its functional description. This is a streamer/DAC that covers all bases and does so with panache.
Hi-Fi News Verdict
The Altair G1.1 is not only a rather fine contemporary USB DAC – it's also a versatile network-attached streamer that makes playing and discovering new music a joy. These are potent ingredients, ensuring the G1.1 is much more than just a very compelling sonic upgrade for your system. In practice you'll also get to reap the benefits of its slick, app-driven 'usability' with oodles of options to explore.