Audiolab 9000CDT/9000A CD Transport/Amplifier Page 2
Menu tools include input gain adjustment to better match the level between sources; L/R balance; maximum and power on volume settings; and the ability to choose between different standby timers. The main highlight, however, is the choice of five DAC filters, plus a synchronous (352.8kHz or 384kHz) upsampling option. However, note that if upsampling is switched on, the DAC filters are not enabled despite still appearing as options on the configuration menu.

Cut Above
Audiolab's 9000A showcases a crowd-pleasing sound quality, well-balanced across the range as it segues seamlessly between energetic and contemplative when needed. The solid specification is essentially matched by its performance, and that's not damning with faint praise. While you might expect a mid/entry-level integrated to be 'jack of all trades, master of none', the 9000A is a clear cut above, as evidenced by its low-end extension, articulate midrange and considerable power. And when coupled with the matching transport, CDs are afforded the same clean, musical treatment.
Via the amp's USB-B input, the well-recorded 'Done A Lot Of Wrong Things' from Paul Butterfield's Better Days' eponymous album [Rhino Records; 44.1kHz/16-bit] oozed tunefully from my Perlisten R7t floorstanders [HFN Aug '22] with resonant honky tonk piano, distinct background percussion and an inviting depiction of the singer's bluesy vocals. Bass was surprisingly rich, as were low notes on the piano, and Butterfield's harmonica solo surprised with the reedy, gritty, forceful nature of its output. This was followed by gentle, vibrato strings.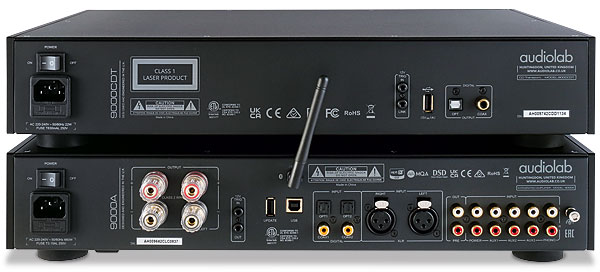 In fact, the whole of this album seemed to be right up the 9000A's street, rapid tempo tracks such as 'New Walkin' Blues' benefitting from its lithe, punchy nature while slower pieces sounded weighty and languid. There was a decent feeling of stage width, and players standing clear of one another with plenty of breathing room. Across the set, the work of Amos Garret (acoustic bass) and Chris Parker (drums) benefited from the amp's low-end control. Best of all, though, was the way it nailed the wide variety of instrumental timbres.
'Dread And The Fugitive Mind' from Megadeth's hit-and-miss 2001 album The World Needs A Hero [BMG BMGCAT246CD] has guitar harmonies, crunchy distorted riffs, a clean bass guitar sound and Dave Mustaine's snarling vocals – and not much in the way of originality.
Hammering Home
Not to worry, for through the 9000CDT/9000A combo it sounded wonderfully sharp and compact, with separation to its many parts (including the vocals overlaid in the chorus) and drive in the guitar chords. When drummer Jimmy DeGrasso's feet hammer his kick-drum in double time before the obligatory solo, the amp was on pace, avoiding slurred indistinction. It's not quite the pedal-to-the-metal presentation this song – and the thrash genre in general – demands, the 9000A coming across as well-mannered rather than riotous, but it was highly enjoyable nevertheless.
And don't mistake a lack of outright aggression for a lack of grunt. PM's Lab Report reveals the 9000A exceeds its 100W/8ohm rating and this came through in the way it cajoled my more compact B&W 705 Signature standmounts with a performance that doesn't mind being pushed. Indeed, it seems more communicative at higher levels, where its impressive bass handling is more apparent.
Mercury Rev's 'Holes' [Deserter Songs; V2 Music VVR1002772] was an amiable listen at background music levels, particularly the evocation of Jonathan Donahue's plaintive Neil Young-esque singing, but it was a different beast altogether with the wick turned up.
There's all sorts happening here, including strings, acoustic guitar, keyboards, trombone, drums and what sounds like a theremin, and the 9000A was capable enough to make it swell majestically, resolution intact despite the dense production.
Up To Scale
'Madness', by Muse [The 2nd Law; Warner Music 825646568802], ends in a similar fashion, only more electronica-influenced, and here the amplifier again delivered a performance of impressive scale and emotional impact.
At the start of this track, however, the sparse production includes deep bass and transient effects, which made for a good canvas to experiment with the 9000A's DAC filter options. The differences were subtle, to the point I could only arrive at a vague preference for Linear Phase (Fast Roll-Off) over the remaining four, as this seemed to bring some extra body to the lowest frequencies. This became my go-to setting (with upsampling disengaged). Other filters might offer more noticeable sound seasoning with different tracks and file formats, so by all means experiment away.
Just when I thought Audiolab's modern-thinking amp and player were most suited to polished productions, on came Howling Wolf's 'Smokestack Lightning' [Geffen; 44.1kHz/16-bit], recorded in 1956. Although never diverting away from its one-chord base, there's more to it than meets the ear, from the swinging feel of Earl Phillips' drumming to the slippery guitar licks. And what I found particularly enjoyable via Audiolab's top integrated was the way this track's live, raw feel hadn't been tempered. It sounded fresh, immediate and thrilling!
Hi-Fi News Verdict
The absence of onboard network streaming may limit its appeal to some shoppers, but as an all-round package Audiolab's 9000A integrated offers plenty, from its elegant design and very smart display through its easy operation and useful features. Audio performance is confident and beguiling, marked by detail, sweet tonality and a controlled demeanour, while the 9000CDT puts disc divas in safe hands.