Audiolab 9000CDT/9000A CD Transport/Amplifier

Over 40 years have passed since the 8000A amp broke cover, but it's still recognisable in the flagship 9000A, despite LCD screen and DAC on board, and joined by a CD transport
While some manufacturers' product lines can become confusing as models tackling various price points and functionality are launched, relaunched and discontinued, Audiolab has, by contrast, a laser-like focus. It caters very much to the wallet-conscious audiophile, across a clearly delineated stable of amps and players/streamers, which kicks off with its 6000 series and progresses through 7000 and 8300 to the newly launched, flagship 9000 series. This currently comprises two models, auditioned here, but will be joined later this year by another.
Of the two units, it's the £1999 9000A that will probably get the most admiring looks, being an integrated amplifier with a wide-ranging specification. It's easy to imagine it being sold standalone, to be partnered with whatever analogue and digital sources the customer wishes. Should you be in the market for a silver disc spinner, however, Audiolab's £999 9000CDT is a CD transport that's a perfect aesthetic match. Both are full-width, but relatively slim, and sell in either a silver finish or the matt black pictured here.
Flexible Flagship
This duo follows recent CD/amp pairings from the likes of Rotel [HFN Aug '22] and Denon [HFN May '23], which might have you believing in the mooted 'CD revival'. If such a thing is taking hold, rather than it simply being optimistic marketing spiel, then Audiolab can lay claim to have always been a supporter – the 9000CDT trails in the wake of its affordable 6000CDT transport from 2018 and the fully-fledged 8300CD player from 2015.
But first: the amp. The basis for the 9000A lies, we're told, in Audiolab's 6000A integrated, again launched in 2018. This was designed to meet the varied demands of the modern consumer, offering everything from Bluetooth to vinyl playback (network streaming was missing, but was incorporated in the follow up 6000A Play). Skip forward and designer Jan Ertner has been asked to replicate the flexibility of the 6000A in a chassis worthy of flagship status, with upgrades to connectivity, digital circuitry and amplification.
So the ES9018 DAC used in the 6000A has gone in favour of the current top-dog ES9038PRO DAC, married to 'proprietary circuitry to make the most of the chip's HyperStream II architecture and Time Domain Jitter Eliminator technology'. Meanwhile, the 9000A's rated output is a full 100W/8ohm – making it Audiolab's most potent integrated – delivered by a dual mono configuration with separate power supply feeds and quartets of output transistors for each channel. Look around the back of the amp and you'll find a rear panel packed with connections, beginning with four analogue line inputs (one on balanced XLR), an MM phono input, and unbalanced RCA pre out.
Mech Tech
Digital options are also extensive, with pairs of coaxial and optical inputs, a USB-B port for a PC/network transport connection, plus Bluetooth with support for aptX HD and LDAC. Therefore, while not a network streamer, the 9000A is still accommodating of digital files, and boasts full MQA decoding and 'Roon Tested' status. Of course, this does mean there's no app control, which some users might hanker for.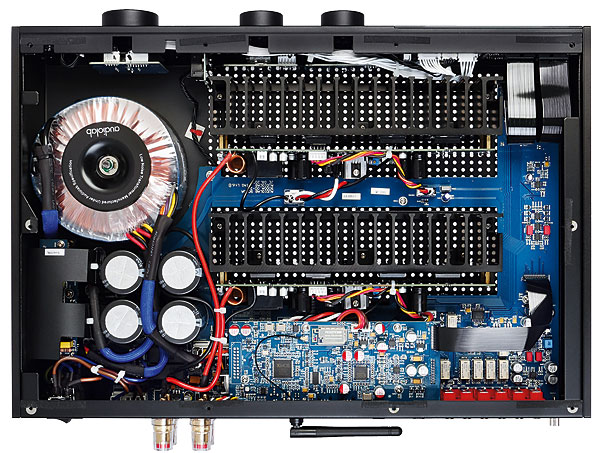 By contrast, the rear of the 9000CDT looks positively minimalist, bare beyond its clock-controlled S/PDIF outputs, 12V triggers and a USB-A input that handles playback of WAV, WMA, AAC and MP3 – arguably of little use when partnered with the 9000A integrated amp, but better to have than not. Inside, Audiolab has mounted a purpose-sourced disc mechanism which is well shielded by the surrounding casework.
If Audiolab's intention was to design its 9000 series to look both appealingly discreet and modern while calling to mind its models of yesteryear, then it has certainly succeeded, and there's a synthesis between the amp and CD transport that begs for them to be neatly stacked. After all, the power buttons and main rotaries are positioned in the same place, as are the units' 4.3in colour LCD windows. Naturally the integrated amplifier is a little busier, with additional knobs for source and 'mode' selection (the latter switching the 9000A's operation between integrated, preamp and power amp), and a 6.35mm headphone output, but it avoids clutter in favour of quiet style with a just a hint of 'retro'.
On The Menu
The display panel on the 9000A is also rather charming. It can be switched off, but there's a choice of 'analogue' or 'digital' metering, an Audiolab logo screen, or the 'Home' option which corrals volume, source and other info in a clear, logical fashion. Flicking between these displays is covered by a button on the remote, and this handset also proves a better avenue to accessing the amp's menu settings (this is possible via the front panel rotaries, but the process is not particularly intuitive). One quirk is that if you buy both units, you'll end up with two of Audiolab's system remote controls. Still, I suppose it's always useful to have a spare...