Audio Research I/50 Integrated Amplifier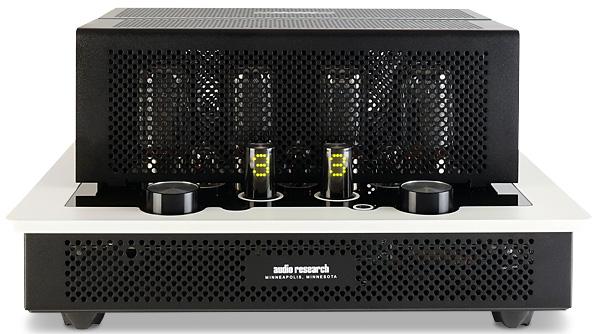 A new dawn? Audio Research's first fresh integrated amp in seven years shows a change of direction while still maintaining a grip on the brand's sonic virtues. Enter the I/50...
Few companies have been as resistant to styling changes as Audio Research. Even after a decade-plus under the ownership of fashion-conscious Italians, ARC products still suggest they belong in studios or government laboratories. Can you imagine the shock, then, when news releases arrived showing a swoopy integrated amplifier available in six colourways?
With a price of £5198, the 50W-rated I/50 means the return of an entry-level model. Colour options or not, an I/50 can be purchased in all-black or all-silver for those who prefer a semblance of the old ARC. These may even prove to be the most popular, as people tend to err on the conservative when buying hi-fi. Alternatives to the black version's black top plate include white, red, yellow or blue slabs – but this section is fixed, so choose a colour wisely, as it cannot be changed.
Mini Adventure
Still, the Italian touch lingers, and even small details assert ARC's desire to reach beyond hi-fi enthusiasts. It's evident even with the no-nonsense owner's manual, which owes its cover design to Mondrian's primary coloured squares and rectangles, made famous in 1965 by Yves Saint Laurent with his Courrèges-inspired mini-dress. This colourful intro to the I/50 is so uncharacteristic I thought I was reviewing something from SMEG or DeLonghi.
While ARC remains secure in its pursuit of the ultimate sonic statements – the REF320 power amp has just been announced – the I/50 targets new buyers with enough care so as not to alienate those already predisposed toward the brand, who have long awaited the return of something accessible. Along with the trendy attire comes full remote control and minimal set-up hassle. Aside from fitting the valves – 6922 triodes and a push-pull pair of 6550WEs – this is fear-free. Two screws free the lid, pop the tubes into their respective sockets and replace the cover (or not if you want to savour the glow).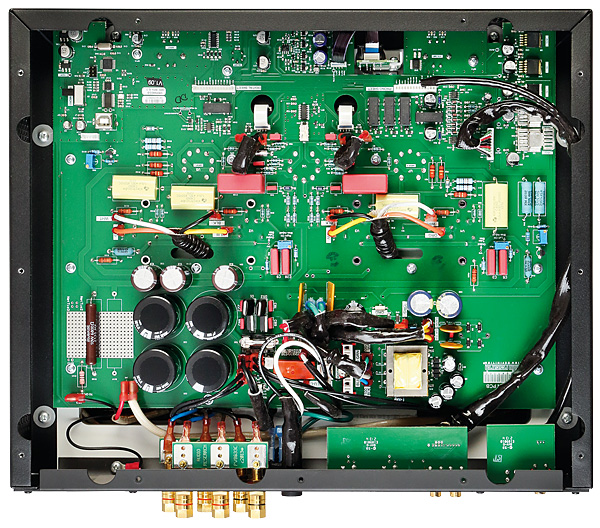 There's not even the chance of biasing the tubes, the manual stating that this is a job for a technician. This also precludes hobbyists from replacing the 6550s with other octal valves, so if you want an amp that can handle all flavours of KT-tubes, better look elsewhere.
At the back, it's so clear that audio veterans can set up an I/50 without glancing at the manual. Multi-way binding posts accommodate 4ohm and 8ohm taps, to suit different speaker impedances, and it will accept three line-level sources via RCAs, plus one balanced source with XLRs. There are also two blanking plates for the forthcoming phono and DAC modules, tentatively priced at £700 and £1200-£1500 respectively. The phono module replaces single-ended input S1, and the I/50 will immediately recognise either module, altering the display.
Flexy Lexie
Where the I/50 departs most from its predecessors is the lack of a fascia, per se. As every function can be accessed from the slick, all-metal remote, controls are limited to one button and two rotaries on the top plate. Left-to-right, they are the source select rotary, power-on button, a headphone socket mirroring the circle of the on/off button for symmetry, and the volume control, which serves as a mute on/off when pressed. In between are two LexieTubes, which provide the displays for all the amplifier's functions.
Switch on, and the LexieTubes perform a 50-second countdown until mute can be switched off and the amp is operational. They display level as two digits up to 45, and the sources read as S1, S2, S3 and BL for the balanced input. S1 will change to PH when the phono module is installed, while the DAC – which does not take over one of the existing inputs – will also be recognised automatically.
Switch-off has its own tricks, too. The display scrolls to the right to indicate powering down, and the two LexieTubes show only a single dot of light when the I/50 is in standby. ARC suggests not turning the amp off and on again without a rest period – good advice for all electronics – and the I/50 will not allow switch-on again until three minutes or so have passed.

Simply Irresistible
From the outset, I was deceived by the I/50's actual grunt because – as I found out later – ARC designed it with Wilson's Sasha DAW [HFN Mar '19] and SabrinaX [HFN Dec '20] loudspeakers in mind. I'd forgotten how sensitive are the latest Wilsons. PM cautioned me, however, that this isn't some beast of a 50-watter, and it couldn't drive the hungry, ornery sub-£1000 Magnepan LRS to satisfactory levels. And yet it dispatched the £40k Sasha DAWs with ease. So do not even think about buying an I/50 without hearing it through the speakers with which it will be matched. Same for the headphone socket. It can drive most cans, but not, for example, top Audeze models.