Audeze LCD-1 Headphones Page 2
Regardless of its travel pouch and size, the LCD-1 proclaims an audiophilic bias with two small but potent gestures. The first is that the supplied cable is a metre longer than the Sine's, providing more mobility if plugged into one's non-mobile hi-fi system. Shorter leads on the Sine do not matter when listening on the move.
Second is connectability. The Sine's cables use severely angled, proprietary plugs, which do not lend themselves to changing cable, while the LCD-1 uses universal 3.5mm stereo plugs. The LCD-1s thus invite experimentation with after-market wires, but I'm not suggesting that you need to, because the supplied 2.1m cables are superb.
Bloomin' Marvellous
Critical listeners not in need of the closed-back Sine's isolating properties will hear immediately more bloom, warmth and refinement from the LCD-1. But they are not mutually exclusive qualities because other factors, eg, comfort (especially if you wear specs like I do), can make or break a pair of headphones for some. I purposely don't comment on comfort because I have to accommodate eyeglasses, but I will say that neither proved objectionable after even four-hour sessions.
But enough of LCD-1 vs Sine, or the dearer models in its range. The LCD-1 is, like the MoFi UltraPhono a product that 1) makes life kinder for those of limited means, and 2) makes the Law of Diminishing Returns more of a thorn in the side of vendors of costly goods. No, Audeze isn't about to see sales of LCD-4zs or LCD-Xs plummet, but the sub-£500 sector has now been invaded by a ferocious competitor.
Via a Pioneer XDP-100R portable [HFN Aug '16], and Huawei P9 and iPhone 6 smartphones, Quad PA-One headphone amp [HFN Feb '15] and the headphone outputs of the MoFi UltraPhono and Otari MX-5050 tape deck, I was able to assess the LCD-1s with valve and solid-state power, and LP, tape and digital download sources. Naturally, my observations relate to what I perceive as the sonic signature common from device to device.
Hence, I am delighted to point out that every one of them drove the LCD-1s adequately, even the smartphones. But there is a caveat – I do not wish to go deaf and so my preferred playback levels may be lower than, say, some headbanger desperate for a hearing aid on the NHS by age 30. If you wish to go deaf, please sample the maximum levels using your ears, not mine.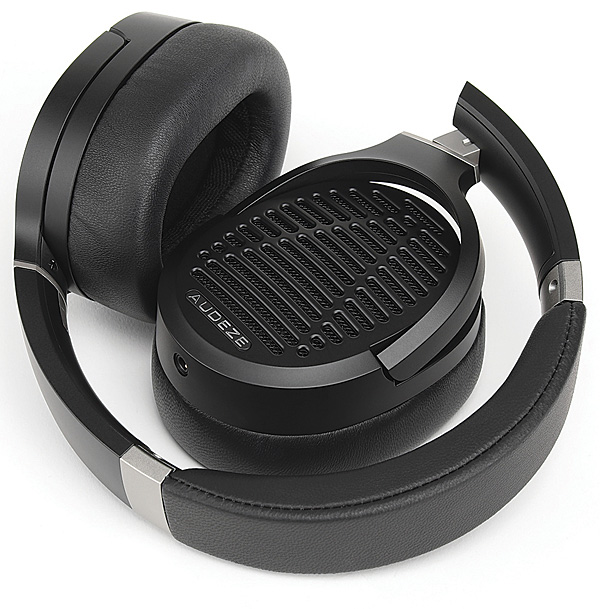 My comments on the LCD-1s when fed with LPs are largely covered off in my review of the UltraPhono. I actually spent more time listening to tape and high-res transfers. The latter surprised me no end, and it's particularly telling because, though I typically side-step streaming, downloads, etc, the LCD-1s were analytical enough to allow me to hear the difference between the exact same song via two different smartphones and the superior Pioneer player.
I realise, of course, that Audeze does not consider the LCD-1 to have the resolving power of its established and dearer models, but trust me: these are no slouches when it comes to hearing nuances.
Back To The Sixties
My track selection, downloaded in various resolutions from Amazon, included the mono version of 'Ue O Mu-ite Aruko' by Kyu Sakamoto (originally issued in 1961 by Toshiba-EMI), and the ultra-wide stereo of Julie London's 'They Didn't Believe Me' from Julie... At Home [Liberty Records LRP-3152] from 1960. Both these recordings feature distinctive, emotive voices, lush backing and enough beauty to allow me to play them a dozen times in a row without losing the will to live.
In both cases, the LCD-1s elicited the sort of reaction that often has me reaching for tissues to mop up the tears. Yeah, I still go dewy-eyed when music transcends the listening-for-review-purposes and gets to me, when I should be listening for stuff like bass control or stage depth. Both Kyu and Julie sang within my cranium, true, but the breathiness of the latter and the clear enunciation of the former were perfectly preserved and 'non-intrusive'.
What is Kessler on about? How can something be in one's skull and not be intrusive? Well, I heard both a lack of artifice and enough outside-of-the-head sound to preclude any distraction. Better was a sweetness that somehow rendered tolerable the massed violins on the Majestic Strings' Strings For Many Moods [Tape-Mates TMS-131 3¾ips tape] over its agonising three hours.
As the above suggests, I love these headphones. My only complaint? They don't have active noise reduction, which would make them my perfect travel cans.
Hi-Fi News Verdict
Even discounting my long-term admiration of Audeze, the LCD-1s are so good, so masterfully conceived, that they may redefine their price sector. They fold up to near-pocket size, sound superb whatever the source and are so free of nasties that I could imagine them crossing the thin line between hi-fi and studio usage. If you want true high-end cans but can't or won't pay four figures, you must hear these.