AGD Gran Vivace Monoblock Amplifier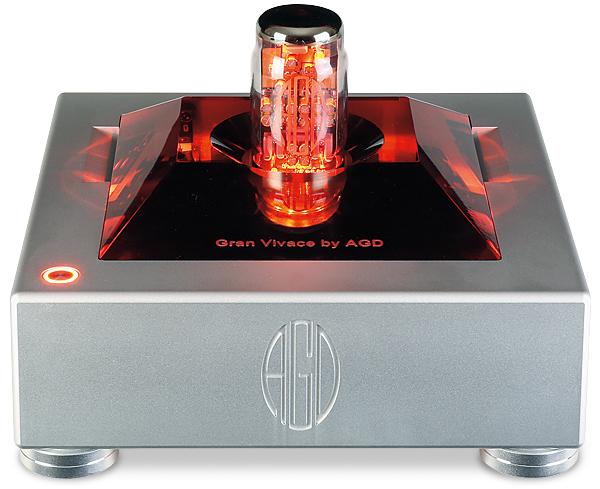 Infineon Technologies' Class D solutions have been seen before in audiophile amps, but this is the first to feature gallium nitride FETs. The 'tubes', however, are pure decoration!
Unlike its meaning as a show of arrogance, in a design context a 'conceit' is, variously, 'an ingenious or fanciful comparison or metaphor', 'an artistic effect or device', or 'a fanciful notion'. AGD's £18,000-per-pair Gran Vivace is all three. To understand the utterly bizarre use of a valve's glass envelope as a housing for a solid-state amplifier, think of a similar conceit in another field: smart watches which, instead of emulating Apple's genre-defining rectangle, look like analogue timepieces.
Perhaps designer Alberto Guerra was inspired by the likes of TAG Heuer, whose designs offer reassurance for newcomers to smart watches by making them look familiar. Thus, the AGD Gran Vivace (Italian for 'lively') is a transistor amp made visually friendly for tube lovers. With all due respect to Guerra, that battle ended in two camps, so this is unlikely to part valve aficionados from their 6550s, or KT120s.
Smart Glass
Instead, the glass tube is merely a siren's call. Get past it, and there's a serious power amp, the valve shtick's novelty soon forgotten. As PM explained, the bit about 'First to use the unique GaNTube with Gallium Nitride Power-Stage integrated into a Vacuum Tube' is mere license. True, it uses a specific type of transistor in a Class D switching output stage, but the circuit board is simply housed inside a valve-shaped 'thing' sticking out of the chassis.
It's important that one understands and then dismisses this ploy so as not to be diverted from the task at hand: to amplify. Guerra, when asked about the tube's raison d'être beyond its cool looks, said, 'I wanted to remove the stain that was applied to Class D. To do that, I had to design something at the leading edge of the technology and the GaN power FET was ideal for my design'. However, the ol' warm 'n' fuzzy thermionic valve aesthetic still offers what he calls a 'positive first contact experience'. Says Guerra, 'A black box Class D amp may not have delivered that same, impactful first impression'.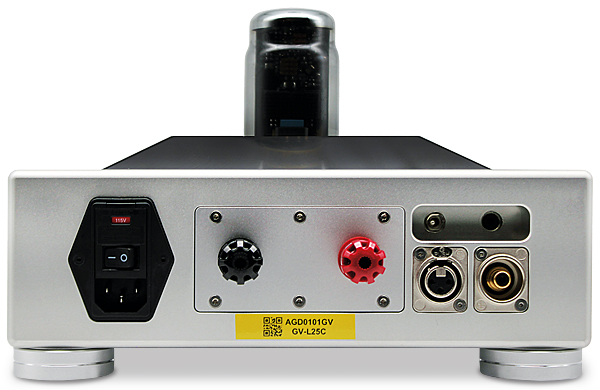 The Gran Vivace is the big sister to the Vivace, launched in 2019 and conceived as a modular platform that could be developed into a higher powered version, as well as for multichannel solutions. Guerra says that he wanted 'to eliminate the fear of obsolescence'. So the Gran Vivace occupies the same 279x127x279mm (whd) dimensions and weighs the same 10kg as the Vivace, but inside that solid alloy chassis with its faceted, Perspex top is a larger, more powerful PSU to increase the Vivace's 100W factory rating to 350W.
Other changes involved different power components for the output stage, including the GaNTubeKT120 with its dedicated 'audio grade' GaN power transistors, rated at 400V versus the Vivace's GaNTubeKT88's 200V. Guerra said the power increase also required optimisation of the layout, and selecting different grades and types of caps, resistors, and inductors. The work has since trickled down to the Vivace, now with MkII status.

Sonic Spectacular
Once you get over the visual novelty value of the 'tube' itself, the amp is a model of simplicity, with superlative build quality. I had it making music in under two minutes. There are only three switches: the primary on/off rocker at the back, a soft-touch on/off button at the front, and a selector to choose between the balanced XLR or single-ended RCA input. The speaker terminals are multi-way 4mm types.
My only concern is the vulnerability of the GaNTube, exposed and waiting to be smashed or knocked over. I would ask AGD to fashion a cage as per the smaller AGD Audion, but obviously more in keeping with the Gran Vivace's modern look, rather than the Audion's 'steam punk' plumage.
Most listening was undertaken sans preamp, as I'm currently fixated on sources with output controls, eg, most tape decks, phono stages for LP-only systems, etc. And why not? It eliminates all that circuitry, a set of interconnects and shortens the path; the only sacrifice is extra inputs. As the Gran Vivace has two selectable inputs, I fed the Otari MX5050 directly via XLRs, and used the single-ended input for other sources. Also, the partnering Andante preamplifier never made it past PM's lab tests, it proving faulty and was rejected.