AGD Gran Vivace Monoblock Amplifier Page 2
Straight in with a bombastic, relentless sonic spectacular: 'Sabre Dance' from Khachaturian's Gayne Ballet Suite on open-reel tape [Everest T-43052]. A performance that never fails to leave listeners breathless, the Gran Vivace instantly conjured up slam and power to test the Wilson Sasha DAWs' [
HFN
Mar '19] mettle. The extension down below was as rich, convincing and palpable as anything I've heard in my room, but the ear-opener was the total absence of overly-taut, thin bass that I might have laid at the foot of Class D in the past.
Warm Love
In mere seconds, I was forced to forget my limited past experiences with Class D amplifiers, most of which sucked. But let's not be absolutist about this – I'm sure there are more than a few Class D amps that avoid the apocryphal scratchy, anorexic, edginess. Here was one of them, a potent new-age FET amplifier that seemed to have more in common with single-ended triodes than with those early Class D experiments.
Not only did the AGD Gran Vivace reproduce the weight and energy of the orchestra, it also created a natural-sounding space which reminded me – I swear I haven't touched a drop – of my beloved 211 triodes, of all things. No cloying triode softness, per se, just an airy warmth which remained consistent when I fed it something from the other end of the spectrum: an SACD.
While not as far removed from open-reel tape as, say, streaming, the SACD format is an exemplar of what digital can do. Even so, I opted for a 50-year-old recording, Jeff Beck's Truth [Mobile Fidelity UDSACD 2223]. This is an album I have adored since the day it was released, and the Gran Vivace was so transparent and free of grain or sibilance that it was illuminating to hear how Rod Stewart's voice had changed from this set recorded when he was in his early 20s. This amp leaves textures alone, free of the overly hygienic scrubbing some such products inflict on the sound.
Sense Of Place
But appreciating Stewart the Younger involved avoiding tempting distractions. Beck's guitar playing simply soared, with exquisite fluidity, and dynamics that attested to speed and range, while the Micky Waller/Ron Wood rhythm section underscored the entire affair with mass and extension to match that of the Khachaturian tape.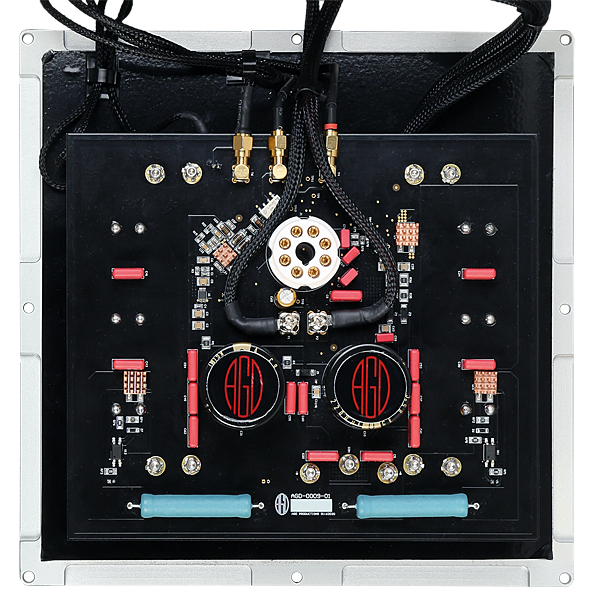 This amplifier accomplishes what Guerra wants – its mission is to prove that Class D needn't encourage the loathing of high efficiency amps with high-speed switching output stages. Listen to the acoustic version of the song 'Greensleeves' on this disc if you remain unconvinced. It shimmers with all the tonal grace of an early Jadis design.
As the Beck album also involves all manner of effects – notably wah-wah – I dug out another tape milestone, Enoch Light's Discotheque [Command 873]. My guilty pleasures now include kitschy instrumentals we're not allowed to call Muzak, this set featuring a freaky mix of covers from 'Hello Dolly' to 'Watermelon Man' to a brace of Beatles tunes, with an orchestra playing rock-as-clichés. Regardless, it was lively and ripe with hot transients, and here the Gran Vivace amp lived up to its name.
On to two live sets, 43 years apart: Barry Manilow's Live [Arista 1R2 6648] on tape in 1977, and 2020's Mick Fleetwood & Friends Celebrate The Music Of Peter Green [BMG 050538 618 419], on CD. This allowed the Gran Vivace to recreate soundstages and audience noises with unexpected realism. In both cases, there was genuine atmosphere and a sense of place, both free of artifice. Manilow's baying fans, assorted blues guitars and throaty vocals on the Green tribute: the sound was effortless.
As for housing a Class D amp in a valve bottle, that may be about cool looks, seducing old-school audiophiles, or creating a user-swappable module. More pertinent is that the AGD Gran Vivace is a contemporary amplifier that thinks it was designed in the 1930s at Western Electric. Ignoring whatever spiel you hear about the transparent envelope, the Gran Vivace is a helluva lot of fun.
Hi-Fi News Verdict
So technically subversive is AGD's Gran Vivace, one must re-think its essence as one would DS Audio's optical cartridge. Only by banishing any prejudice against Class D amplifiers, and getting past the undeniable weirdness of a solid-state-amp-in-a-valve, can one luxuriate in its sheer power, grace, and – yes – warmth. This is less an acquired taste than it is a test of bias. Not a valve's bias, but one's own.