Yamaha C-5000/M-5000 Pre/Power Amplifier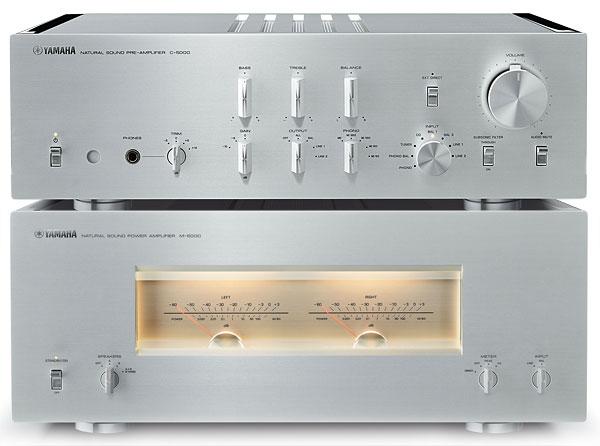 Masters of retro chic, Yamaha has evolved its one-time flagship A-S3000 integrated amplifier into a fully-fledged pre/power. And there's not a digital input in sight...
Talk to audiophiles that grew up through the 1990s and the chances are they associate brands such as Sony, Yamaha, Onkyo, Pioneer and Denon with meaty AV receivers and, possibly, mini systems. The reason is that it was around this time that the major Japanese corporations began directing their energies into developing products for the burgeoning home cinema market, meaning these younger hi-fi enthusiasts never really saw them flex their design muscles in the stereo arena.
However, that is changing. Pioneer, Onkyo and Denon all now offer high quality two-channel equipment once more, while the Technics brand has returned with a vengeance after being mothballed by parent Panasonic. Now Yamaha has thrown its hat into the ring once again with the expansion of its 5000 series, the NS-5000 loudspeakers [HFN Jun '17] being joined by the GT-5000 turntable, along with the C-5000 preamplifier and M-5000 power amplifier under test here, both of which retail at £6499 apiece.
Retro Reborn
When it comes to cosmetics, the C-5000 and M-5000 continue the traditions rekindled by the A-S2000 amplifier [HFN Mar '08]. This means piano-style keys for power and feature selection, solid metal bars for knobs on the input selectors, a chunky volume control and those glorious analogue meters on the power amplifier. These, in turn, hark back to past Yamaha designs, yet somehow the two manage to look stylishly modern at the same time.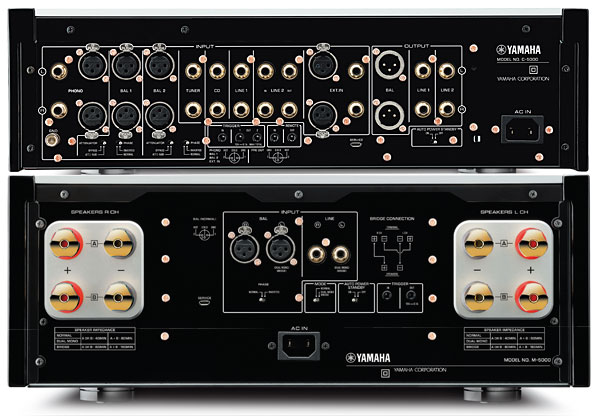 Both units sport gloss piano black side cheeks and the colour options for the 6mm-thick top plate and 9mm-thick front panel are silver or black. Of course, retro styling has its own appeal, but technology has moved on. Fortunately, the feature list and internal design of both the C-5000 and M-5000 are formidable. This is a genuine back-to-basics enterprise that builds on the performance of the earlier range-topping A-S3000 integrated [HFN Nov '13] and provides a high-end flagship to sail at the head of Yamaha's very new A-S1200, A-S2200 and A-S3200 integrated amps.
Looking at the C-5000 preamp first, this tips the scales at over 19kg and, at 435x142x451mm (whd), is larger than many an integrated amp. It's analogue-only, so those hoping for DACs or streaming facilities will be disappointed. But this means that the money has gone where it matters – on wringing the very last ounce of performance from whatever analogue source you care to plug into it.
Socket To Me
The C-5000 offers connections via unbalanced phono sockets for four line level inputs, one of which has a corresponding output, plus two balanced inputs through XLR sockets. The latter are switchable for absolute phase or to add attenuation, which is said to reduce gain by 6dB while also increasing the maximum input voltage level from 2.8V to 5.6V. Meanwhile, two unbalanced and one balanced sets of outputs are offered, and these can be selected individually from a front panel control or all switched on at once.
Naturally, with a matching turntable available, the MM/MC phono stage fitted to the C-5000 is no afterthought. Both balanced and unbalanced inputs are provided though the circuitry is balanced throughout, and this includes the MC head amplifier section. Cartridge loading is fixed at 47kohm for MM but adjustable between 10, 30, 100 and 300ohm for MC – all from a knob on the front panel. No fiddly DIP switches to be found here, thank goodness!
All the control knobs are positive and deliciously smooth in action, especially the volume control, which runs on ball bearings. I also love the mute switch – flick this and the volume control physically turns itself down by a predetermined amount. Flick it again, and it spins back up.
Ground Zero
The C-5000 also marks the first use of Yamaha's 'Floating and Balanced' circuit topology in a preamplifier – previously it was employed exclusively in its power amplifiers. This sees the circuitry within the unit electrically balanced throughout, while the 'floating' part means that it is not referenced to ground at any point. The result should be that any ground noise the preamp encounters will have no effect on the signal that passes through it.
Each channel has its own power transformer and the C-5000 is dual-mono, with the physical circuit layout for each channel a mirror image of the other. Yamaha states that this keeps circuit paths short, but also ensures they are equal at every point on both channels. Meanwhile, the circuit boards for each channel are mounted on top of each other with an aluminium 'stabiliser block' between.
Moving on to the M-5000, this adds a further 7kg to the C-5000's weight and features balanced and unbalanced inputs plus two pairs of superbly chunky 4mm loudspeaker cable terminals. Controls on the rear also cover phase reversal for the balanced inputs, normal or bridged mono output mode settings and an auto power standby option.
Under the lid of the M-5000, a 1.2kVA power transformer feeds PSUs for the main circuitry which, like that of the preamp, is floating, balanced and mirror-imaged in its physical layout. At the business end, paralleled output MOSFETs are utilised to improve low-impedance load drive ability.