Weiss DAC501 USB/network DAC Page 2
'Vinyl Emulation', on the other hand, made every piece of music I tried sound just a little flatter and more anaemic – which is certainly not what my turntable sounds like. 'Crosstalk Cancelling' (XTC) was an interesting effect yet I still preferred it out, as I did 'Room EQ'. Ultimately, it's down to your equipment, room and personal taste – plus the time you have to experiment with them.
This aside, and as soon as you set ears on the DAC501 in the raw, it's clear that this is a special sounding digital converter. It is uncannily open and detailed, replete with an impressively three-dimensional soundstage. The device's translucence has to be heard to be believed, stripping as it does any hint of haze, mist or fog out of a recording. Even compared to many more expensive designs, it is incisive and revealing of what's in play.

It pulls you right in to the mix – almost as if you're the producer at the scene of the recording, working the faders on the mixing desk. Few digital converters give the same degree of clarity and focus. The trade-off – if you can call it that – is that this isn't a relax-back-in-your-comfy-chair sort of product. It doesn't aim to make a nice noise, sugar the pill, or ease you off to sleep. Those who want something to make their digital music sound superficially 'nice' should look elsewhere.
The DAC501's standout feature is its neutrality. With none of the DSP options turned on, and fed by a high quality CD transport, it is able to unpeel the outer layers of a recording as easily as a monkey would a banana. Prefab Sprout's 'Bonny' [Steve McQueen; Columbia COL 466336 2] is a mid '80s production painstakingly prepared by Thomas Dolby, and sounds very respectable even on a DAC one-tenth the price. Yet this little box cast a whole new light on the proceedings, with vast amounts of detail coming forth.
Eerie Acoustics
Most impressive was the way it separated all the different strands – so I could hear the lead guitar line totally independent of the eerie keyboard backing effects, while the percussion sat behind with complete impunity. Over this, Paddy McAloon's buttery voice emoted softly and plaintively. The DAC501 placed everything in the mix with great precision, each element appearing almost hermetically sealed off from all others.
It's very good at stereo soundstaging too, and really excels in terms of stage depth. Indeed this is just another aspect of the way it so accurately separates out the mix into constituent parts. Supertramp's 'Just Another Nervous Wreck' [Breakfast In America; A&M Records 0600753304372] is a quintessential late '70s rock track that's a little glossy and shiny in tonal terms, and perhaps rather two-dimensional too. Yet the DAC501 looked beyond this, eking out more detail from the coalface of the recording, so to speak, and reproducing it in vivid three-dimensional space. Indeed, I found myself focusing in on the technical details, almost as if I had finally realised what producer Ken Scott was trying to do.
There's no denying that the DAC501 is a fast and lithe performer; everything it plays comes injected with an adrenaline shot. For example, cue up Omar's 'There's Nothing Like This' [Talkin' Loud; Talkin' Loud 512 223-2] and this great acid jazz classic is snappy, propulsive and radiates energy – despite being a soft, louche and rather velvety recording. This DAC gets right into the spaces between the notes and meters them very accurately indeed, meaning that nothing ever comes over in a disinterested and lackadaisical way.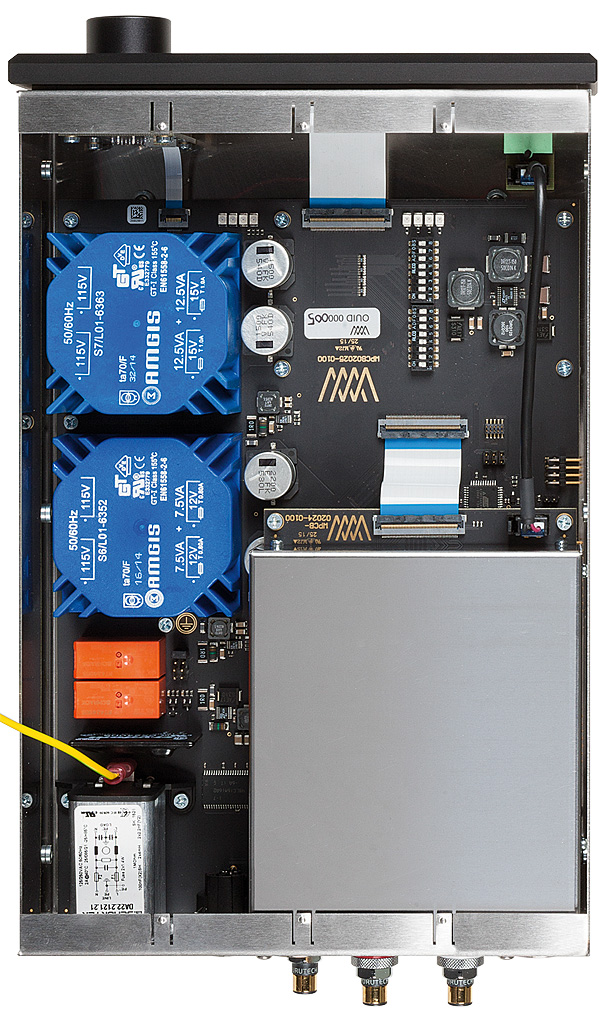 Nevertheless, for some listeners the DAC501 won't have quite the natural, organic gait to which they may have become accustomed. The Weiss DAC has a more mechanised style, timing with military precision rather than offering a louche or laid-back presentation.
Light Fantastic
Put another way, listening to the DAC501 without any DSP switched in, you're likely to be aware of its 'well lit' tonality. Its upper midband is a just a wee bit more visible than perhaps is typical, for example, although there's never any suggestion of harshness or glare. [Re:Jazz]'s cover of 'Star Chasers' [Extensions; Raw Canvas Records RCRCD03] is a great modern soul recording with a wonderfully live, unprocessed feel. Via this DAC, there was a certain vibrancy to it that really made the music tangible and engaging, yet I couldn't help feeling that the drum kit sounded just a little too vivid. Ditto the acoustic guitar playing, which was spotlit from within the recording. It's not an unpleasant effect, and perhaps goes to underline the professional audio background of Weiss and the sort of sound that's demanded by some studio environments.
This isn't to say that the DAC501 sounded screechy and hard here, for in practice the treble is typically smooth, spacious and delicate. At the opposite end of the spectrum, bass guitar sounded strong and tactile, with seemingly endless reserves of thump. The result is a respectably balanced but 'up and at you' sort of sound, and one that's a usefully bracing alternative for any audiophile hankering after the life in 'live music'.
Hi-Fi News Verdict
Weiss's DAC501 shows great consistency of sound across all inputs, and is an accomplished streamer too. Its headphone stage approaches the high standards of its line outputs – and the result is a fantastic but expensive DAC. Build quality is excellent, and the unit has super flexibility via its DSP options, should you wish to use them. It's a costly but versatile design that's well worth auditioning.