VPI HW-40 Anniversary Turntable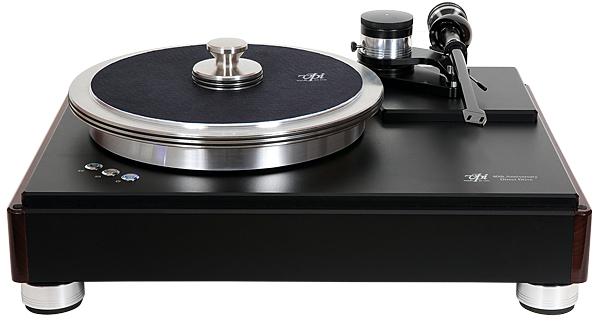 Marking the company's 40th birthday, the turntable mavens of VPI are right on song with an updated, deluxe version of their Classic direct-drive, the HW-40 Anniversary
Way back when, especially during the 1980s, direct-drive turntables were unloved by purists. How things change – just witness the high prices that vintage decks from Denon, Onkyo, Pioneer and especially Technics now change hands for. And with the latter's revived line of direct-drives turning out to be as hot as anything the high-end can offer circa 2019, the arrival of VPI's HW-40 Anniversary Edition direct-drive deck is doubly timely.
For £15,000, you also get the 12in JMW Fatboy arm, with Nordost wiring and adjustable VTA, a record puck, dust cover and circumferential ring to hold down the LP. The review sample was supplied without cables, but the back of the deck has a pair of RCA sockets and an earthing post, a blatant incitement to experiment with cables. I used YTER and completed the front-end with the EAT Jo No5 MC cartridge [HFN Dec '18]. I was making music in ten minutes.
New Blood
As VPI explains it, the Anniversary edition is a 'chassis-up redesign' that draws from company founder Harry Weisfeld's award-winning Classic series of tables. Price-wise, considering that VPI can sell you the Titan at £40,000, this model is roughly mid-level for the brand. It's worth noting that VPI, like Wilson Audio, is a second-generation-helmed firm. Harry has retired though he still consults, while his son Mat runs things.
New blood decrees that the motivation for this deck is to demonstrate the advances of the last 40 years, especially in materials, and VPI specifically cites the goal of exercising the gains since 1978. Of course things have moved on in 40 years, but many of us are enamoured of vintage gear, and there are components that ignore the passage of time.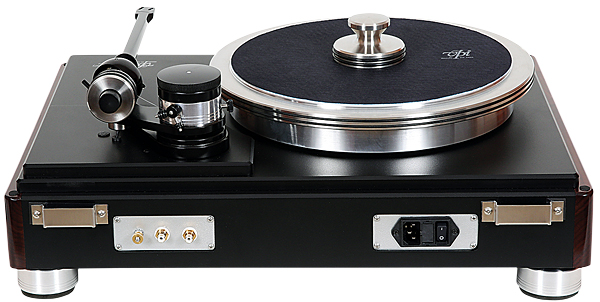 The deck is spun-up via a new direct-drive motor, and a brief chat with editor PM elicited numerous reasons why, on a technical level, he prefers direct-drive to belt-drive. I didn't need convincing because I was one of the few who enjoyed direct-drives, running a Trio KD-500 and an L-07D. Considering that VPI makes both types, I loved its blurb about the HW-40 providing 'unflappable speed stability. Wow and flutter are a thing of the past'. Makes me wish I had perfect pitch.
For this lavish version of the turntable, the chassis, front and rear are formed from a solid, machined, ¾in-thick aluminium slab with constrained-layer damping also deployed. The deck – with its imposing 559x425mm footprint – is finished in black, with walnut side panels. It employs an inverted platter bearing with a stainless steel shaft, on a 60 Rockwell chrome hardened ball, 'spinning in a phosphor bronze bushing, and all sitting on a PEEK thrust disc', says VPI.
Motor Skills
This deck really is a no-brainer to use. At the back can be found a main on/off rocker switch, while the plinth sports three illuminated buttons to select 33 or 45rpm and Stop. The arm is a delight, and obsessives will revel in the VTA adjuster. The deck rests on four large feet which address isolation through integral elastomer pads, as there's no springy suspension like most belt-drives. Even the supplied acrylic dust-cover is cited as 'low resonance'.
With direct-drives, it's all about the motor – not least because the name tells you there is no physical separation of motor-to-platter as with a belt-drive method. For the HW-40, the brushless DC motor uses coils that are constructed of solid copper, the square cross-section wire embedded in a composite material for increased damping, all of which sounds like the recipe for a high-end transformer. It offers torque a'plenty and the deck gets up to speed in a shade over a second.
VPI further highlights its use of an ironless coil assembly, avoiding the use of magnetic materials in its construction. 'When the latter feature is combined with [our] overlapping V-shaped coil construction, the motor eliminates the cogging that accompanies traditional direct-drive motors, resulting in unprecedented rotational smoothness and a virtually unmeasurable wow-and-flutter figure'.