Vertere Sabre Cartridge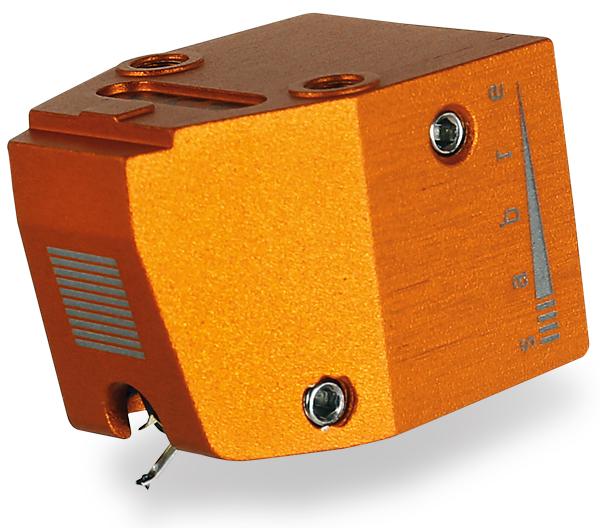 This Brit-brand's range of audiophile pick-ups grows yet again with a sub-£1000 model slotting between its entry-level MM and flagship MC. Will the Sabre cut through?
In the heated-up marketplace that is 'LP Playback Circa 2022', and as with the ModWright PH 9.0 phono stage, we are also experiencing a surfeit of cartridges, tonearms and decks. With so crowded a playing field as this, Vertere – about as iconoclastic a manufacturer as analogue has seen in recent times – has to make its Sabre cartridge stand out from the rest. The company has chosen to address a usually neglected niche: true high-end moving-magnet designs.
Its £845 tariff might seem low compared with contemporary moving-coils but, for a variety of reasons, MCs have typically always been pricier than MMs. Yet Vertere's Sabre highlights the virtues of a fine MM – superior tracking, a usefully high output, and universal 47kohm loading.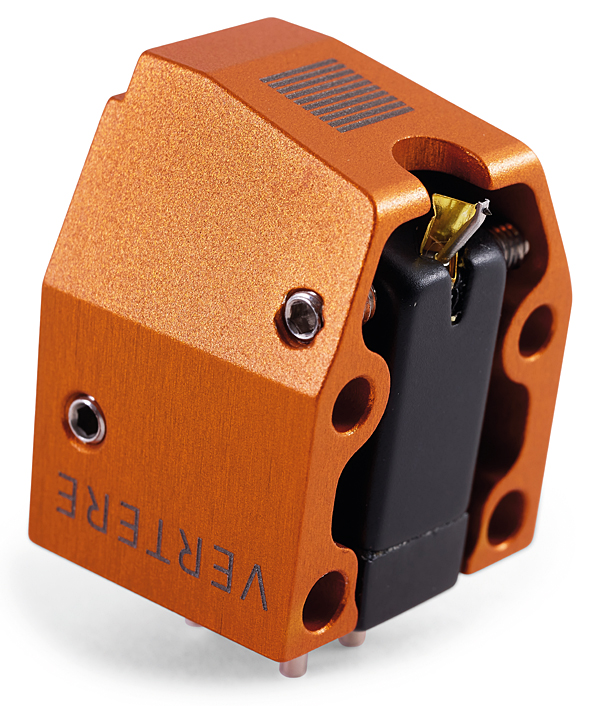 Eastern Promise
That said, Vertere still has to justify a price that would pay for any of a number of excellent MCs, such as the EAT Jo No5 [HFN Dec '18]. Hence, this is no badge-engineered, re-bodied MM from a major supplier, which is the easy way out. Instead, like Ferrari fitting brakes from Brembo, the Sabre comprises carefully-specified, proprietary components from two of Japan's top OEM suppliers – one for the micro-elliptical stylus, aluminium cantilever and suspension, and another for the Alnico magnet/coil 'motor'.
These form the innards, which are housed in one of the most impressive bodies I've seen, reminding me of the early Lyras. Coloured a bold orange, it is CNC-machined from aluminium alloy, promising a constructional integrity that's the antithesis of moulded plastics. Despite this, the entire cartridge weighs a shade over 10g, which won't cause problems for too many tonearms. To provide context, that's still 2g less than one of the covetable stone-bodied Koetsus [HFN Nov '17].
Thanks to the strength of this shell, the internals are able to be bolted into place with four 'spike' screws, the heads visible and reassuring, while eschewing any adhesives which can (and do) age. It's a resonance killer, imparting a sense of solidity that's as satisfying as tyre-kicking. And it's not just for looks – rather, it enables a certain type of fetishist to tighten those screws without worrying about deforming the body. This is as far removed from the classical open-slot fixing of my beloved Denon DL-103 moving-coil [HFN Jul '09] as it gets.
Turning The Screw
It's all about the details. The top plate features raised areas to enable a 'three-point' contact with the headshell, a favoured practice among cartridge aficionados which is said to 'provide the exact mechanical coupling required'. Further to ensuring a tight fit are stainless steel thumbscrews included in the clever packaging, which hold the Sabre in place while in transit.
Those same thumbscrews can be used to fix the cartridge to the headshell or tonearm, and they do look impressive as hell in situ. The Sabre also comes with the best stylus guard ever, which clips into place with four pegs that correspond to the four holes in the body's underside.
Everything about this cartridge suggests concern for the user, because it's one of the easiest to install that I've come across – and I reckon I must have fitted in excess of two thousand. In addition to transit screws which double as overkill headshell bolts, the back has colour-coded, nicely spaced pins. The only slight fiddle was that these pins are small, so I had to pinch the tags on the headshell leads.
Alignment was a doddle, thanks to the Sabre's parallel sides, markings on the front facet to act as visual aids, and a cut-out allowing a full view of the stylus and cantilever for positioning on a protractor. The pick-up's side view is just as accommodating, and I found VTA to be (sonically) optimum with the top of the cartridge absolutely parallel to the LP surface.