Thorens TD 204 Turntable Package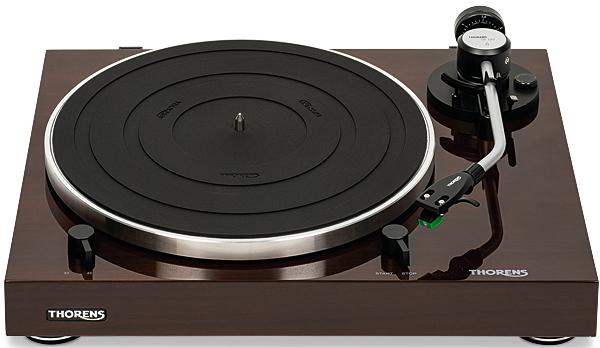 Thoren's range of 'all-in-one' belt-driven turntables – complete with arm, cartridge and integral phono stage – tops out with the TD 204. It's a no-fuss solution for vinyl starters
After a few years of uncertainty, turntable specialist Thorens has clearly regained its mojo. When Gunter Kürten, the former CEO of fellow German brand ELAC, took over the company in 2018, he felt its existing range was 'too broad, with far too many models and variants'. He also believed the quality of the finished products was not to a level that befitted a manufacturer that had, at the time, been making musical instruments for 137 years, and turntables for 92.
A clean sweep was called for, during which the models were rationalised and re-developed to the 11-strong range that exists today. And sitting just below the middle of this span is the TD 204 turntable auditioned here, retailing at £850 in either a Gloss Black or Gloss Walnut finish.
On A Journey
You might still consider a selection of 11 turntables to be more than extensive (and it's 12 if you include the flagship Thorens Reference unveiled at the Munich High End Show earlier in 2023), but the lineup now has a much more logical progression through the ranks. Quality naturally increases as you journey up the range, and convenience features, such as the USB output of the TD 202 [HFN Jan '22], give way to those that major on improving performance, including better tonearms and manual operation, plus a divergence into direct as well as belt-drive models.
The TD 204, described by Thorens as 'developed for the audiophile beginner', has a key position in this hierarchy. Acting as a bridge between the company's entry-level and more premium designs, it arrives as a complete package with arm, cartridge and built-in phono stage, but also with 'sound expansion potential in mind'.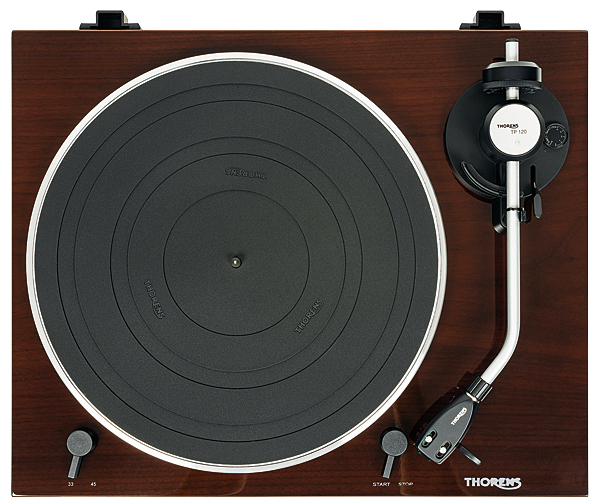 Initial signs are very promising indeed. The gloss finish on our review sample was flawless, and the deck is supplied with a quality lid featuring sturdy, self-supporting hinges. Four equally sturdy feet are fitted but these are not adjustable for height, so a solid, level surface is mandatory for getting the best from the TD 204. The lightweight diecast aluminium platter is topped by a somewhat chunkier rubber mat, and the ensemble fits over a tapered spindle in a sealed bearing.
While power is supplied to the deck from an external 12V DC plug-top power supply, this voltage does not run the DC motor directly. Instead, it operates dedicated circuitry based around a UTC U652 DC motor drive IC that provides temperature compensation and magnetic speed sensing feedback for precise control. 33rpm and 45rpm speeds are selected by a switch on the plinth, both adjustable by ±2% using trimpots – not mentioned in the manual – but accessible through holes in the turntable's base.
Keep It In The Family
One notable feature of the TD 204 is its distinctive J-shaped arm, the TP 120. This is a descendant of the TP 150 tonearm found on Thorens' higher specification TD 403 DD and TD 1500 [HFN Mar '22] turntables, itself developed from the TP 124 that graces the top-of-the-range TD 124 DD [HFN Jul '21] turntable. It can therefore trace its lineage right back to the classic BTD-12S and TP14 models that Thorens released in the 1960s and 1970s.
The TP 120 is more basic than the above arms, however, with tracking force applied statically using the calibrated counterweight, and anti-skating via a spring using a dial. It can accept medium/lightweight cartridges weighing from 3.5-6g in its detachable SME-style headshell.
For an all-in-one package, the TD 204 is pre-fitted with an Audio-Technica AT-95E moving-magnet cartridge, and an in-built phono preamplifier that's optimised for the purpose. It's unlikely this phono stage will perform at its best with other pick-ups, but – with the aforementioned 'expansion potential' in mind – it can be switched out of circuit to allow a straight cartridge feed into an outboard phono stage of your choice.
The AT-95E is a stalwart 'budget' design but was discontinued from general public sale a number of years ago and replaced with the AT-VM95E. The latter forms part of a range with elliptical, microlinear and Shibata stylus options but, sadly, they are not interchangeable with the older AT-95E.
Otherwise the build and finish of this complete turntable solution are commensurate with the agreeable price tag, and while the wooden plinth is not as sturdy or the platter as heavy as they are in Thorens' costlier models, there's no real 'weak link' to scupper the deck's 'audiophile beginner' status. In practice, the TD 204 is easy to install, set up and get running, aided by clear instructions and an intuitive design.

Open For All
With the TD 204 used through its internal phono stage and into a Yamaha A-S501 amplifier and Usher S-520 loudspeakers, it showcased a clean and enthusiastic performance. This deck has a bright and open nature, with laudable detail retrieval through the midband and upper bass, meaning both electronic and acoustic instruments sound just as they should. The spread between the loudspeakers is impressive, particularly the central placement of vocalists. Add in rock-solid speed stability and an effortless sense of timing, and the TD 204 gets off to a flyer.