Tears For Fears: Songs From The Big Chair Alternate Format Discography
Alternate Format Discography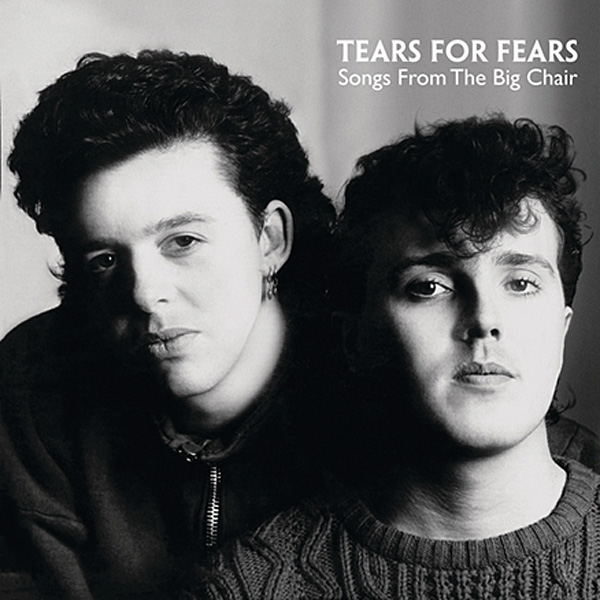 Original LP
The original UK pressing [Mercury MERH 58] of the album is still relatively easy to come across in near-mint condition (hardly surprising for a record that made No 2 in the charts and sold eight million worldwide), and while it is said by some to suffer from slightly trebly mastering compared to its American PRC Recording Company counterpart [422-824 300-1 M-1], it still holds up well, as of course do the songs.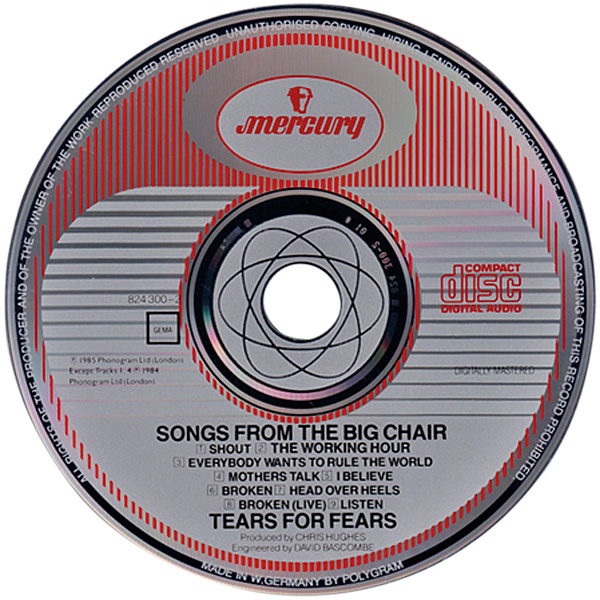 CD Release
Songs From The Big Chair came out in the year that Compact Disc is often said to have gone truly mainstream, and while on its initial release in 1985 it sold considerably more on vinyl and cassette [Mercury MERHC 58] than it did CD, this situation would of course change with the shift in format fashions. Collectors might note that some versions of the jewel case release list nine tracks, with 'Broken (Live)' counted as a separate song rather than the coda to 'Head Over Heels'. When it comes to sound quality, Nick Webb's mastering still passes muster, even comparing favourably to later makeovers.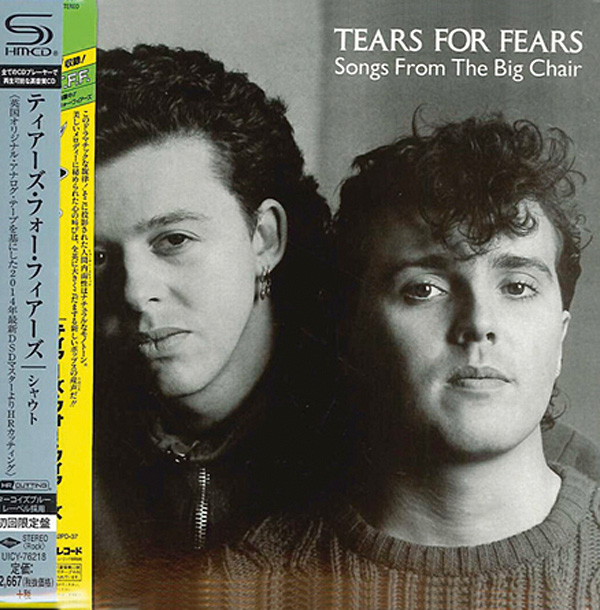 Super Deluxe Edition
So far Songs From The Big Chair has been remastered five times in all, but while the 2006 'Deluxe' reissue [Mercury 3794991] offers 28 tracks including B-sides, 7in and 12in versions and a handful of other remixes, it was trumped by the 2014 'Super Deluxe' edition, which delivers even more versions of the songs, along with a Steven Wilson 5.1 mix and stereo mix as well as separate DVD content.
Some complaints have been made about the channel imbalance on this remaster but it will be sure to hit the spot for Tears For Fears completists. If, however, you're happy with just the original eight tracks sonically polished to perfection, the Japanese SHM-CD incarnation [UICY-76218, pictured above] from 2014 is presented as 'DSD flat transferred from UK original analogue master tapes by Richard Whittaker'. This release comes highly recommended if you can get your hands on a copy for a reasonable price.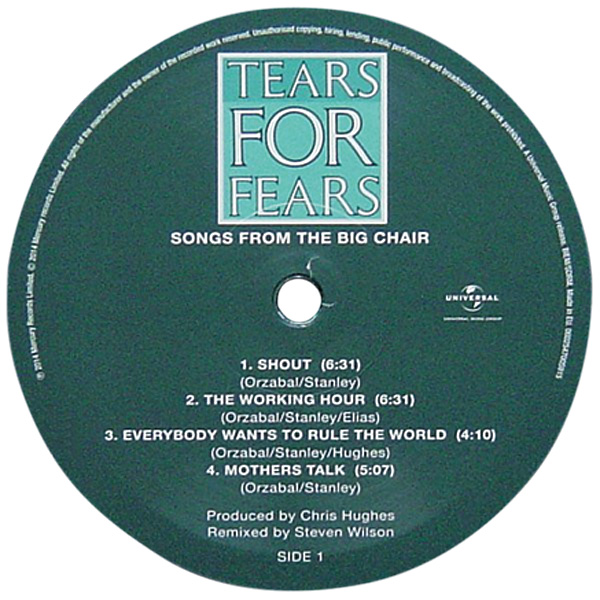 Audiophile Vinyl Edition
At the same time as the Super Deluxe Edition, a 180g vinyl reissue in the Back To Black series [Mercury 4700591] was made available with none of the extra tracks or surround sound remixes, just the album's eight songs very neatly buffed up on a disc feeling reassuringly weighty in your hands. Mint condition copies can still be found with a little digging, for close to the original RRP.