Soundsmith SG/SG-230 Cartridge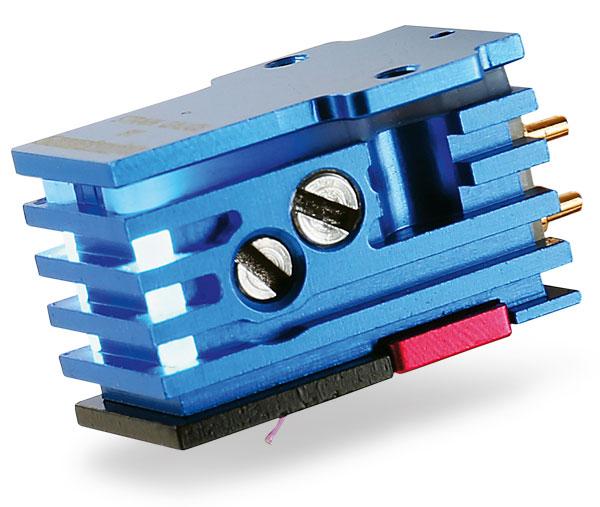 Singular driving force behind the revival of the strain gauge generator system first seen in phono pick-ups from the '60-70s, Soundsmith's latest offering is nothing if not flexible
Hardly scientific, I know, but I am predisposed toward components that cause binge-listening. Not knowing what to expect of the Soundsmith Strain Gauge cartridge and the accompanying SG-230 preamp/energiser at a pound shy of £16,000, I will declare my surprise upon discovering that it was so engaging, I listened to 14 LPs in a row in their entirety. I repeat: fourteen.
Yes, it's that kind of a device, but getting to the stage where it wowed me into submission was tortuous, as you will see. I had only ever heard the two pre-Soundsmith strain gauge cartridges of which I am aware in the distant past, including a Sao Win design in a system in California some 35 years ago, and brief exposure to the UK-made Euphonics Miniconic from the late-1960s. Audio memory ain't that great, so I had no preconceptions about Soundsmith's realisation of this technique.
Choice Of Six
Soundsmith Founder, CEO and Chief Engineer Peter Ledermann has deep high-end audio roots, having worked for the now-legendary speaker manufacturer Bozak, detoured to IBM, made cartridges for Bang & Olufsen and other activities, while embracing strain gauge cartridges along the way. It's now 20 years since Ledermann unveiled his Strain Gauge cartridge at CES in 2001, and I am embarrassed to admit that it has taken me that long to hear one in my own system.
First, a bit about the lineup and nomenclature, which is your initial taste of the complexity. In addition to a complete range of fixed-coil cartridges, including one with a cactus needle cantilever (!), the Strain Gauge cartridge (aka 'SG') has its own, dedicated section on the company's website. By virtue of its user-replaceable stylus assembly, the SG can be purchased a number of ways. Of the six different cantilever/stylus assemblies available, the configuration here is the one-from-the-top set-up – the so-called SGS-5 with ruby cantilever and nude line contact stylus.
Back to the nomenclature: SG-230 is not the model of the cartridge, but of the energiser (or 'bridge') and full-function line preamp supplied with the review sample. If you want to purchase an SG cartridge without a full preamp, there is the SG-200, or you can purchase the SG-210, identical to the SG-200 but with a volume control.
In addition to the SG circuitry, the SG-230 provides four line inputs, with remote control for input selection, volume and muting. As this review is about the cartridge rather than the SG-230 per se, I fed its fixed outputs into my regular preamplifier.
That said, the SG-230 is a superlative control centre, ghostly quiet and versatile. Soundsmith supplies a host of connectors and out of necessity, an operating manual that is hi-fi's answer to Proust's Remembrance Of Things Past. Anyone buying this package should read the full set of instructions before unpacking to avoid accidents. Among the supplied items are two separate 24V 'wall wart' power supplies. These, however, do not connect directly to the SG-230 but via a small black box labelled WWE-24X2 (a PSU filter, I presume), which then connects to the SG-230 with two wires fitted with ferrite rings. That's just the rigmarole for getting power to the unit.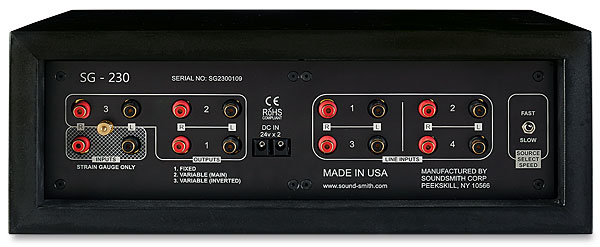 Into The Blue
To derive a balanced output from the SG-230 Soundsmith supplies split-phase RCA sockets which convert to XLRs with the supplied RCA-to-XLR adapters. The SG-230's output can also be configured to allow 'easy bridging of two stereo amplifiers into double power monoblocks, subwoofer driving, bi-amping or sourcing into a secondary system'. You'll also need to acquaint yourself with the SG-230's user-adjustable auto-mute system, but once set up, simply turning the rotary source selector to the Strain Gauge input energises the cartridge – you know it's 'on' when the blue LEDs located on the front of the cartridge light up.