Soulution 540 (£17,850)
Swiss player combines SACD replay, digital inputs and sumptuous aesthetics to great effect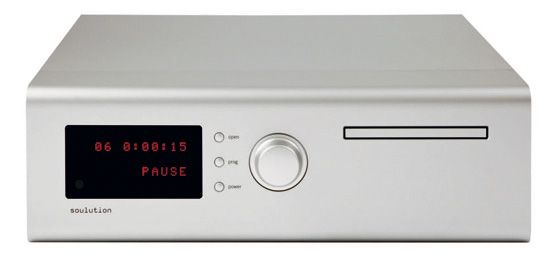 The new 540 SACD 'Digital Player', a snip by Soulution standards at £17,850, benefits from the trickle-down of technology from its flagship 745 model. Finish is sumptuous, and the curved edges of top panel and front fascia combine to soften the 540's physical presence, making it disappear more than most big hi-fi boxes, leaving one to focus on a single rotary dial, a meagre trio of buttons and a slender disc drawer. Screw heads, heatsinks, logos, etc are absent.
Digital inputs include coaxial, optical and balanced connections which can all handle incoming data up to 192kHz/24-bit. There's also a USB input capable of receiving data up to 96kHz/24-bit. Digital outputs mirror the inputs: so coaxial, optical or balanced (but no USB), alongside analogue outputs, through balanced and standard phono sockets.
There are also LINK connections to hook up the 540 with other Soulution hardware. As the Digital Player name implies, the 540 is more than just a top class CD/SACD spinner. It can be used to process signals from various sources (CD players, digitally stored audio and the like) with the benefit of its Anagram Technologies upsampling. The Soulution can also be set to 'variable out', allowing it to act as a preamplifier.
Inside lies a cornucopia of electronic exotica including a Teac/ Esoteric disc mechanism directly taken from the 745 model. Separate power supplies are specified for the analogue and digital signal processing sections of the player; each channel is equipped with Burr- Brown PCM1792 24-bit converters in a circuit inspired by the 745. According to the manual, only the final DAC section of the chip is employed 'bypassing the internal upsampling sections'.
The player's 'Prog' button is essentially the menu – pressing this once accesses the main functions for input and volume/balance/phase which are jogged through via the large dial. These various functions are activated by pressing and spinning the dial and that's all there is to it. Naturally, a remote is also included.
SO ALIVE
Starting with CD and feeding the 540 directly into a Krell S-1500 power amp via balanced connections enabled us to hear the Soulution in its purest form. Repeatedly we stopped dead in our tracks at hearing something familiar sounding so different, so alive. The latest album from Canadian singer-songwriter Justin Rutledge The Early Widows [Six Shooter Records SIXLP053] was one such example. Rolling back the years with Jean Michel Jarre and his recently revisited work on the Limited Edition Essentials & Rarities, these familiar tracks sounded as fresh as anything recorded today, the effects so vivid we were almost ducking for cover to avoid a stray laser beam.
Auditioning the 540's DAC section as a standalone product weused a 24-bit/192kHz feed from 2L's Blu-ray of Mozart's Violin Concerto No 4 [2L38BD]. The exquisite clarity of the strings cut the air in truly awe-inspiring fashion. The sense of space recreated by this player can be suitably grand, with performers in an orchestra positioned accurately (or at least believably), allowing the listening room to disappear from the musical equation. Pianoforte, an especially difficult instrument to render, was delivered with a palpable power and energy.
Nor is the 540 some sort of audiophile 'softy', as it lifted its game to the challenge of a hi-res rip of Massive Attack's Heligoland, the pounding bass line hammered home with the force of a onetonne wrecking ball. So while the 540 is no shrinking violet, neither is it a rock 'n' roll thug, with bass a thumping add-on. Instead, low frequency detail is reproduced with the same textural sophistication enjoyed through mid and treble.
VERDICT
The longer you listen, the more it becomes very obvious that the 540 has no Achilles' heel. If you're looking for a stylishly simple digital player with top quality build then this could be your Soulution.

Originally published in the Yearbook 2011