SME Synergy All-In-One Turntable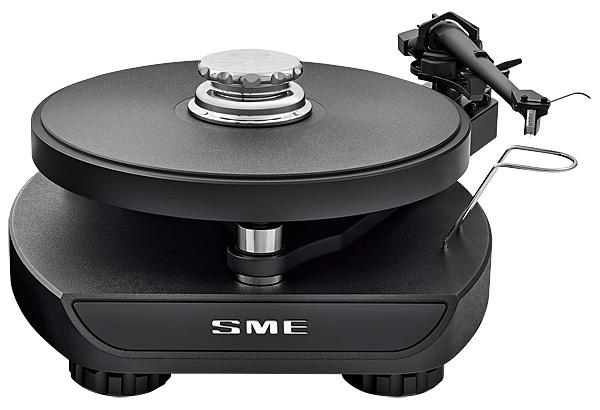 After a change of ownership comes an unexpected new direction for this iconic British analogue brand – meet the world's most prestigious all-in-one turntable package...
Ten years after the passing of SME's founder, Alastair Robertson-Aikman, in 2006, the hi-fi world's most iconic precision engineering brand finally moved out of family hands to be acquired by Ajay Shirke's Cadence group. Former aerospace man Stuart McNeilis was appointed as CEO, and the company signed up a UK distributor, Padood (also handling Nagra), for the first time.
In just one year, the fruits of this investment were realised in an entirely new product – the company's first ever turntable package – with motor unit, tonearm, cartridge and phono stage all bundled neatly together. The £14,950 Synergy was unveiled in early form at the 2018 High End Show in Munich and is presented here, exclusively, in its final production guise.
Flexing Its Muscles
The plan was for Padood to shake the barnacles off the boat, freeing up time for SME to focus on designing and manufacturing products instead of selling them. With SME's audio business now in the ascendency, it's also time for the company's precision prototyping and engineering arm to start flexing itself, with Formula One, aerospace, medical and high-end automotive as target markets.
The Synergy turntable is just the first stop on a roadmap that sees SME growing strongly in both audio and engineering sectors. No pressure, then…
Sharing Of Parts
Cynics might claim that the Synergy is the thin end of a wedge that ends up with SME making cheap plastic Bluetooth turntables. But Stuart McNeilis is adamant that this is not so. 'The Synergy is aimed at customers seeking a turntable solution which is factory configured, set up and ready to play… SME does not intend to enter into the production of mass market audio products. Our partners were selected to match the stringent, ultra-high quality and reliability disciplines of SME. They all have impeccable track records.'
The result is a compact new motor unit with an SME Type IV tonearm pre-fitted with a selected Ortofon moving-coil cartridge, feeding a bespoke integrated phono stage by Nagra and connected throughout by Crystal Cable wiring.
The deck is clearly inspired by the Model 15 [HFN Oct '15], but has a more compact form factor. McNeilis confirms there's considerable sharing of parts across the SME range, which of course is no bad thing. 'The Synergy motor is a derivative of the Model 20 motor,' he explains, 'but re-engineered specifically for this application. The platter and bearing are from the Model 15 but the latter is also re-worked to better match the new subchassis.'
Moreover, isolation is adopted here instead of suspension, the deck's three pillars containing a polymer developed by an aerospace rubber isolation specialist to SME's exact requirements. The Synergy certainly feels like a quality item. Sitting on three adjustable feet, the compact but weighty aluminium base confers stability and has SME's beautiful black 'camera finish'. The upper tier carries the arm mount, bearing assembly and inner platter, while the motor is decoupled from the chassis by rubber bands.
Silky Cueing
The electronic control unit will feel familiar to those who have used SME turntables before. Housed in a one-piece CNC-machined case, it offers microprocessor-controlled speed via a closed loop servo system for 33.3, 45 and 78rpm, all with ±0.01% fine pitch adjustment. The 4.6kg platter whisks up to speed quickly and the 'lock' LED lights by way of confirmation.
The tonearm is closely based on the SME Series IV, using the same unique one-piece pressure die-cast magnesium tube, now with 'Synergy' livery. The internal wiring is upgraded to a Crystal Cable monocrystal type. As with the IV, it's an exquisitely designed and built affair and has a gorgeously silky feel when hand cueing.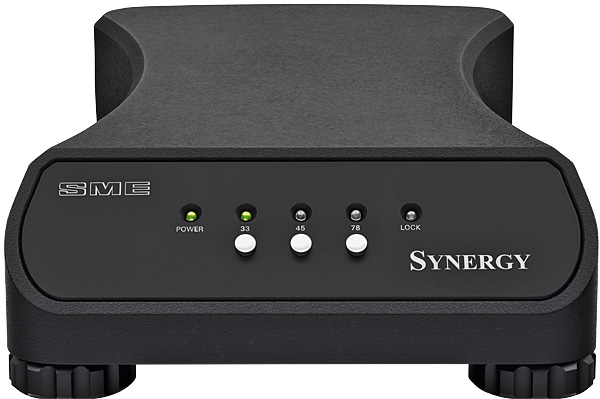 That's probably down to its precision yoke housing with 10mm ABEC 3 ball-bearing races. The yoke is mounted to the 23mm-diameter heat-treated, ground and honed steel pillar, with a pair of 17mm ABEC 7 ball bearing races widely spaced to resist tilt.
SME's partnering cartridge of choice is the highly regarded MC Ortofon Windfeld Ti [HFN Jan '18]. It too is beautifully engineered using the company's Selective Laser Melting technology where fine particles of titanium are welded together to create a body core optimised for rigidity and low weight. It is fitted with gold-plated 6N oxygen-free copper coils, coupled to a cantilever tipped by Ortofon's Replicant 100 diamond. Its low-ish 0.2mV output is certainly suited to the integral Nagra phono stage.
Most will enlist the services of their friendly local SME dealer to set up the Synergy, but if that's not possible then it's actually fairly straightforward to get going.
Simple Set-Up
Motor and phono preamp power supply umbilicals need to be plugged in, and the RCA cable is attached along with twin phono lead earths to the deck's ground, and the motor earth to its earthing point. Fit the belt, place the main platter on the sub-platter, and you're done.