Rotel DT-6000/RA-6000 CD Player/Amplifier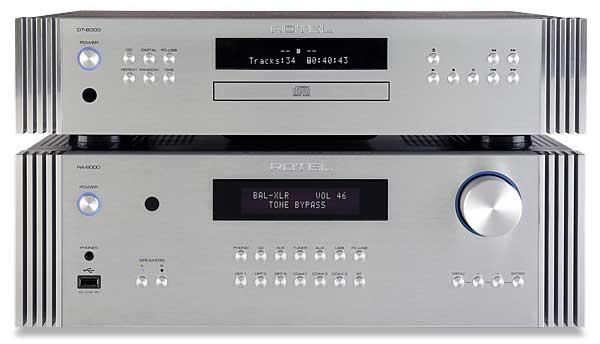 Rotel remains a family-owned hi-fi marque that boasts a three-generation, 60-year history. Now it celebrates its Diamond Anniversary with a very fine disc player and amp
The trend for 'anniversary' products – witness the plethora of celebratory hardware on display at this year's High End show – continues with Rotel's new Diamond Series. Released to mark 60 years since the brand launched, it comprises the £3999 RA-6000 integrated amplifier and £1999 DT-6000 CD player. Not the hefty additions to the Michi lineup you might have expected, these are instead very much classic Rotel designs (fitting, as the traditionalist brand is not one to hop on every new fad that comes along) albeit with trickle-down technology from its flagship stablemates.
Sinking Feeling
Both sport the same industrial aesthetic, in brushed silver or black, marrying a familiar-looking facade with elements that hark back to Rotel's 10 Series from 2001. Grabbing your attention are the huge, shiny 'heatsinks' flanking each side of the aluminium front panel. Naturally, these are decorative – the RA-6000's six pairs of Sanken power transistors, per channel, being mounted onto substantial side-facing heatsinking within the case [see p55]. Otherwise, add the large, embossed Diamond Series inscription on the front of the top plates, and both units certainly have a distinctive look to them. Nevertheless, the no-nonsense two-line displays and blue lighting around the power and volume controls are immediately recognisable as 'Rotel'.
Neither of these designs is truly minimalist. Both amp and CD spinner have rows of buttons, the former for its range of inputs, the latter for playback control (including repeat and random) and to switch from CD to digital and USB-B inputs. The RA-6000 also offers old-school tone controls (plus a bypass mode), although these are accessed via the front-panel 'menu' keys or remote.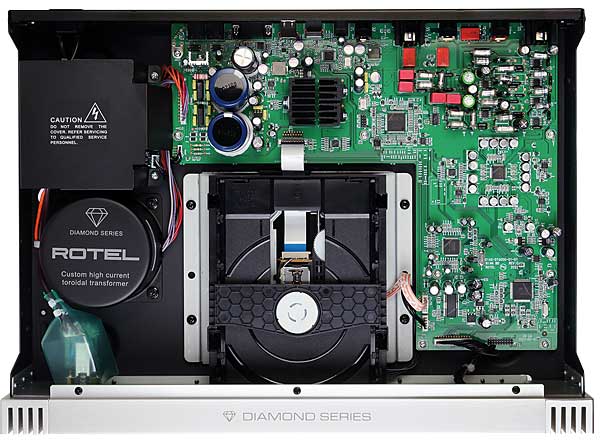 With a claimed 2x200W/8ohm of power on offer, the larger – and heftier – RA-6000 seems the obvious main act in Rotel's Diamond Series. Its Class AB amp stage is fed by a custom-built toroidal transformer that dominates the inner circuitry alongside those aforementioned heatsinks. The latter are really needed, too, as the RA-6000 can run warm when pushed. Adequate ventilation around the amp is essential, so don't hide it in a cupboard…
Liberal use of high-efficiency, low ESR (Equivalent Series Resistance) slit-foil reservoir capacitors – a Rotel staple for decades – helps optimise PSU performance here and in the partnering DT-6000 CD player. Audio-grade resistors and metallised polyester capacitors also feature in the audio circuits of both products.
Although the RA-6000's streaming talents are limited to Bluetooth – with support for audiophile codecs – it is otherwise generously featured. Outside of networked audio (the amplifier's Ethernet connection is there for system integration, alongside RS232 and 12V trigger ports), it has everything most will probably expect. There are three analogue RCA line inputs, together with a dedicated phono (MM) input and balanced XLR input. Digital sources are handled by seven inputs, including USB-B for an external streamer/PC, feeding into a TI DAC-based stage supporting up to 384kHz/32-bit LPCM but not DSD.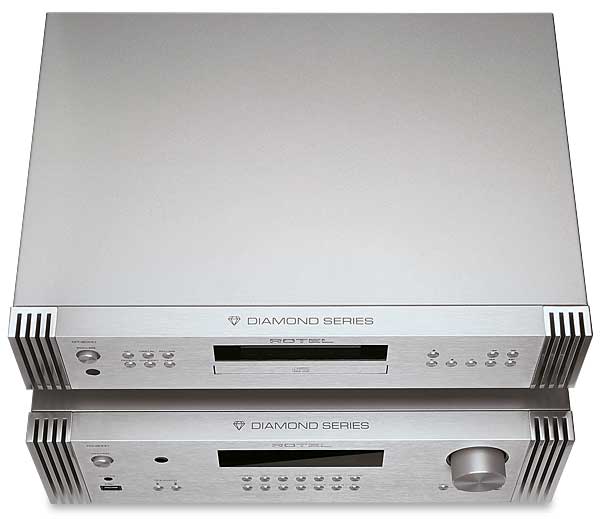 With CD enjoying something of a revival, it's no surprise to find Rotel continuing to offer a disc player, or 'DAC Transport' as it describes the broader remit of the DT-6000, with its USB-B and S/PDIF inputs. This is a shrewd move, especially as its eight-channel ESS DAC offers a higher performance than the TI part in the RA-6000. The DT-6000 will not only handle up to 384kHz/32-bit but also DSD256, so if you have stereo SACD rips or new DSD recordings in your arsenal, connecting your digital music source to Rotel's new 'player' is the way to go. It's also another example of the company's no-nonsense engineering, with an essentially silent, spring-floating CD mech inside and quality parts throughout.

Two Become One
Listening to these Diamond Series models, via different digital sources and with some vinyl thrown in for good measure, I'm reminded of Rotel's class-leading Michi X3 integrated [HFN Apr '21]. Generous power and authority in the low end, plus a level of clarity elsewhere in the audio band, suggests the RA-6000 amplifier sounds true to what I've come to expect from Rotel. Its partnering CD player, meanwhile, has a direct, revealing sound signature of its own. The two dovetail well together, while also showcasing differences in their digital conversion capabilities.