Rock City, Nottingham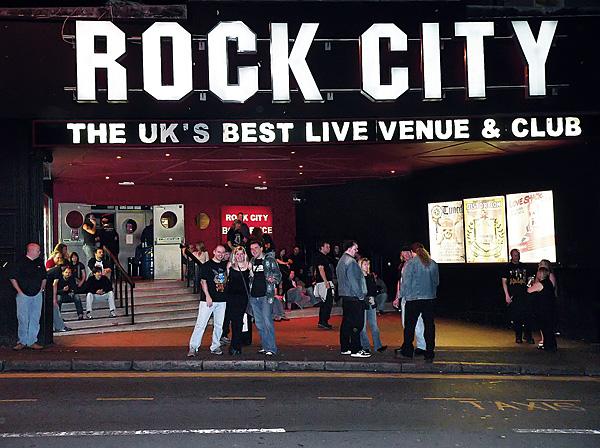 Once a club hosting variety acts and darts championships, in the '80s it embraced the spirit of rock, bringing acts enjoying sudden fame in the London-centric music press to the ears of a music-loving Midlands crowd. Steve Sutherland has the story of Rock City
We've got to start somewhere so why not with Gaye Bykers On Acid? The Bykers were from Leicester, had a singer called Ian who called himself Mary and were members of what the music press back in the late 1980s called Grebo, which meant you came from the Midlands, had a thing for denim and leather and wore your hair in a mess of dreadlocks.
They also liked to dress in women's clothing and play gigs under the pseudonym Lesbian Dopeheads On Mopeds, occasionally supporting themselves at their own gigs to get paid twice.
Their debut LP for Virgin was called Drill Your Own Hole which is precisely what you had to do if you'd purchased one of the first copies released on vinyl, because they went out to the shops with no hole in the middle. Oh, and the Bykers played Nottingham Rock City on the 31st of August 1987.
Come to think of it though, we could just as easily have started with Vitamin Z, who headlined NRC on the 8th of August 1985. They were a synthpop duo from Sheffield whose singer, Geoff Barradale, had a sweet soul voice and recorded the video for their second single, 'Circus Ring (We Scream About)', in Istanbul. It was the first time artists from Western Europe were allowed back into Turkey after the debacle over the brutality shown in Alan Parker's 1978 movie Midnight Express.
I liked Vit Z a lot and went along for that ride. Their subsequent career came to pretty much nothing and I'd forgotten all about them for the best part of 20 years until I was at an NME Awards ceremony and Geoff came bounding over. He'd only become the guy who discovered and managed The Arctic Monkeys! Must be a millionaire by now. Good on him!
Or what about Blue Rondo A La Turk, whose shot at fame included the single 'Klactoveesedstein'. A sharp-looking collective of zoot-suited, samba-obsessed New Romantic nightclubbers named after a cool 1959 Dave Brubeck jazz composition, they headlined Rock City on the 26th of August 1982. Another single, 'Me & Mr Sanchez', got to No 1 in Brazil and became the theme tune when the Brazilians played host to the soccer World Cup that same year.
Envy Of Music Fans
OK, I guess you'll have gathered by now that the Bykers, Vit Z and Blue Rondo are not the kind of talents we usually revisit when celebrating great rock venues. But that's the beauty of Nottingham's Rock City. Whereas other clubs and arenas have landmark shows, big musical game-changers or astonishing debuts for which they have become (in)famous, Rock City actually can't boast any that I can discover.
In reality, the stand-out fact concerning NRC is that according to the local police, between September 2011 and September 2012, 10% of the mobile phones stolen in Nottinghamshire were nicked here.
Having said that, Rock City is the kind of venue that's the envy of music fans in any town you care to think of. It's a place run with such admirably pragmatic business acumen that, while other local venues are going to the wall, it's still going strong after 35 years.
Its success is not exactly rocket science come to think of it – the booking policy appears to be magnificently straightforward – hire all the acts which are being hyped as flavour of the year/month/even week by the London-centric music press and let the local kids have a gander.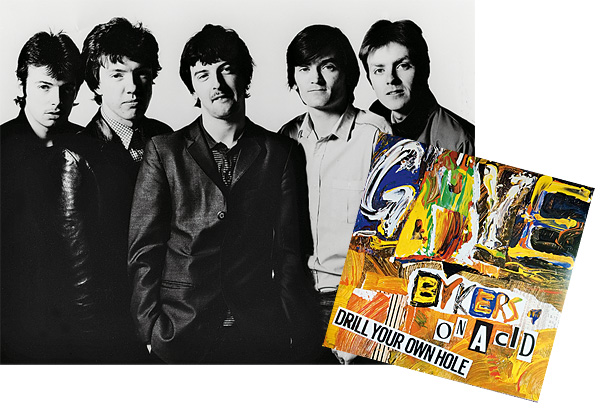 High Hopes
The first act to play the 2450 capacity Rock City were The Undertones on the 11th of December 1980. Iron Maiden were supposed to baptise the venue a week or so earlier but they had to cancel because the electrics weren't quite ready. The club had been taken over by a bloke called Sammy Johnson, who raised funding from local businesses to back his hunch that turning the Heart Of The Midlands variety club into something a bit more modern would pay financial dividends.
Another bloke called Paul Mason took on the management job and they were up and rolling, booking bills that make fascinating reading looking back. More than the roster of any other venue I can call to mind, Rock City represents a who's who of acts hooked on high hopes and dreams only to discover the harsh realities of an industry that teases with the promise of superstardom then actually delivers, more often than not, footnotes and ephemera.