Richard & Linda Thompson: Shoot Out The Lights Alternate Format Discography
Alternate Format Discography
Of the 40 officially released versions of Shoot Out The Lights, 15 appeared very early on in its history with no significant differences between them, so choosing a representative selection isn't as tricky as it might otherwise be.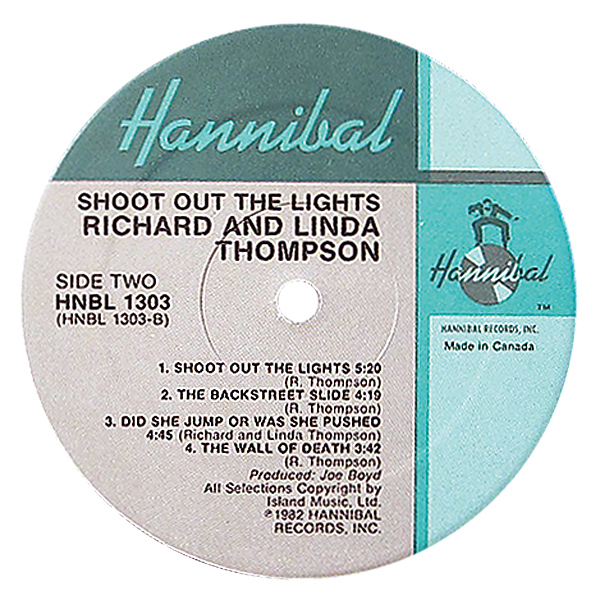 Original LP And Cassette
This 1982 British edition [Hannibal HNBL 1303], pressed by the long-established French company MPO, has never been rated particularly highly. The Japanese pressings of 1984 [YX-7332-HB], for example, are felt to have better dynamics. The album also appeared as a cassette [HNBC 1303] in both the UK and the States.
First CD Version
The 1990 first CD edition of Shoot Out The Lights seems to have appeared in Japan via Tokyo-based Midi Inc [MDC6-1109]. It differs from the earlier vinyl editions only in the addition of an old B-side, 'Living In Luxury', of which producer Joe Boyd has admitted, 'I'd been led into the bonus track trap on CDs'. The track – which Boyd disliked intensely – is not included on any subsequent editions of the album.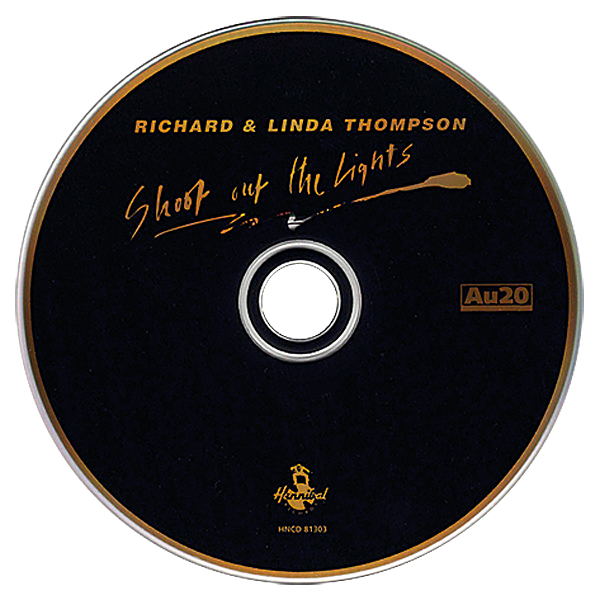 Gold CD Reissue
This 1993 transfer [HNCD 81303] was part of Ryko's 'AU20 Mastering' Gold CD series [see top right] of 20-bit digital masters. It used Sony's Super Bit Mapping [SBM] mastering process to reduce the digital master from 20-bit to 16-bit to meet the Red Book compact disc standard.
SACD Reissue
This 2004 SACD [Hannibal HNCD 1470] attracted fulsome praise for the clarity of the separation of instruments and vocal parts, and in particular for reducing what was felt to have been a certain harshness in Richard Thompson's guitar parts on earlier versions.
180G Vinyl
Over two decades on from the original vinyl, the San Francisco-based specialists 4 Men With Beards finally delivered the beautiful-sounding 12in disc [4M139] that Boyd and the Thompsons deserved from day one. If you're seeking vinyl with immaculate transparency, minimal edge, impressive imaging and three-dimensionality, look no further. (I also like the fact that the 4 Men label took its whimsical name from the presumed appearance of hi-fi geeks.)
Deluxe 2CD Edition
Rhino and Hannibal pushed the boat out for this 2010 deluxe 2CD limited edition [RHM2 523875]. CD1 features the original album, with CD2 offering 11 live bonus tracks from the accompanying American tour. And there's a 40-page booklet featuring notes from Richard, Linda, band members, and Boyd. As a complete document of the album and the drama surrounding it, in digital form, this is the one to get.