R.E.M. Document Alternate Format Discography
Alternate Format Discography
ORIGINAL LP
Plastic fanatics still speak highly of the vinyl pressing of this 40-minute album [IRS 42059], particularly its American incarnation – the 'Europadisk' pressing – released over there. The inner sleeve says 'Mastering: Bob Ludwig, Masterdisk, New York City' whichever side of the Atlantic you were buying, but in fact the UK version was cut and mastered by 'DB', aka Denis Blackham at Tape One, as revealed on the runout groove of British editions [MIRG 1025].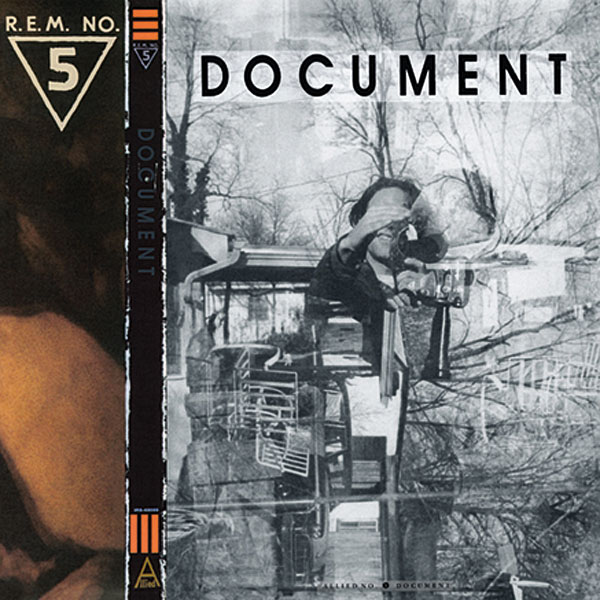 The sleeve instructs buyers to 'file under fire', since that element is a recurring buzzword throughout the album's lyrics. For R.E.M. anoraks this picked up a thread begun on the band's second album, 1984's Reckoning, on which the guidance 'file under water' could be found, and which would continue on their 1988 compilation set Eponymous, marked 'file under grain'. Did anyone actually do so? We tend to doubt it.
ORIGINAL CD RELEASE
With this album dropping right around the time the smaller format began to overtake vinyl in popularity, the first editions were put out on both LP and CD [ILP 460105 2]. As with many releases on CD back then, the packaging was pretty basic, but sonically it was a tidy effort.
EXPANDED REISSUE
To celebrate its 25th birthday, the album was reissued in box set clothing [pictured top right], offering latter day punters a poster, a photo card of each band member (and my, don't they look young!), plus extensive liner notes and credits [IRS 5099997200628]. In terms of extras, a September 1987 live show offers an additional 20 stage numbers.
It was also remastered at Capitol Mastering, Hollywood by Robert Vosgien, adding subtle but significant extra clarity to the sound.
It's surprising there are no demos, outtakes or B-sides and the like in the package, suggesting there may yet be room for another expansion at some point. For now, being on CD, this is a relatively affordable option at around £40-50.
AUDIOPHILE VINYL
Reissuing a classic album on its 25th anniversary without a vinyl edition would seem unthinkable these days, but that's how it went when Document got the treatment in 2012. At least audiophile LP-lovers could covet Mobile Fidelity Sound Lab's limited edition reissue from that year [pictured below]. Part of its Ultra Analog 180g Series [MFSL 1-370], MoFi's LP was remastered at half-speed from the original tapes. Owners eulogise its 'nice fat bass and drums', but it'll set you back £150-200 to buy now.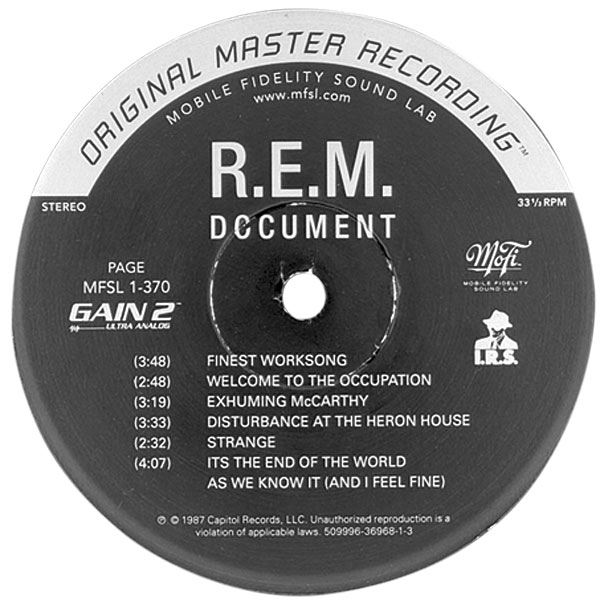 A more affordable option is the 180g pressing on translucent gold vinyl [IRS-42059] from 2018, which gets the thumbs up from plenty of platter spinners and can be found for around £75 online.