PS Audio DirectStream Power Plant P20 Mains Generator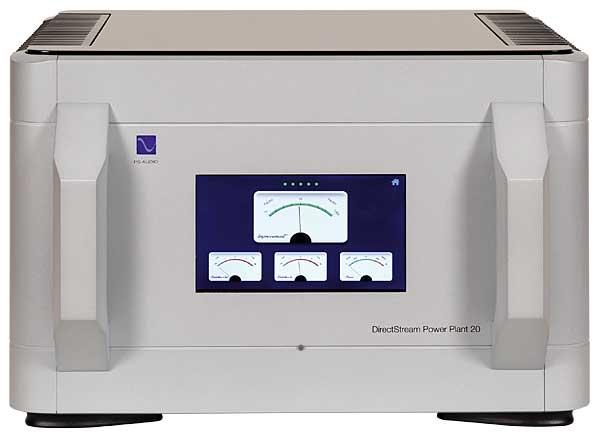 Short of having a dedicated generator in your garage, you are not going to get cleaner mains than from PS Audio's new Power Plant, which is bigger and better than ever
In a game of audiophile word association, 'mains regenerator' will elicit the response 'PS Audio' just as surely as 'electrostatic headphones' does 'Stax'. PS Audio can't claim to have introduced mains regeneration to high-quality sound reproduction – that distinction belongs to Linn Products and the Valhalla board for the LP12, introduced in 1982. But nobody generalised on that specific, realising that a regenerated mains waveform might bring improvements to audio components other than a turntable's synchronous AC motor, until PS Audio introduced its original Power Plant, to a somewhat bemused hi-fi industry, in 1998.
Some cavil at the notion that the quality of the mains supply can affect system sound quality, but repeated experience of the audible benefits across two decades has removed any scintilla of doubt from my mind. Which is not to say that mains regeneration is a panacea – it isn't. But applied appropriately its value is, for me and many others who've tried it with an open mind, beyond question. So the introduction of a new PS Audio Power Plant is always an event of interest, even more so when the product in question is the biggest, beefiest Power Plant yet: the 43.5kg, £10,000 DirectStream P20 (DirectStream because it uses a DSD engine to generate the output waveform).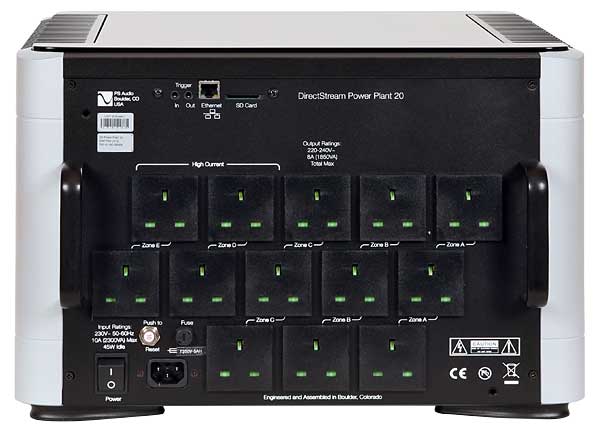 Sockets To Spare
In its UK version the P20 sports no fewer than 13 three-pin mains outlets grouped into five different zones – two of which are high-current to service power amplifiers or active loudspeakers – and has an output capability of 2000VA with a peak current delivery of 35A. In other words, you can use it to power everything but the very highest-output amplifiers. Output impedance – perhaps the most crucial specification for a mains regenerator – is claimed to be less than 5mohm, or roughly the loop resistance of 1m of 13A (1.5mm2) mains flex. Cooling is entirely passive via large heatsinks on each side of the case, so there's never any fan noise to spoil quiet passages of music.

User control, as with the P10 [HFN Apr '13], is available either by the (much larger) 155x90mm touch screen on the fascia or via a plastic remote control handset. Features include variable display dimming, output voltage adjustment, mode selection (high regulation or low distortion), phase tuning (with 'auto tune' also available) and the choice of either sine wave output or 'MultiWave' which, somewhat perversely, adds distortion in order to manipulate the output waveform such that it varies reservoir capacitor charging time in the attached equipment. MultiWave 'strength' can be adjusted between values of 1-6.
An Ethernet connection on the back panel allows the P20 to be connected to a home network, which in no way affects performance but does expand functionality via an online interface that offers, for instance, individualised zone control. An SD card slot alongside makes the P20 field upgradeable. PS Audio promises occasional firmware updates, like those that have proved invaluable to the evolution of the DirectStream DAC [HFN May '18].