Primare PRE35/A35.2 Networked Pre/Power Amp Page 2
Most obvious is the sense of sheer power on offer. There's a lot of heavy lifting done by the A35.2 amp, meaning that you can be sure that whichever type of music you play, it will be delivered with strength, solidity and a good dollop of slam. One area in which this rewards is the sturdy, reinforced bass. Manix's 'You Held My Hand' [Oblivion/Head In The Clouds; Reinforced Records RIVET 1212] is an uptempo techno track driven by vast tracts of sub-bass. Not only did the Primare PRE35/A35.2 ensure that my loudspeakers were given a serious physical workout but it was thrilling to hear the duo summon up such vast reserves of heft down low. Indeed, given the price of these components, this Primare pairing seems hard to beat when it comes to bass. After all, I can't think of many less expensive ways of getting this sort of thump. And it's tightly controlled too, bass guitar notes starting and stopping as they should.

Street Wise
All told, this gutsy presentation makes for a thrilling ride, even when you're running the duo at very high volume levels. Its rendition of The Crusaders' track 'Street Life' [Street Life; MCA Records MCAD-31024] showed this to the full, while also revealing the power amp's fine dynamic headroom. Even on the song's crescendos and with the volume rammed right up, the music sounded authoritative yet effortless.
The PRE35/A35.2's other winning trait is its tonality. In short, this combo is quite the smoothie, having a sound that is less forward than that produced by many of its rivals, making it a jack of all musical trades. Cue up Herbie Hancock's 'Speak Like A Child' [Speak Like A Child; Blue Note TOCJ-9102] and you won't feel that this slightly thin-sounding late '60s recording is in any way uneven. You're able to enjoy the lustre of the brass, for example, yet the flugelhorn doesn't scream out of the mix at you. There was a decent amount of detail to be heard too, with plenty of information about the acoustic of the recording studio.
Compared to some similarly-priced rivals, however, there's a slight opaqueness when you attempt to focus in on elements right at the back of a busy mix. Then things can sound just a little over-smooth, without the reach one might wish for. This was evident across all inputs, so it's likely to be the power amp at play here. It made Blondie's 'Hanging On The Telephone' [Parallel Lines; Chrysalis TOCP-67893] a little less gripping than I'd have hoped.
Cranked-Up
There's no sense of the PRE35/A35.2 being too laid-back, however. The Blondie track showed good pace, the leading edges of notes being captured well enough to ensure that the cranked-up guitars cut through the mix. Debbie Harry's distinctive voice was nicely handled too, and sharply defined from her backing band. And her vocal phrasing was also well portrayed.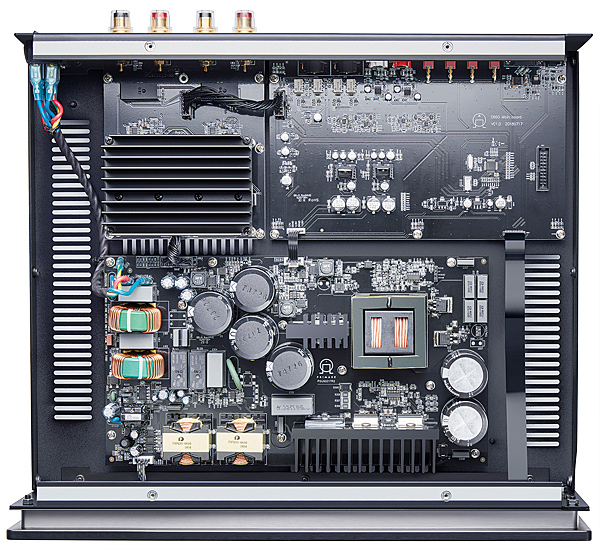 This Primare combo offers up an impressively wide, capacious soundstage. It was particularly good from left to right, generating an expansive, room-filling sound, even if the depth perspective wasn't quite so convincing. For example, while listening to the Blondie track the recorded acoustic didn't fall back quite so far as it should have.
Switching to the digital inputs brought improvements however, delivering a distinctly more three-dimensional sound. Yet the PRE35's internal DAC couldn't match the vim of the Chord Hugo 2 [HFN Aug '18] I had been using via the analogue inputs. A DVD-Audio disc of Rush's 'Limelight' [Moving Pictures; Mercury B0015272-00] attested to this. Yes, the internal DAC sounded spatially superior, but it didn't quite have the verve of the Hugo 2.
The Primare combo's streaming performance proved to be very good indeed, making light work of Tracy Chapman's 'Fast Car' [Tracy Chapman; Elektra 7559-60774-2]. The music was pleasingly smooth, delicate and engaging, while at the same time having no shortage of snap. It was also flattered by the power amplifier's obvious punch.
Hi-Fi News Verdict
Primare's sophisticated PRE35/A35.2 combination is a class act. Especially in its priciest Prisma guise, it offers plentiful facilities coupled with slick ease-of-use and an enjoyably powerful sound. Furthermore, while optimised as a pair, both pre and power amp remain very competitive in their own right, the PRE35 as a go-to hub for comprehensive digital systems while the A35.2 is an all-round high-value powerhouse.