Primare PRE35/A35.2 Networked Pre/Power Amp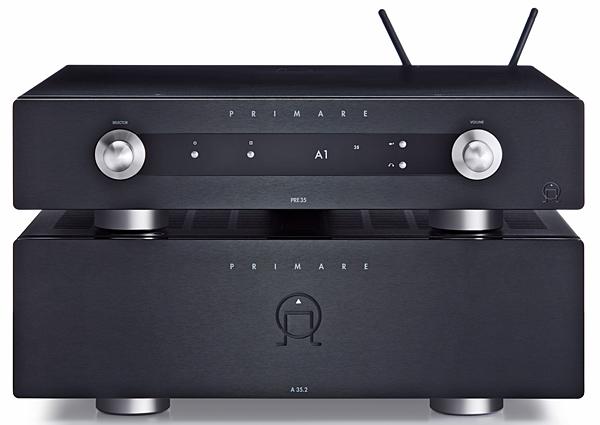 With wireless streaming, class-leading connectivity and 200W of Class D power, this sophisticated Scandinavian pre/power combination covers all the digital bases
Primare – the company that describes itself as 'the sound and vision of Scandinavia' – is also becoming rather more visible in the UK and rest of Europe thanks, in part, to the boost provided by a couple of EISA awards. Based in Sweden and founded by Danish designer and audiophile Bo Christensen, Primare has found its métier over the past few years. Its Prisma platform brought integrated wireless streaming functionality to the hi-fi world before most – and delivered it with typical Scandinavian panache. Ergonomic excellence is central to the brand's values, and this is surely a concept whose time has come.
Prisma, previously included in the company's I15 [HFN Oct '18] and I35 [HFN Mar '19] integrated amplifiers, now finds itself offered in the fully-loaded £3500 PRE35 Prisma preamplifier you see here. As is standard Primare practice, you can order the preamp minus the Prisma package and accompanying DAC for just £2600. Thus specified, it's a purist analogue preamplifier, because unlike the integrated models it doesn't first convert the analogue line inputs to digital. When partnered with the matching £2700 A35.2, this means Primare's basic pre/power combination comes in at just over five thousand pounds.
Ready To Go
The all-singing, all-dancing pre/power duo on test here costs £6200. Either way, you certainly get a lot of connectivity, functionality and power for your money. The manufacturer claims 200W/8ohm for the A35.2, with the ability to bridge the amp to mono for 800W. This is courtesy of Primare's UFPD 2 analogue Class D amplification technology.

When you first connect up the PRE35, having first screwed in its rear-mounted twin Wi-Fi antennae, it enters set-up mode. Give it your wireless router details – or plug in an Ethernet cable – and you're all ready to go. The app lets you to play music via Wi-Fi and Bluetooth, AirPlay, Spotify Connect and Chromecast quickly and easily, as well as offering multi-room/multi-zone control. Available on both iOS and Android platforms, it looks elegant and confers great flexibility thanks, in part, to its Roon functionality. Meanwhile, the fascia controls feel silky and its white-on-black OLED display is clean and crisp. The pressed-steel casework is well finished and less resonant than that of many rivals.
Those going for more traditional source options will be pleased to see that the rear panel is crammed with sockets. There are twin analogue XLR inputs and outputs, three pairs of RCA inputs, four Toslink optical digital inputs and two coaxial digital ins, plus a USB input. These feed a sophisticated AK4497 DAC, working at up to 768kHz/32-bit PCM and DSD256 resolution. Fixed and variable analogue outputs, a coaxial digital output and IR in/outs complete the picture, along with an RS232 service port.
Primare says that it employs short signal paths, this made possible by the use of four-layer circuit boards populated with surface mount components. All digital and analogue inputs are relay-switched, and are able to be configured via a set-up menu.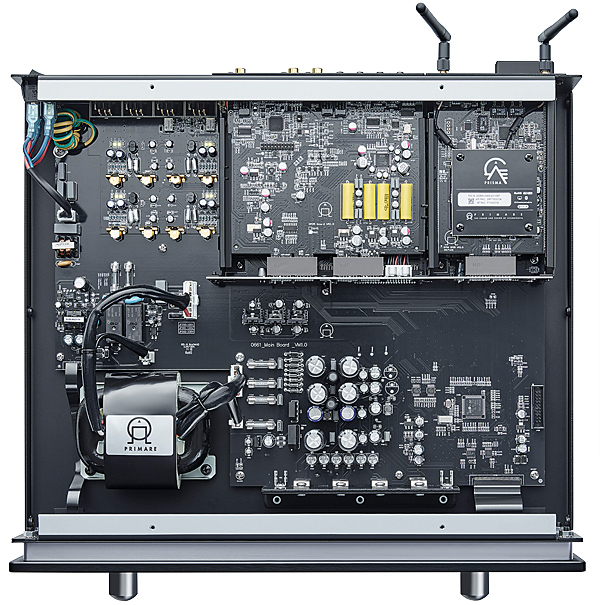 The best way to connect the A35.2 to its matching preamp is via the balanced XLR sockets, but single-ended RCAs are also available. Rear panel switches let you toggle between the two inputs, and select bridged mode operation. There's also a 'Sense' switch that wakes the amp from standby mode and puts it back to 'sleep' if no input is detected for 20 minutes. Its fascia is a model of minimalism, with only an on/standby switch neatly inlaid into the large Primare logo. As per the preamp, the main power switch is at the back.

Slam Dunk
There are several ways to hear what this pre/power duo is capable of, whether you have it hooked up to an external analogue source, an external digital source feeding its internal DAC or via its various Prisma-enabled network/streaming options. Whichever route you choose, it's immediately clear that these Primare components make an impressive combo, one offering real bang for your buck.