PMC twenty5.26i Loudspeaker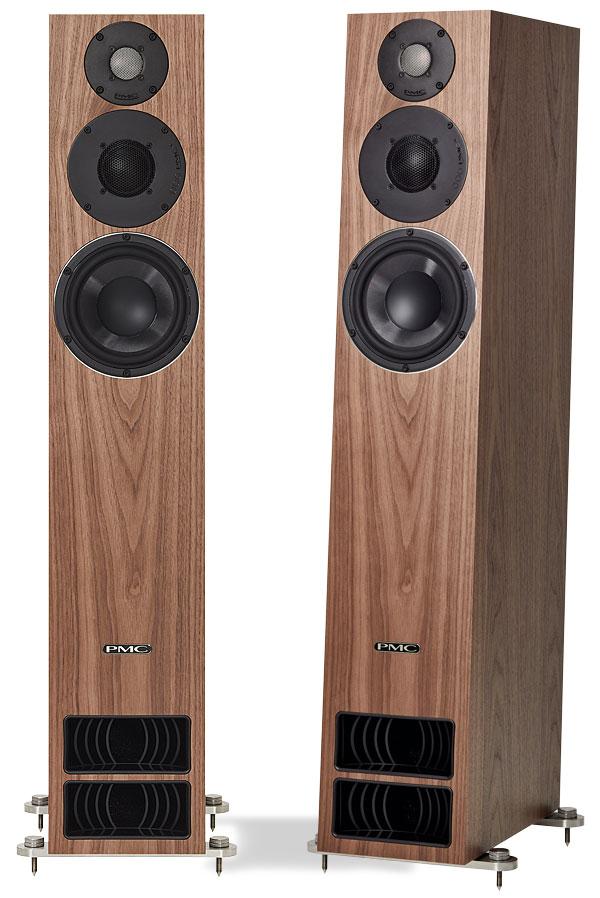 An unchanged exterior hides PMC's crossover and driver upgrades made to its premium three-way floorstander
In The Who's 'Won't Get Fooled Again', Roger Daltrey memorably sings 'Meet the new boss – same as the old boss'. It's a phrase that sprang to my mind when confronted by PMC's twenty5.26i, as this floorstanding speaker is, outwardly, identical to its twenty5.26 predecessor launched in 2016, with cabinet dimensions matching to the millimetre. Yet PMC describes its new twenty5i series as a 'substantial re-engineering', improving performance without moving away from the signature sound of its forbear.
Aptly, the twenty5.26i is the 'boss' of the new lineup, and the only three-way model. Below it are the twenty5.21i and twenty5.22i standmounts, along with two other two-way floorstanders (the twenty5.23i and twenty5.24i). There's also a new centre channel speaker for home cinema installations. Across the twenty5i series, buyers get a quartet of finish options. Walnut, Oak and a new White Silk all keep the same £8495-per-pair price point, while choosing Diamond Black adds a £500 premium.
Gotta Roll With It
New to the series is the high-frequency drive unit. This 19mm tweeter, designed in conjunction with SEAS, places a soft dome within a 34mm roll surround. This pairing, says PMC, delivers both the wide dispersion of a 19mm tweeter with the improved mid-frequency response of a larger driver. This has enabled a 1.7kHz crossover point to be used on the two-way twenty5i models, even if a higher 4kHz crossover is retained in this three-way design. The tweeter is mounted in a curved, fibre-glass 'HF dispersion plate' and protected by a grille.
Both the 50mm soft dome mid unit and 170mm 'g-weave' (woven glass fibre composite) bass driver – which cross over at 400Hz – are continuations from PMC's previous range. And once again, the latter feeds into PMC's take on transmission line bass-loading, with its 'ATL' chamber terminating in two front-facing Laminair vents.
With only one of its drive units a fresh invention, and the cabinet design unchanged (as before, it angles backwards, reducing internal standing waves and offering a degree of physical time alignment), much of the twenty5.26i's boosted performance, claims PMC, comes from a new crossover and vibration-reducing plinth stand.

Take A Stand
The former incorporates 4th-order filters at each crossover point and uses hand-selected components mounted on 'military-grade' fibre-glass boards, all connected via pure copper tracks. The new stand, meanwhile, is borne from research conducted during the development of PMC's Fact Fenestria floorstander. This
'anti-vibration' plinth is threaded for the supplied stainless-steel spikes, with damping discs used to decouple the speaker from the floor. By targeting specific vibration frequencies, PMC believes it can radically improve performance.
When it comes to styling, the twenty5i series is quite domesticated, eschewing the industrial feel of PMC's SE series or towering aesthetic of the Fenestria. The look of the twenty5.26i isn't something that will set pulses racing, though, with hard lines and exposed driver fixings. Add the full-height magnetic cloth grille and you have a loudspeaker that's the definition of unflashy. The size is manageable enough – a modest 1040x192mm (hw).
PMC fits dual (or triple) binding post connections on its Fact series, and did the same on the 2014-era twenty.26 floorstander, but here a single set of connectors, coupled directly to the crossover board to reduce resistance and signal path, is provided. This arrangement is believed to outweigh the subjective benefits of a split crossover and bi-amping or bi-wiring.
Thanks to its controlled dispersion, tuned bass output and front-firing port, the twenty5.26i is 'more forgiving of difficult room conditions and placement constraints' than other loudspeakers, says PMC, and buyers 'will be able to achieve a superb sound throughout the room with little effort'.